One Year and Done: After Chip Beeker beat Terry Dunn and the PSC raised Alabama Power's rates, there was no more need for, 'Coal Jobs Count'
Author's Note (July 13, 2016): This post is being published with another post ("Solve the Mystery the Alabama Media Won't Touch: Who is X?"). Both concern the two-year, multi-million dollar "Dark Money" campaign to defeat Public Service Commissioner Commissioner Terry Dunn's effort to lower Alabama Power's allowed profits, and thus, lower its rates. The Dark Money campaign, having succeeded there, turned its attention to replacing Dunn on the commission with company loyalist Chip Beeker; and, lastly, provided public relations cover for the PSC to raise Alabama Power's rates.
As usual when I make a post, there are other stories, some related to the Dark Money campaign, and others not, but which may be of interest to those who follow Alabama politics.
Lastly, one purpose of this web-site, and certainly this post, is to provide a record of what's occurred. I see it as a resource for anyone, such as the media, who might wish to explore one or more of the items here. This may be too much for one sitting but it's not going anywhere.
Today's Menu
— Coal Jobs Count: Illustrated History of a Shill Group
Birth of a Shill Group
John Box: Rock Star!
The Ethics Complaint vs. David Rountree
Job One: Beating Dunn
Coal Jobs Count serves BS campaign with … the Bus Tour!
Over and out for Coal Jobs Count
Walter bankruptcy revealed hollow core of Coal Jobs Count
Lastly, the Funding of Coal Jobs Count
— E-mail shows APCO consultants Matrix sent out coal association's PSC endorsements
— Matrix role in APCO backer Manufacture Alabama presentation revealed
— Coal-fired Twinkle tops Dunn as APCO retains 3-0 control of PSC
— A suggestion to improve ethics in Alabama: Copy Mississippi on Lobbyists
— Speeding ticket shows landfill failed to severs ties with Lanny Young
By Eddie Curran
Today's main feature is an illustrated history of an organization called Coal Jobs Count. I decided to do this for several reasons, not least of which is that this "non-profit" was only active for one year.
It was easy to bookend, and the fact that it ceased to operate when it did — December 2014 — speaks volumes about the con it sought to perpetuate.
The story of Coal Jobs Count encapsulates the campaign against Terry Dunn. This is not surprising, considering that, as will be seen, Coal Jobs Count worked hand in glove with many of the Dark Money groups and political consultants this site serves to expose, including Alabama's very own Dark Money "journalism" venture — Yellowhammer News.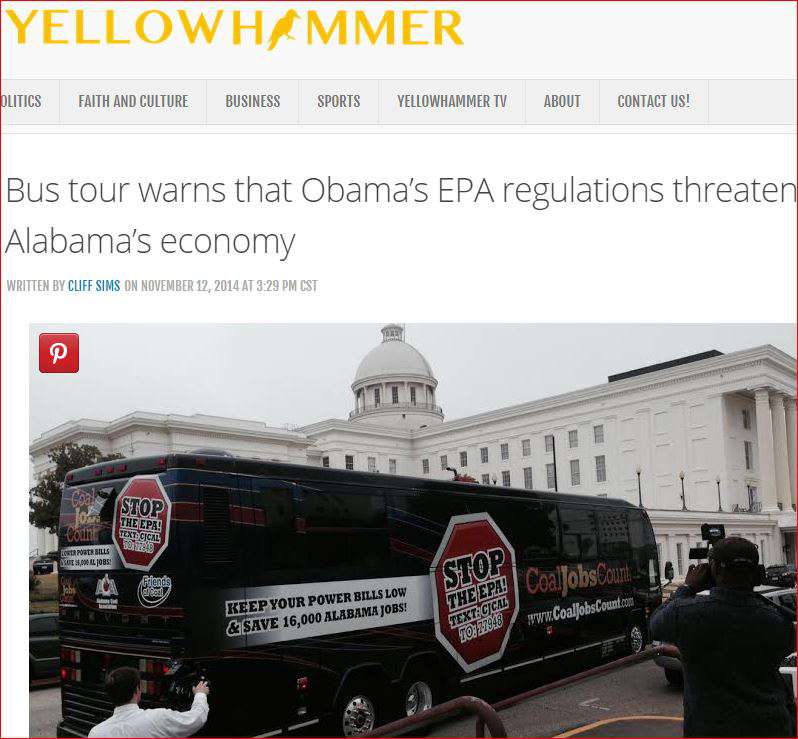 In justifying why I spent so much time on this, and why you should read it, I will not claim that Coal Jobs Count played a pivotal role in Alabama Power's successful campaign against Dunn and all that entailed.
To explain both the relevance and irrelevance of Coal Jobs Count, I defer to fiction.
Apologies in advance for those offended by the word Bullshit, as in, Bullshit Campaign. Because that's what we're talking about here. A two-year Bullshit Campaign that cost $6 million if a penny, and that doesn't include more than $1 million in campaign donations to PSC commissioners Chip Beeker and Jeremy Oden.
I assert, supported by substantial documentation, that at some point in late December 2012 — soon after the Alabama media trumpeted Terry Dunn's calls for formal rate hearings for Alabama Power, Alagasco (now Energen), and Mobile Gas — that a meeting was held.
Attendees would have been top Alabama Power governmental relations executives, possibly then CEO Charles McCrary but surely Nick Sellers and Zeke Smith; Joe Perkins and Jeff Pitts of the political consulting firm Matrix; various other consultant/lobbyists, probably including members of Swatek Azbell Howe & Ross; and PSC President Twinkle Cavanaugh.
A proposal to deal with the, "Terry Dunn Problem" was made. Possibly it was done on a conference call, or with phone calls and memos. But the meeting of the minds, and the resulting plan, unquestionably occurred. 
In my mind's eye, this is how it went down, the speaker being one of the consultants, probably Perkins:
       "We will make various assignments to the Bullshit Groups we've already got on hand — PACE and JobKeeper — and bring in some more, as in, as many as we can get. We, as your consultants, will generate all the Bullshit — the 'product' — and you of course will review it and contribute as you see fit. We won't do anything without your approval. Then we will dispense it to the awaiting Bullshit Groups to put their names on it, such as in radio, TV and newspaper ads, op-eds, press conferences, filings with the Public Service Commission, and, of course, in Yellowhammer. We have contacts as well as the Alabama Political Reporter.
         "Taken alone, the product of each Bullshit Group is no more than one single, ineffective, worthless pile of  crap. But when you combine them all, we will have created a Giant Wave of Bullshit that will appear to be Real, Factual, Powerful, Etc. The goals are several:
       "First, destroy Terry Dunn's credibility by portraying him as a lefty radical weird California tree-hugger type, a Communist, if that's what it takes, and pave the way for replacing him on the commission with a candidate of the company's choosing.
       "Second, provide cover for Twinkle and Jeremy Oden at the PSC to vote and behave according to the script we provide them and assure that the Company's Rate of Return on Equity survives intact. If Twinkle has to feed the gas companies to the dogs and slash their profits, so be it,  just not ours.
       "And, Finally, with Dunn's replacement on board, pass a rate increase which will be blamed on Obama. The 'War on Coal' theme will of course be a main feature of the Bullshit Campaign. Classic misdirection: The Bad Guys are Liberals seeking to Raise Your Rates. Meanwhile, under cover of the, 'War on Coal,' we protect our enormous profits, then raise rates! The Goal of the Bullshit Campaign is not just to win, but to come out Smelling Like a Rose.
        "As the elected President of the Alabama Public Service Commission, Twinkle is a Bullshit Group all her own, and vital to the Project. Her Bullshit is Official. (Sound of Twinkle laughing.) Obviously, we will — such as through Twinkle's close friends at the Swatek firm — provide her with scripts — what to say at meetings, draft her letters, and so on. As with everything else, the Company will be apprised on a daily basis of all plans as they develop. It's going to get ugly, so deniability is essential. We must maintain a Wall of  Separation between the Company and the BS Groups.
        "That's where Vote Alabama and PAL come in. The odds of anyone even detecting their existence, much less discovering their role as funding the Bullshit Operation are, in our estimation, nil. The near total collapse of the Alabama media will work in our favor.
      "The Operation is going to cost, at a minimum, several million dollars, especially considering our fees for this unprecedented and somewhat dicey project, and this sum is of course separate and above the $1 million or so our coal friends will have to pony up for the official campaign donations for the guy you select to run against Dunn, and for Oden, should he be challenged by a troublemaker.
     "But the payoff — eliminating Dunn, dodging a cut in profits, and, last but not least, the rate increase, will be worth it. If you combine dodging the profit reduction and add the rate increase, what are we talking about — something in the neighborhood of half a billion a year, and huge, lovely bonuses for Charles, Zeke and Nick?"
I know this happened like I was a fly on the wall. This or something very like it, minus, I'll concede, calling them Bullshit Groups. But the gist of the above? Take it to the bank. The proof is all over this website, and meticulously documented.
Much was accomplished in first year of the BS campaign. The PSC mandated substantial drops in the allowed profits for Alagasco and Mobile Gas — brought them almost down to national norms.
But, in an amazing contortion — with one commissioner, Dunn, opposing — left Alabama Power unscathed, as in, alone at the top, miles ahead of number two, with the highest allowed profits of any investor-owned utility monopoly in the country.
Still, the job wasn't finished. The Bullshit Campaign had angered, even emboldened Dunn. Worse, coverage in the media (and by then, my efforts, to the extent they had an impact) continued to present him as the lone member of the PSC willing to stand up to the Company.
Dunn had to be beaten in the June 2014 Republican primary.
And with the horrible news from Mississippi — where construction of Mississippi Power's Kemper plant was bleeding in the billions of dollars, with no end in sight — a desparate Southern Co. needed Alabama Power to step to the plate an generate even more revenues.
In short, Alabama Power customers were being asked — not that the company would ever acknowledge it — to pay higher rates to help bail Southern Co. out of the mess they were making in Mississippi.
Dunn, if not replaced with a friendly commissioner, would do all he could to stop that. He'd call attention to the rate increase in the media, warn in advance that it was coming, and stab holes in company's declared reasons for seeking it.
With Dunn making waves, Twinkle and Oden might lose their nerve, capitulate, and vote against the increase!
More Bullshit was needed. It couldn't hurt, and might help.
Birth of a Shill Group
On Dec. 12, 2013, Brett Bussman, Rance Perry, and Randy Johnson incorporated Coal Jobs Count.
All were board members of the Alabama Coal Association, which made sense, as the coal association was the official sponsor of the new non-profit and promoted it heavily on its website.
Two months later, in early February 2014, Coal Jobs Count made its public debut. It held a press conference on the Statehouse steps led by its "executive director," Tiffany Bittner, a well-known Birmingham-area Alabama television personality.
Bittner and other speakers directed their bile at Terry Dunn, as if he'd ever done anything to cost so much as one hour's work time for a coal miner.
Terry Dunn was always going to be the main target of Coal Jobs Count, but in January 2014, he did something that provided that group and its Dark Money allies with extra ammunition.
Chip Beeker, like all PSC candidates favored by Alabama Power, was being showered with coal money. That year, Beeker would set the record for the most donations ever to a candidate for the PSC, with an astounding $664,749, almost all from coal interests and, when not, Alabama Power vendors.
Years ago, Alabama Power reached an agreement with its in-state coal suppliers to fund the company's chosen PSC candidates. One can only suppose that expensive strings were attached and that, in some manner, the costs were put back on the ratepayers.
Dunn, overwhelmed by Alabama Power's campaign cash stand ins from the coal industry, sought a bill that would prohibit providers of fuel to power companies from donating to PSC races, just as utilities themselves were banned from donating.
He argued that the Public Service Commission should be "fuel neutral," and not be swayed, such as from campaign contributions, to favor one type of fuel over another, such as coal over natural gas.
The state media — here, Al.Com — wrote about Dunn's proposal.
Dunn's planned bill didn't make a distinction between one type of fuel over another, as it sought to prohibit contributions from all providers of fuel to power companies. But if the gas folks give at all to PSC races, it's just barely.
Coal cash is what fuels PSC campaigns, and everyone knows it.
At the Coal Jobs Count kick-off, Bittner and other speakers lambasted Dunn. They claimed that his bill would allow him to take contributions from liberal environmental groups who fought against coal. That no environmental group gave a penny to Dunn's campaign didn't matter. 
Two weeks after the press conference, Al.Com ran an op-ed by Bittner, or, in any event, an op-ed with her name on it. I'll bet my CD collection she didn't write a word of it.

The op-ed began with Bittner linking Dunn to Obama and "radical west coast environmentalists." There was more of the same in the closing paragraph: 
As longtime member of the Birmingham-area TV news community, it seemed all Bittner had to was get on the phone for free publicity for Coal Jobs Count. The likelihood that a fellow member of that famously uninquisitive community would ask any challenging questions of her was non-existent.
Probably went something like this.
"Hey, this is Tiffany. I've got a gig with an outfit called Coal Jobs Count and we need some pub."
"C'mon, Tiff, that's what we're here for!"
Throughout the two-year BS campaign, Gov. Robert Bentley was always ready and willing to show up and go along with whatever the script required of him. Here is Bentley with Bittner.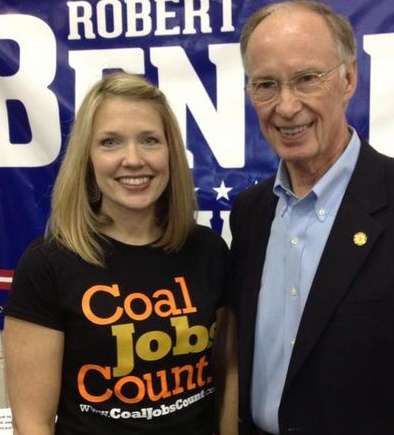 John Box: Rock Star!
In early 2013, well before the formation of Coal Jobs Count, a small Birmingham film company called Gale Force Productions produced a video I was to find on its Vimeo (similar to YouTube) website. The film contained scenes and footage that later appeared in the the Alabama Coal Association's film, "Behind the Mask" — a fascinating aspect of the Bullshit Campaign examined elsewhere on this site.
As this story showed, Gale Force produced film and advertisements for many the Bullshit Groups, and featuring many of the lead players.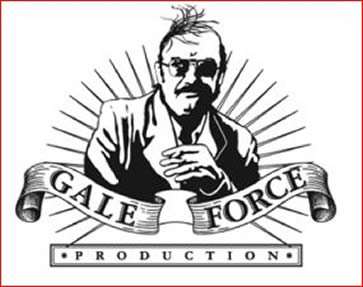 Gale Force's Vimeo site showed work for, among others: PACE; JobKeeper Alliance; the 60 Plus Association and a similar "seniors" group called Generation America that participated in the PSC hearings; as well as political and business clients of Matrix — including ads for Alabama Power.
The video containing scenes later used in, "Behind the Mask, " featured Patrick Cagle of JobKeeper; civil rights leader and highly remunerated PACE "consultant" Charles Steele; and PACE's Lance Brown, who narrated it.
The video began with a coal miner, face grubby, staring into the camera and talking grimly about the importance of coal jobs. That coal miner, in an image from the video, is below.
Fast forward to February 2014, and the Coal Jobs Count campaign. Among the speakers at that inaugural press conference was John Box, described as a third generation miner from Tuscaloosa. Like other speakers, he lit into Terry Dunn.
Box — at the microphone in the picture below — was one and the same as the miner in the Gale Force film from the year before.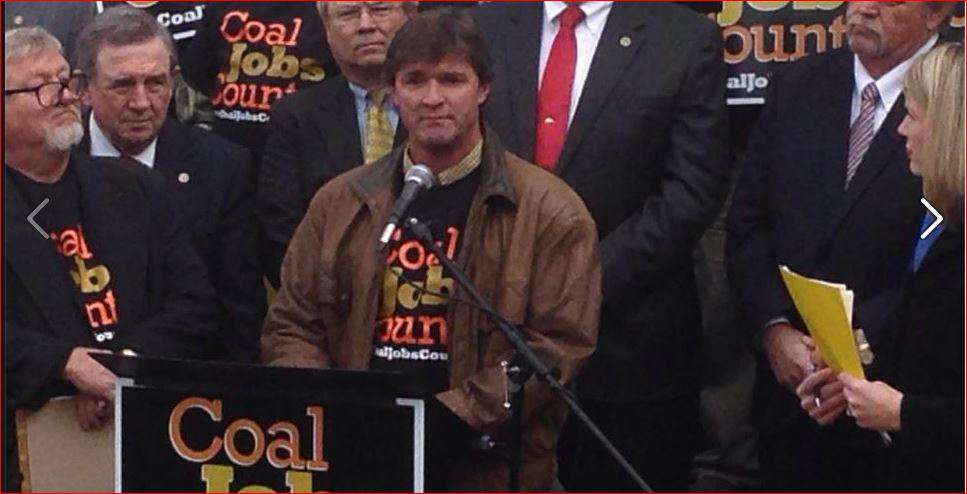 Someone associated with the BS campaign had chosen the handsome young miner to be star in that film. Lo and behold, when the Coal Jobs Count came into being, and a miner was needed to be the star of its Bullshit Campaign, they already had their man.
Shouldn't come as a surprise. Same people doing the casting and pulling the strings, first for the Gale Force efforts and a year later, for Coal Jobs Count.
So ever-present was Box in the Coal Jobs Count campaign that Bittner, in a Facebook post, referred to him as, "our very own Rock Star!"
That post is below, with photos showing someone filming an upcoming local TV news piece about Coal Jobs Count and featuring the "rock star."
Soon after, Coal Jobs Count produced a 30 second TV ad attacking Dunn, and which ran in the weeks leading up to the primary against Chip Beeker.
The ad, called, "Coal Miner John Box tells Obama and Terry Dunn that Coal Jobs Count," starred, naturally, John Box. (See entire ad Here.)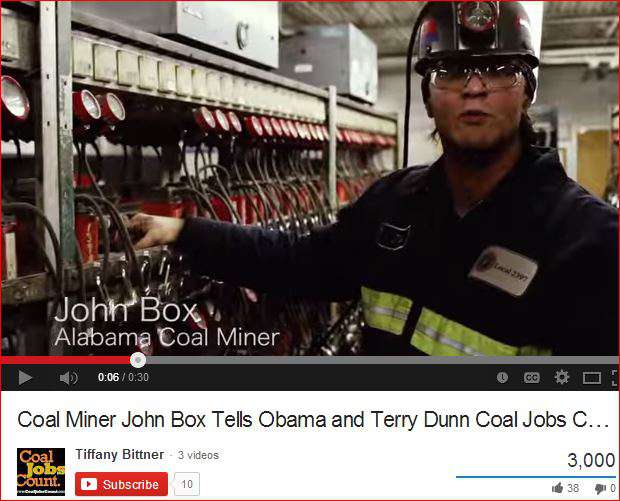 Here's another image from the 30 second spot:
And here, the target of Coal Jobs Count's TV ad campaign:
Lastly, patriotism. I guess they were trying to make the point that Terry Dunn's effort to lower the power rates of Alabama residents and business was un-American.
The Ethics Complaint vs. David Rountree
Like most of what Coal Jobs Count did, the ethics complaint against Dunn's chief of staff followed a trail already well-worn by the other shill groups and their publicity machine — Yellowhammer News.
Which was: That Dunn had come under the demonic sway of his chief of staff, David Rountree, a radical leftist secretly in league with environmentalists. Rountree, according to the Bullshit Campaign script, was the reason Dunn was calling for rate hearings.
The Rountree "ethics complaint" is instructive in that it further establishes the degree to which all these groups, and Yellowhammer News, were working as one. 
It also illustrates just how far Alabama Power — acting through its highly-paid consultants and shill groups — was willing to go to harm Dunn.
I believe Rountree was targeted because Matrix and the political consultants could not find anything to link Dunn to environmentalists. He was a two-time delegate to the Republican convention, and once again, an alternate delegate.
Before proceeding, a little history on Rountree the Radical.
For most of his professional life, about 30 years, he'd been in journalism, including some 15 years as a reporter and editor with the Montgomery Advertiser. In 1997, PSC President Jim Sullivan asked Rountree to serve as his chief of staff. Sullivan, a Republican, was famously pro-Alabama Power. No one ever accused him, much less his chief of staff, of being in league with lefty environmentalists.
The first time that players in the Bullshit Campaign targeted Rountree was in a Jan. 3, 2013 piece in Yellowhammer News. It bore the headline, "Who's Who Among Behind-the-Scenes Liberals in Alabama."
I'm sure the sole purpose of the "story" was to go after one person on that list who no one, such as those following Alabama politics, had ever labeled a liberal or some sort of "behind-the-scenes" power broker. Here's what Cliff Sims — or one of the political consultants he served — wrote about Rountree: 
After three years with Sullivan, Rountree returned to journalism. In 2005, Sullivan asked him to return as chief of staff, which Rountree did. In 2008, Sullivan chose not to seek re-election. Staff members of PSC commissioners are not merit system employees, and serve at the pleasure of the appointing commissioner.
Rountree, it appeared, was out of a job.
Susan Parker, a moderate Democrat then halfway through her first term on the three member commission, asked Rountree to be her chief of staff, which he did. 
In November 2010, Dunn, a Republican, defeated Parker in the general election. Rountree told me he was almost to the point of packing his things and leaving when he met Dunn. The latter, impressed friendliness, professionalism, and deep experience in the utility regulatory matters, asked Rountree to remain as his chief of staff.
The story-line that Rountree was a lefty environmentalist was based on the following: He had given a small donation to John Kerry's 2004 presidential campaign; and, as directed by Susan Parker, attended, on her behalf, several meetings/conferences of the Interfaith Environmental Initiative of Alabama.
That's where it starts, and where it ends.
In late January 2013, Patrick Cagle of JobKeeper Alliance penned an op-ed for Al.Com. He defended Cavanaugh and Oden for opposing Dunn's call for rate hearings, and went after Dunn and Rountree.

Rountree told me he had met and shaken hands with Churchman at the meetings he attended on Parker's behalf, and thought Churchman seemed a nice guy. But, he said, Cagle's declaration that they were "longtime friends" was simply not true. Cagle, or his masters, dreamed it up, or rather, made it up to serve the Bullshit Campaign story line.
The following is some of Jobkeeper's — or Matrix's — handiwork.
Fast forward more than a year, to April 2014. By this time, Coal Jobs Count has entered the ring, was throwing hay-makers at Dunn, and had anointed miner John Box as its rock star/super prop.
On April 15, Coal Jobs Count posted, on its web-site, a story reporting that Box had filed a complaint with the Alabama Ethics Commission, seeking an investigation into David Rountree for "misuse of state office." (See below.)
Few people went to Coal Jobs Count website, but lots of people, as in, Republican voters, go to Yellowhammer News. At the same time Coal Jobs Count was publishing it, so was Yellowhammer. (See below, link to story Here.)


Box's began his letter to Ethics Commission Director Jim Sumner by identifying himself, once again, as a third-generation coal miner from Tuscaloosa.
"Over the past several months, Terry Dunn and David Rountree, both employed by the State of Alabama, have a waged a political war on the coal industry," Box declared, falsely, I might add.
Coal Jobs Count's Rock Star was apparently proud of himself for filing a criminal charge against David Rountree, as he linked to Yellowhammer's story on his Facebook page.

The complaint accused Rountree of — if you can believe this — conducting a TV interview on state time. I never saw the TV report, but according to Rountree, a reporter from Birmingham's Fox 6 called Dunn's office. As a former reporter, Rountree often handled media inquiries for Dunn.
The reporter told Rountree that someone from the coal industry or a group supporting the coal industry had contacted the station and urged them to do a report on Dunn's proposal to ban fuel providers from donating to PSC campaigns.
Rountree answered the reporter's questions. In the eyes of John Box — or, rather, the shitbirds who drafted the complaint and got him to sign it — Rountree's answering question from a reporter  "on state time" was an ethics violation. In other words, a crime.
Here, as described by Coal Jobs Count's story:

The second "charge" related to a PAC Rountree formed to help Dunn's re-election campaign. The PAC was never active. The alleged crime occurred when Rountree listed his state phone, not his personal phone, on the form he filed creating the PAC. He later saw the mistake and changed it, to the extent it even mattered.
Someone — and surely not John Box — pulled the original document, saw the first number, and that became the second ethics charge — as in a criminal complaint — against as nice and humble a guy as you will ever meet.
Rountree called the Ethics Commission after seeing the story — and reading the complaint against him — on Yellowhammer. The Ethics Commission knew nothing about it. Not surprising. Box's complaint had not yet arrived in the mail, having only been sent that day.
When it did arrive, days later, the commission staff immediately dismissed it, no investigation necessary, so weak were the allegations.
But the goal had been accomplished: Publicly sully Rountree, and by extension, Dunn. More Bullshit to the pile, if you will. Make Rountree lose a few nights sleep, worry about people seeing the story and thinking he was corrupt. No big deal.
As soon as I learned about the complaint I popped out a story (top of which is below.) Among the questions I raised: How were Cliff Sims and Yellowhammer able to publish a letter sent to the Ethics Commission prior to it being received by the commission?
And for that matter, how did Tiffany Bittner at Coal Jobs Count know about the complaint so as to be able to write about in on her Bullshit Group's website?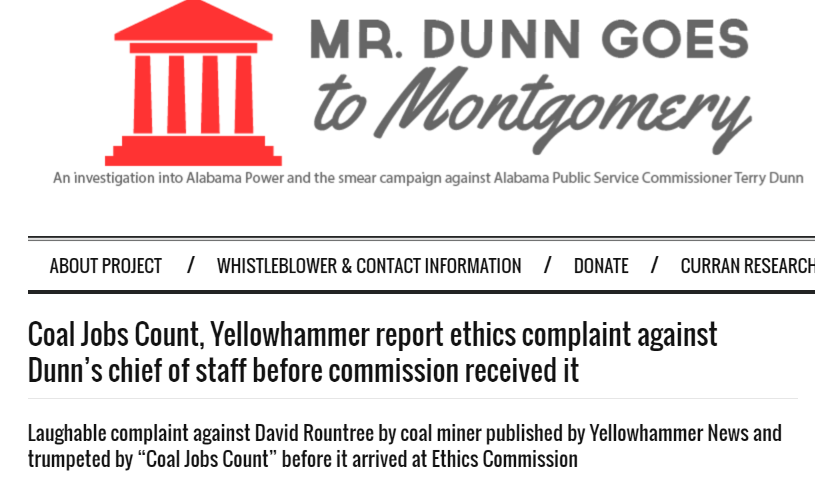 Shortly after I posted my story, Yellowhammer removed the copy of Box's complaint from its story.
Box has never responded to my requests for comment, including one made this week, but it's obvious that someone else put together the complaint, and had the Coal Jobs Count "Rock Star" serve as the stand-in complainant.
I noted, in my story, that it is a violation of the ethics law for someone to to engage another person to bring a complaint in order to conceal the identity of the person really making the complaint.
I make no bones about it: That ethics complaint pissed me off. It still pisses me off to think about it. An ethics complaint is essentially a criminal charge.
I'd never met David Rountree prior to starting this project. Just a very kind, friendly, well-meaning and highly competent guy. Well-known by Alabama Power's top brass and government relations executives going back years. According to David, he always got along great with them.
Still, those lowlife shit-birds were willing to stab him in the back by authorizing that sort of attack on him. There is no way that ethics complaint was filed without their authorization.
The APCO execs did it for money. A key ingredient of their annual bonus awards relate to Alabama Power's rate of return on equity (Profit). It's all spelled out in the company's SEC disclosures.  The higher the company's rate of return, the greater their bonuses — and we ain't talking chump change.
Job One: Beating Dunn
Three people challenged Dunn in the 2014 election. All were Republicans. Clearly, the chosen candidate — as based on campaign donations, and support from the shill groups — was Chip Beeker. 
Again, Coal Jobs Count was but one of many interconnected groups working to help Beeker. Those efforts were separate and above the whopping $664,749 in campaign donations he received — a record for a PSC campaign.
Coal Jobs Count ran its anti-Dunn ad heavy in the week leading up to the primary. Below, an image from one of those ad buys with a Birmingham TV station, and labeling it as a political ad.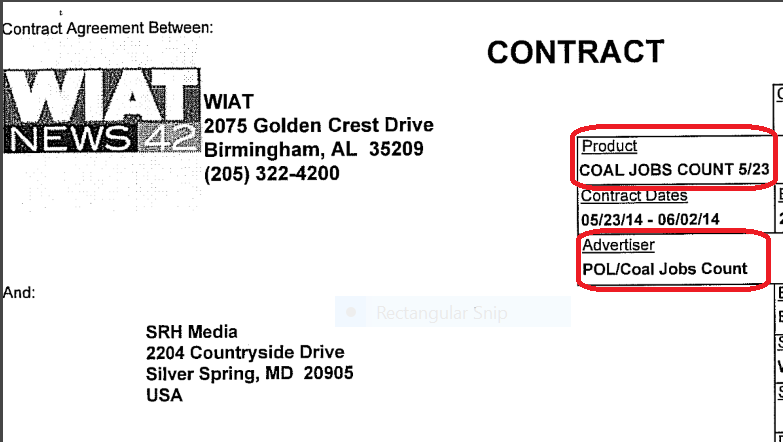 Coal Jobs Count also mass-mailed the following flier. Dunn provided me with a photo of the flier mailed to him.
Yes, he received one too. Though the photo's not good, if you look at the address, you can see that the recipient is the, "Honorable Terry Dunn."
I do not think it's going out on a limb to suggest that there was a racial aspect to the decision by Coal Jobs Count to connect Dunn to Obama — which it did both in this flier and the 30 second TV ad.
Coal Jobs Count also disseminated a sample ballot (see below.) The "non-profit" urged recipients to vote for Beeker and, in the other race, for Jeremy Oden against challenger Kathy Peterson.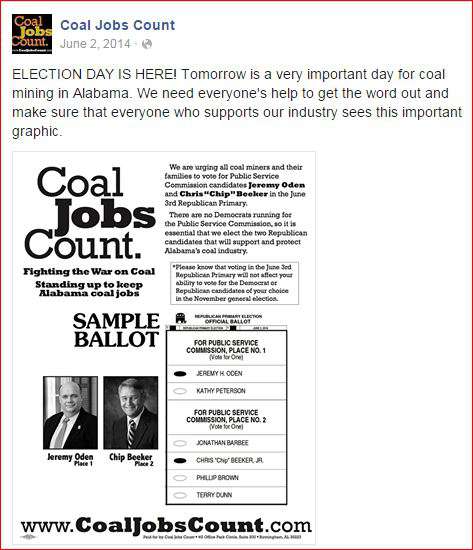 Beeker won the primary, but with 39 percent, fell short of the required majority. Dunn, with 32.5 percent, finished second, and qualified for the July 15 run-off.
 
With help from the shill groups, and awash in campaign cash, Beeker won the July 15 run-off, 59 percent to 41.
Two weeks later, Beeker joined Twinkle Cavanaugh, Jeremy Oden and Paul Reynolds, of the shill group, Alabama Free Market Alliance, for a press conference at the Alabama Coal Association's headquarters in Birmingham.
The second campaign, to sell the public on the theme of Obama and the EPA causing their rates to go up, had begun; and the main actors in the Bullshit Campaign — the commissioners themselves — and the campaign's chief chief chronicler — Cliff Sims — were there to get the ball rolling.
Coal Jobs Count serves BS campaign with … the Bus Tour!
While neither the media nor the public had any way of knowing this — Twinkle and Co. sure weren't going to tell — Alabama Power planned to request a five percent rate increase in December.
Thus: The Bullshit Campaign to provide public relations cover — It's Obama's Fault! — to company and commission.
The contribution of Coal Jobs Count to the BS campaign was a "Bus Tour," which it announced (see below) on its website and other social media.

At what had to be some semi-astronomical cost, the non-profit rented a bus and had it painted to become the, "Coal Jobs Count" bus. On each side was a big "Stop the EPA," sign. 
Coal Jobs Count engaged the Birmingham public relations firm, the Acanthus Group, led by former Alabama TV news personality Rick Journey, to help promote the tour.
Naturally, Yellowhammer News published a story touting the bus tour and its central message that Obama and the EPA were threatening the coal industry and Alabama's economy.
Local TV news crews were more than happy to publicize the great event.
Time for an Alabama TV news crew to jump on the bus and report the great event, as shown in this image from one such report.
Now, some fun pictures from the bus tour.
Below, PSC Commissioner Jeremy Oden says Cheese in front of the bus while dutifully holding a, "Coal Jobs Count" placard.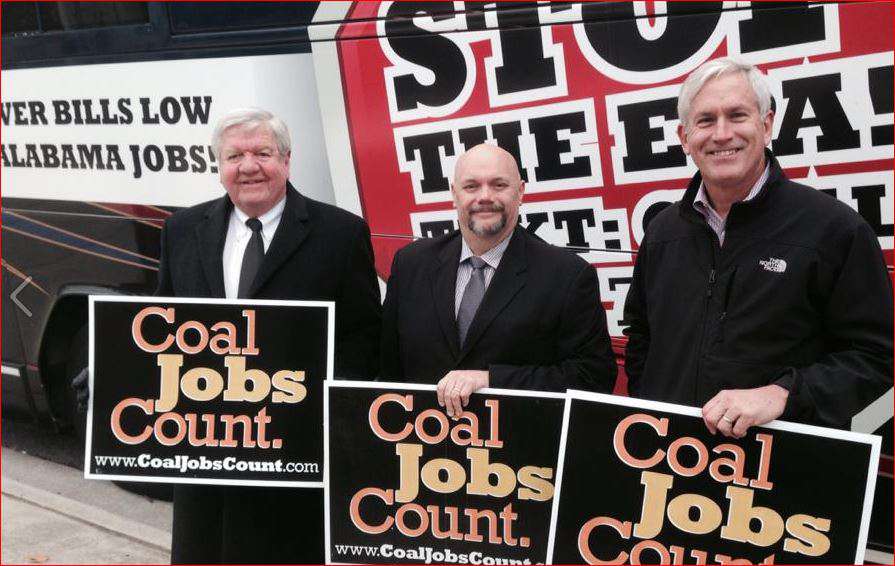 Of the three commissioners, Oden is the Quiet Ass Kisser. He doesn't say much, make waves, or draw attention to himself, but when it comes to following the script, and voting as told, he's as loyal an Alabama Power slug as there is.
Next, the amazing Chip Beeker faces what one can only imagine was a grueling grilling from members of the ferociously inquisitive and frighteningly aggressive Alabama TV news media.
Becoming an actual elected official on the Public Service Commission has given the publicity hungry Beeker an opportunity to rail against all manner of liberal monstrosities, from gay marriage to multiculturalism and of course Obama and the EPA. 
Beeker didn't make a peep when — a couple of weeks after this Coal Jobs Count TV interview — he voted to raise Alabama Power's rates.
Below, Beeker poses for a pic with the shill whose job it was to help him defeat Dunn, mouth the talking points, and participate in the shameful ethics charge against David Rountree.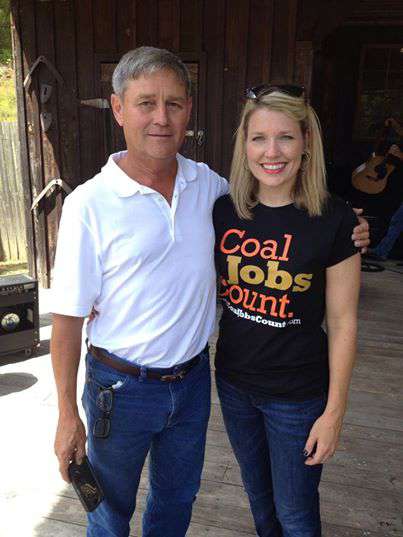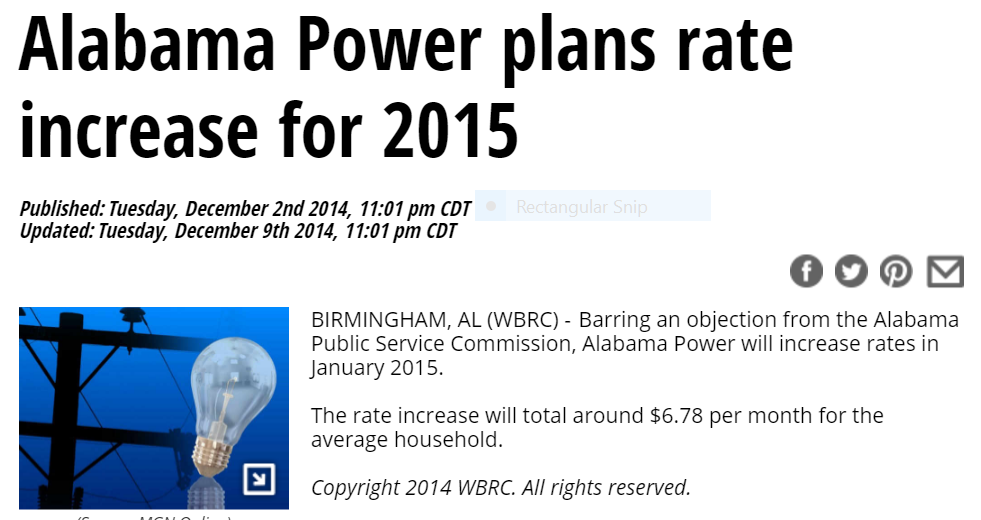 The Alabama Coal Association dropped its promotional link to the Coal Jobs Count website, but the website is still up.
For awhile, if not in over a year, someone occasionally posted "news" stories, such as the one below from Yellowhammer News. In this story, Cliff Sims didn't exactly cast a skeptical eye on the claim by the Three Amigos at the PSC that the five percent rate increase they'd just voted for was all Obama's fault.
That's right. Obama made them do it.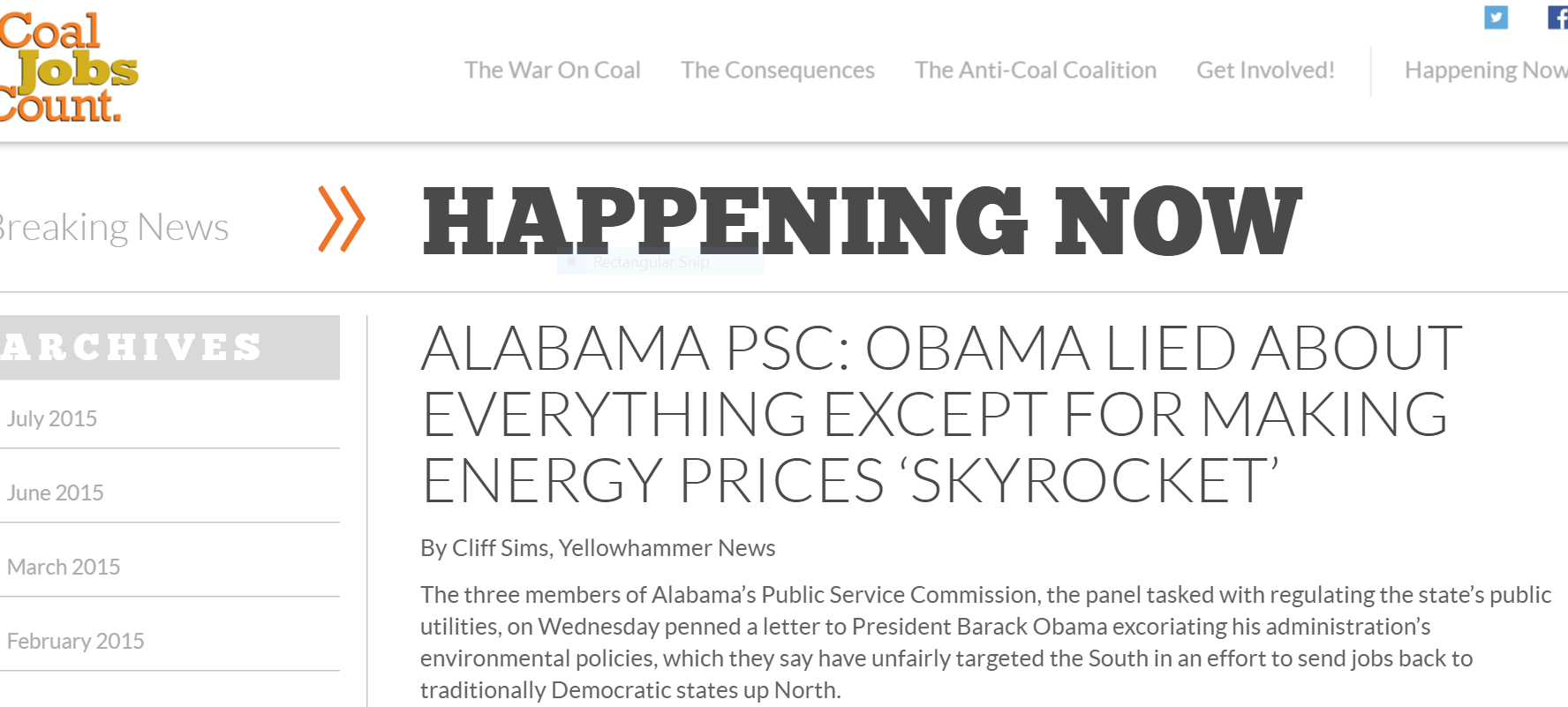 Also posted on the otherwise moribund "Coal Jobs Count" site was this piece by Lance Brown, of PACE, which reporting on this site has established, beyond any doubt, is a Major League Bullshit Group connected at the hip, lungs, heart and brain to Alabama Power and Matrix.

Walter bankruptcy revealed hollow core of Coal Jobs Count
If one takes Coal Jobs Count for its word — that it existed to battle for the jobs of coal miners — then its shuttering in December 2014 made no sense.
After all, Obama didn't stop being president, and the Environmental Protection Agency didn't cease its efforts to compel power companies to cut CO2 emissions.
The hollow core of the miner-loving Bullshit Campaign was exposed for sure last summer, when Walter Energy — employer of John Box — filed for bankruptcy.
In September, some 100 union employees attended a bankruptcy hearing in Birmingham and protested the company's demands that miners take cuts in pay and benefits.
The two major contributors to the company's problems — to problems throughout the coal industry — were low natural gas prices that made that fuel more attractive to electricity providers, and plummeting purchases for metallurgical coal (for steel-making) from China, as a result of that country's economic woes.
Box worked at Walter Energy's Mine #7, a source of metallurgical coal. You'd think the Bullshit Groups could have at least found a miner who mined Alabama coal that was used at an Alabama Power plant. This guy was mining for China. 
Reports in Al.Com revealed that, rather than tighten belts at the top, Walter Energy decision makers approved massive pay increases for top executives, such as CEO Walter Schiller.
Scheller was paid $2.6 million in 2012. It got bumped to $2.9 million in 2013.
In 2014, Scheller's total of pay and bonuses more than doubled, to $6.3 million. Other top Walter executives also enjoyed substantial pay increases.
This, again, while the company was not merely bleeding money, but sliding toward bankruptcy and shedding jobs.
When I read the stories about Walter Energy's bankruptcy, and the executive pay increases, I couldn't help but think about Tiffany Bittner of Coal Jobs Count and Patrick Cagle of JobKeeper Alliance.
Neither made a peep during the months-long bankruptcy proceedings. No bus tours, no op-eds, no press conferences or appearances on local TV news
Neither Coal Jobs Count nor the JobKeeper Alliance joined the union miners in protesting their slashed pay and benefits and lost jobs, or said or wrote the first word about the contrasting pay hikes for upper management.
With their absence, the two non-profits revealed themselves for what they always were: Shills for Alabama Power, not the interests of coal miners.
The miners, none more so than John Box, were just props.
Lastly, the Funding of Coal Jobs Count 
It's been around for ages, and is funded by the coal industry and those that do business with the coal industry, including, I believe, Alabama Power. The power company is listed on the association's website as one of its many non-mining "associate members."
In 2014, PAL gave $220,000 to the coal association(first image), and Vote Alabama gave $115,000 (second image), for a total of $335,000.



The IRS doesn't require such groups to identify their donors, but if a non-profit contributes to another non-profit (as Vote Alabama and PAL do), the donor non-profit must disclose the recipient. And in 2014, the coal association reported that it gave $43,498, to another non-profit — Coal Jobs Count.

Though it took some time to get it, I requested, from the coal association, the 990 of Coal Jobs Count. It declared itself a non-profit, its board members were board members of the coal association. That's the argument I made and eventually, if by no means immediately, it won the day.
Coal Jobs Count reported that in 2014, it spent a total of $193,034, all of which went to an "advertising campaign run to educate the public about the importance of coal jobs." (See below.)

The 990 actually listed all the "grants" it received, by amounts, but blacked out the donors identities. The sum matching the coal associations "grant" was listed, as were two contributions of $12,500 apiece.
I knew, and had previously reported, that two related, Tuscaloosa-based political action committees, one called Pride PAC II, the other, T-Town PAC II, had each given $12,500 to Coal Jobs Count a month before the 2014 election. (See image below, from the Alabama Secretary of State website).

Coal Jobs Count also reported receiving $100,000 from an unidentified source, as well as two $10,000 contributions, donors also unidentified. Was Alabama Power one of these donors? I don't know, but if not, you can be sure they arranged it.
Tiffany Bittner's name was nowhere on the tax return. Non-profits must disclose the salaries of directors and top employees, but no salaries were shown. Coal Jobs Count did report paying $55,829 for the line item, "Professional fees and other payments to independent contractors."
It would seem that Coal Jobs Count "contracted out" its position as Executive Director.
One year and done: For Tiffany Bittner and Coal Jobs Count.

I love that quote. I see it as a big giant target just begging to be obliterated — a day soon to come!.
E-mail shows Matrix sent out Coal Association's PSC endorsements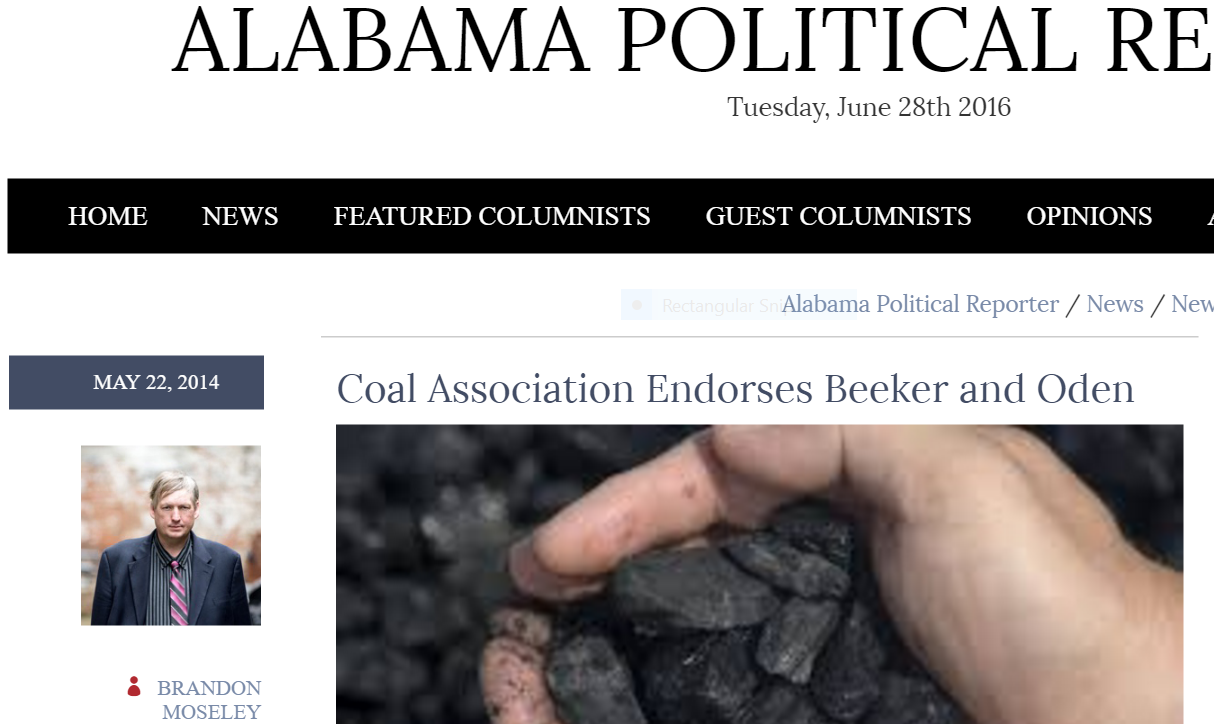 That Alabama Power's longtime political consultants were involved to the point of e-mailing and in all likelihood drafting the coal association's PSC endorsements is hardly surprising.  This site is replete with stories and public records linking Matrix to the groups that went after Dunn and shilled for Beeker and Alabama Power.
Matrix role in APCO backer Manufacture Alabama presentation revealed
Manufacture Alabama is a well-known Montgomery-based industry group whose origins date back to a battle, 20 years ago, with none other than Alabama Power.
In 1996, the Business Council of Alabama forced out its top lobbyist, George Clark, after Clark complained that the BCA was refusing to take the side of its manufacturing members in one of the hottest legislative fights that year, over what's called, "stranded costs."
Alabama Power successfully lobbied the Legislature for a law that would compel industrial customers to pay the company for the "stranded costs" of power providing infrastructure built for such customers if those customers elected to change to another provider of power.
It was a major battle, and, as is always the case in Alabama, Alabama Power won.
Clark, ousted at BCA, formed the Alabama Industry and Manufacturers Association. AIM, as it was known, later merged with another group and changed its name to the Alabama Manufacturer's Association.
As the campaign to oust Dunn and raise residential and business (if not industrial) rates showed, Manufacture Alabama is now much in the Alabama Power fold. The old stranded cost hatchet has long been buried.
Below, Charles McCrary, at the time president and CEO of Alabama Power, addresses Manufacture Alabama's 2012 conference at the Grand Hotel in Point Clear.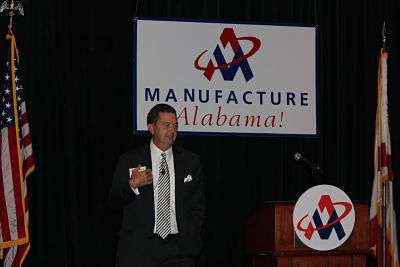 In 2012, Clark joined Patrick Cagle and longtime union leader and Joe Perkins pal Stewart Burkhalter to found the JobKeeper Alliance — which, as readers of this site know, is tied at the hip to Alabama Power, to Matrix, and so many of the other Bullshit Groups.
In early 2013, Manufacture Alabama put out a Power Point presentation called, "Attack of the Environmental Extremists." It showed JobKeeper as a co-participant in the presentation, which sought to show that environmental groups were waging a war on the PSC, the Legislature, and other state agencies.
Below, a panel from the presentation.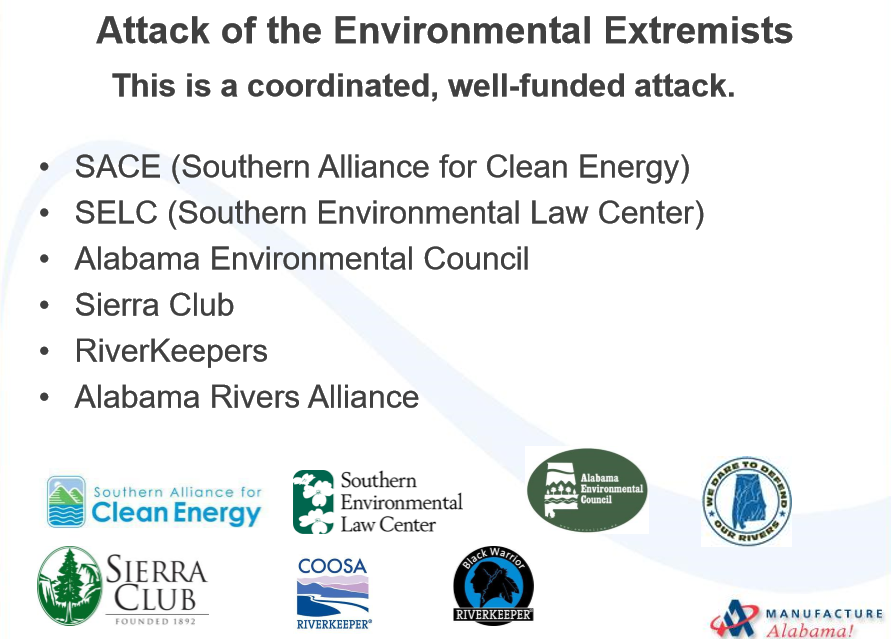 The presentation's "properties" revealed that the "author" of, "Attack of the Environmental Extremists," was none other than Jeff Pitts, of Matrix. (See below.)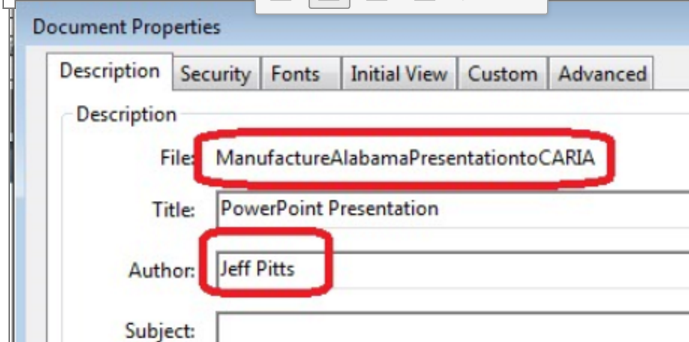 Yet another example — again, there are too many to keep track of — showing Alabama Power's Well Remunerated Consultants generating the propaganda that the Bullshit Groups put their names on.
I would wager my excellent CD collection that someone at Matrix also authored this January 2013 press release from Clark and Manufacture Alabama.
This came out very early in the BS campaign, soon after Dunn first called on the PSC to hold rate hearings, as in, to do what it's supposed to do.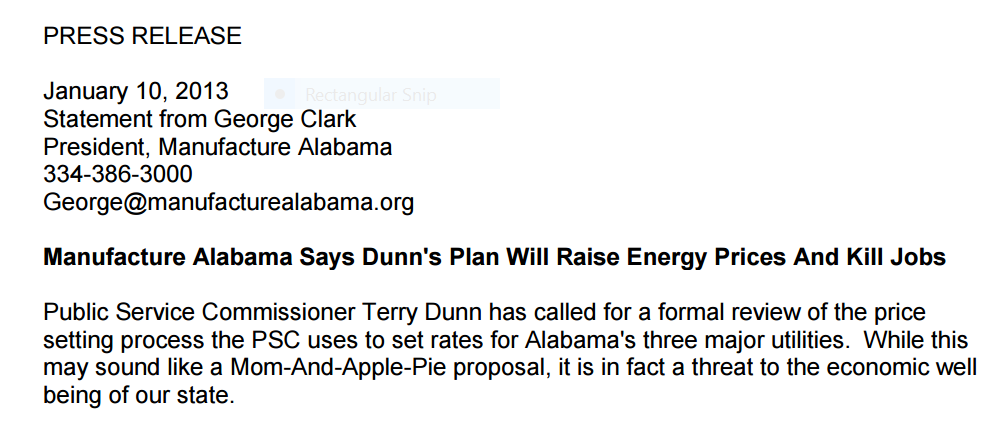 Clark and Manufacture Alabama would be a constant presence throughout the coming two year campaign — boosting the candidacies of Chip Beeker and Jeremy Oden and lashing out at the liberal supporters of, well, lower power bills.
Below, one of Manufacture Alabama's many publicly disseminated endorsements of Beeker during his 2014 campaign against Dunn.
Manufacture Alabama is not among the non-profits funded by Vote Alabama and PAL. I'm sure that Alabama Power is routinely a major contributor, and suspect that the power company's contributions increased during the BS campaign.
Manufacture Alabama's tax returns show that prior to 2013, it spent in the range of $750,000 to $850,000 a year on salaries, conferences, and other expenses.
In 2013, expenditures climbed over $1 million, and in 2014, to almost $1.2 million.
Was the PSC Bullshit Campaign a major reason for this increase? 
What do you think?
Below: Our friends at the Alabama Political Reporter report, in February of this year, that George Clark and Manufacture Alabama had endorsed Twinkle Cavanaugh against Dunn in the March 1 primary for PSC President.
This is exactly how it appeared, smoking hot off the presses:
And here's President Cavanaugh with Clark at a Manufacture Alabama event.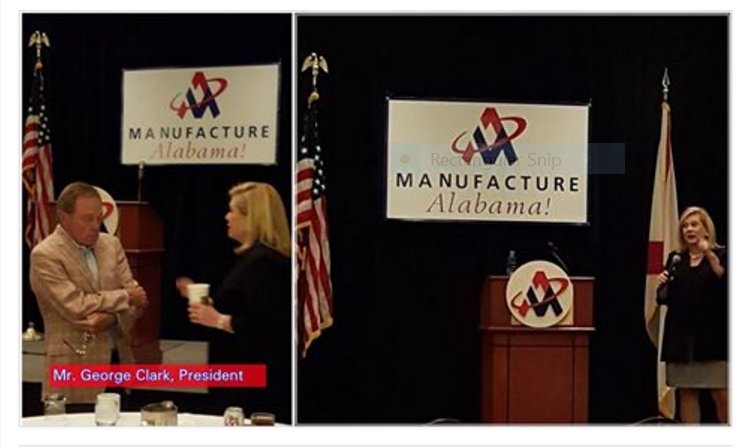 Coal-fired Twinkle tops Dunn as APCO retains 3-0 control of PSC
Cavanaugh won with 63 percent of the vote to Dunn's 37 percent. Because there is effectively no longer a Democratic Party in Alabama, Cavanaugh's victory guaranteed her another term as the PSC president.
In Alabama, you don't need to make shit up. 
A suggestion to improve ethics in Alabama: Copy Mississippi on Lobbyists
The recent conviction of House Speaker Mike Hubbard combined with the news of Gov. Bentley's shenanigans has led many to urge the Alabama Legislature to focus anew on ethics, such as by making improvements to the state ethics law to prohibit more of the same,
Here's one suggestion to consider.
I recently had reason to research lobbying activity in Mississippi. I was astonished by the level of disclosure that Mississippi requires lobbyists to make as well as the companies, associations and people — or "principles" — who engage them to lobby.
In Alabama, lobbyists and "principals" who hire them must register with the Alabama Ethics Commission. As an example, Alabama Power must file papers identifying those it engages to lobby and, separately, the lobbyists must disclose who they're lobbying for.
But that's pretty much where it ends.
In Mississippi, lobbyists and those who use them are regulated by the Mississippi Secretary of State's Office. To my amazement —  Alabama being my reference point — lobbyists and principles in Mississippi must disclose all manner of financial details, including, for lobbyists, how much they're paid, and, for principles, how much they pay.
For example, here's a portion of Mississippi Power's disclosure for 2013. As you can see, it shows how much the company pays each of its lobbyists, as well as a final total, including other costs. That final total came to $444,180 in 2013.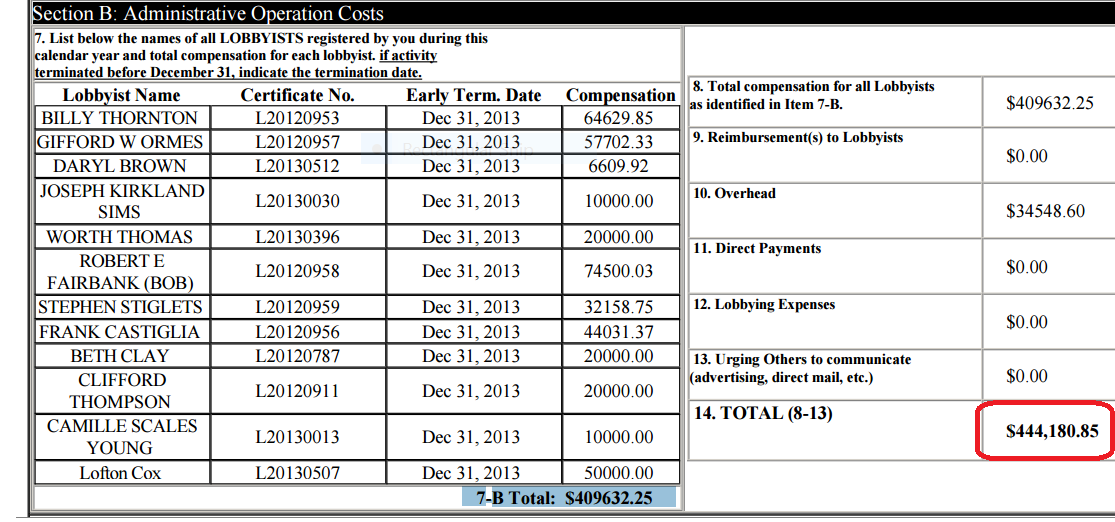 Lobbyists and principles also must file reports showing disclosing basically every dime they spend on lawmakers, elected officials, and public employees.
Here's a portion of such a filing from last year by the the Mississippi Manufacturers Association — a principle.

I've not made the effort to determine the national disclosure norms, but assuredly, Mississippi's requirements are far superior to what's required in Alabama.
I have zero confidence Alabama would pass a law requiring such a level of disclosure. The main reason is that lobbyists and powerful interests, such as Alabama Power, have such a grip on the Legislature, and wouldn't allow it.
Alabama Power has four or five times more lobbyists as Mississippi Power, which only serves south Mississippi, and which has but a fraction of the political pull in that state as its far larger Southern Co. sibling has in Alabama.
Virtually every blue chip lobbyist or lobbying firm is in Alabama Power's employ. That doesn't include its sizable governmental relations contingent, and members of associations and law firms who help the company control the Legislature and every state agency with any oversight whatsoever over company operations.
But one can dream. Even better would be if Alabama passed a law that also required disclosure and pay of "consultants" — like recently deposed Speaker of the House Mike Hubbard (see below).
If a person or company or group of non-profits sought to impact a regulatory body — such as the Alabama Public Service Commission — they too should be subject to the very same requirements.
Pass a law to mandate disclosure of every dime paid to, for example, the firm created when Republicans took over the Legislature and Hubbard became speaker. From non-existent to Blue Chip Lobbying/Consulting Superstars in the blink of an eye.
Every dime — the ones earned when "lobbying" and, equally important, money earned in the muddy category known as "consulting."
When Democrats controlled both houses of the Legislature, the likes of Roger Bedford and Lowell Barron to say nothing of Don Siegelman would have snuffed out any such proposals in a heartbeat. Bad for business!
The disappointing reality, six years after the Republicans took over, is that they're no different. Far more pious, mind you, but get past that, and the difference is … Zip.
Speeding ticket shows landfill failed to sever ties with Lanny Young
First, a bit of necessary background …
In August, this website reported that Lanny Young — the scandal-plagued landfill developer at the center of several Siegelman administration scandals — was secretly spearheading an effort to buy a massive Jefferson County landfill company out of bankruptcy. (To read that somewhat comical if entirely true story, Go Here.)
Young, as most followers of Alabama politics are well aware, spent time in federal prison as a result of pleas entered on charges brought in the Siegelman case; and, separately, a case in which he was accused of bribing Cherokee County's probate judge to win rights to build a landfill there.
Considering his past, Young's association with Big Sky Environmental, when revealed, caused problems for Big Sky as it sought to take possession of the landfill through bankruptcy.
It came out, in bankruptcy court testimony, that Young sought to conceal his role in Big Sky by using his son's name — including when introducing himself to managers at the landfill. 
In order to placate debt-holders and the bankruptcy court, Big Sky's top officer, Californian Gabriel Kim, testified that Young had been terminated. And Big Sky's lawyer repeatedly avowed to the court that Young had been terminated.
My story in August reported that, subsequent to those promises and sworn testimony, Young continued to be involved with Gabriel Kim and to be seen at and around the landfill.
Fast forward to Jan. 31.
That day, Young was ticketed in Jefferson County for speeding. The ticket showed that he was driving a black 2016 GMC Yukon.
There were two addresses on the ticket, both obviously provided by Young. One was his home address. Ticketed drivers must also provide the address of the owner of the vehicle, if it's different than the driver.
The address of the owner of the Yukon was shown, not as Young's personal address, but as 5100 Flat Top Road. (See relevant portions below).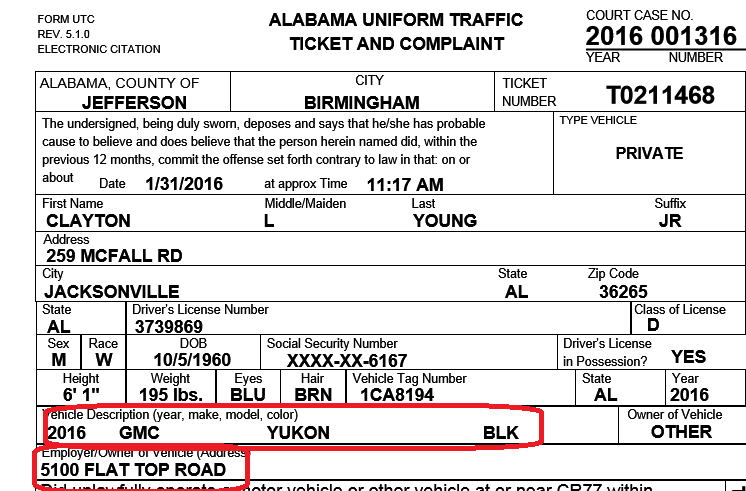 The address of the Yukon's owner is one and the same as that of Big Sky Environmental and its landfill.
I know next to nothing about cars, so I Googled the cost of a black 2016 GMC Yukon. They start at just under $50,000, and climb from there with extras.
Big Sky is operating a landfill it bought out of bankruptcy — a landfill that, despite its size and apparent potential, simply doesn't do that much business.
One would think that the company would be pinching pennies, and avoiding unnecessary expenditures. One would also think that Big Sky representatives would not testify under oath to a federal judge that the company had severed all ties with Lanny Young if this were not true.
If his past is any indication, when Lanny Young is involved, anything can happen.
————————————————
  If you or your company needs in-depth research or writing services, please consider me. 

————————————————
PLEASE CONSIDER MAKING A DONATION
For me to continue the type reporting found on this web-site, I must receive donations. My wife has taken to calling this my "Jesus Project" — because I'm doing it without pay, and thus, for charity. 
To make donations, large, medium-sized, or small, Go Here. You can also send checks to the address below.
People with tips on this story or regarding other subjects addressed on this website are encouraged to contact me.
Do the same if you believe you or your company can benefit from the sort of research on display here.
Contact Information
Eddie Curran
133 Silverwood
Mobile, AL 36607
Phone: 251-454-1911
E-mail: eddcurran@aol.com