Help Wanted: Can you identify any of the 10 protesters in the pictures shown below?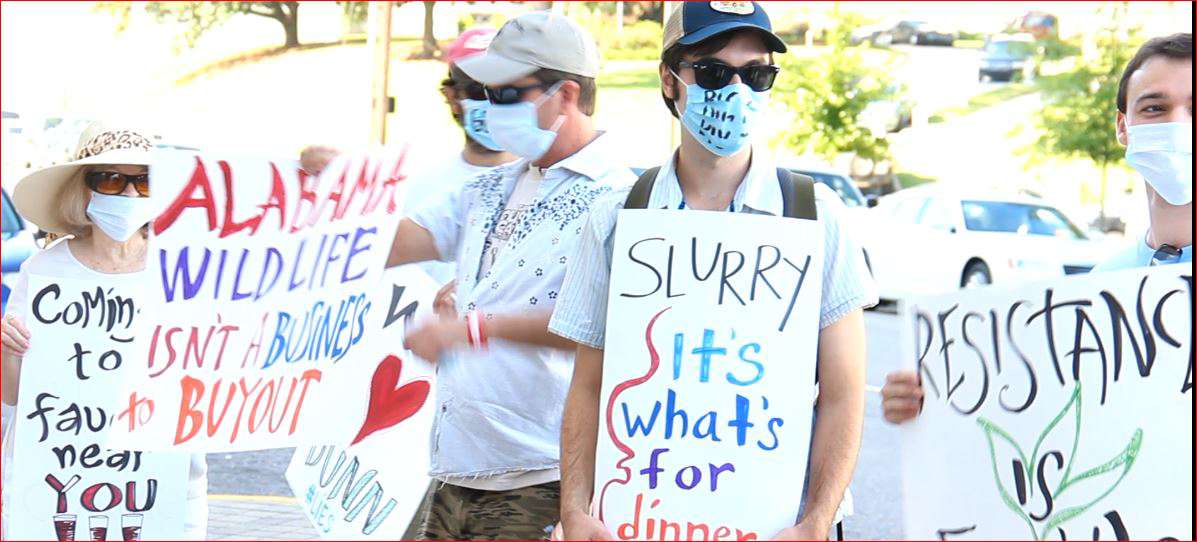 Request: If you scroll down, you will see close up shots of the protesters who are the focus of this story. I am trying to identify and interview them. If you recognize them — or if one of them reads this — please contact me. My contact information is HERE. I believe that if I can prove beyond any doubt that this protest was staged, and by whom, the game will be up on the folks behind the anti-Dunn campaign, and that such a discovery could even lead to lower power rates for Alabamians.
And: On May 12, I added some video taken of the protesters. GO HERE to see it. Most of it shows the protesters, though there's a bit near the start that shows some union officials arguing with the protesters. It's my belief that the argument was staged. The union official doing the arguing is non other than Daryl Dewberry, a member of JobKeeper Alliance, one of the Alabama Power shill groups that made use of photos and footage of the protest to tarnish Terry Dunn. It is indeed a very small world.
By Eddie Curran
On July 17, 2013, a packed house filled the 9th floor hearing room in Montgomery's RSA Union building, where the Alabama Public Service Commission holds its meetings. On the agenda that day: the rate of return on equity — similar to profit — that the PSC allows the state's electricity monopoly, Alabama Power.
Commissioner Terry Dunn derided this and related hearings as "dog and pony shows," and not the sort of formal, judicial rate hearings that are standard operating procedure for public service commissions throughout the country, the south included.
After the hearing started, 10 people — five young men, four young women, and an older woman — arrived from out of town and positioned themselves on the sidewalk. They wore masks and carried posters.
As if on cue, they were photographed and filmed, though not by the media. The media was inside, covering the meeting. The protesters were filmed by people who knew they were coming.
Protester One: Older Woman

Poster Language: "Coming Soon to faucet near you You."

With one exception — the woman above — the protesters appeared to be in their early 20s.
Video and photos of the demonstrators has been used to great effect by Dunn's detractors as part of the cynical scheme to paint him as a liberal environmentalist and the sort of person that conservative voters run from. Much better for Alabama's conservative voters to see him that way than as he really is — one of them, as well as the first commissioner in 30 years to seek to reduce Alabama Power's allowed profit margins that tower above those of power companies throughout the country.
Oddly, no on in the Alabama environmental community has any clue who these people are or why they came to Montgomery that day.
Protester Two: Young Man Who went Inside and Took Off Mask

Poster Language: "Resistance is Fertile"



Protester Three: Young woman with Earrings and Bracelets

Poster Language: "Save the Warrior (River)"
Yellowhammer, in a story purportedly written by Sims, purported to quote some of the protesters. I say purportedly because Sims wasn't there that day. The person who filmed the meeting and protest for Yellowhammer said Sims called him from Birmingham and directed him to focus on the protester carrying the "I Love Dunn" sign. The cameraman was subsequently paid, not by Yellowhammer, but by the Swatek Azbell Howe & Ross firm.
Below, the top of the story, as it appears on Yellowhammer's web-site.
Below is the meat of Sims' story — that's to say — the part linking the protesters to Dunn. Note the ridiculously over the top quote about not being able to pay your energy bill "if your dead."
Also odd: The these young protesters, who seem happy and obviously went out of their way to do this, refuse to give their names. My experiences as a reporter in interviewing energetic advocates of causes, such as protesters, is that they are proud to be identified with their causes. Strange that these young, apparently vivacious and carefree young people would be so shy in that respect.
Cliff Sims. His byline, if perhaps not his actual writing and reporting, has been on more than a dozen stories about or mentioning Dunn — all critical.
The video — "Environmentalist Protest Outside PSC" — starts inside the meeting, then moves outside, to the protesters. At that point, the music starts: It's the dance song, "Crazy," by Gnarls Barkley.  The lyrics, "I remember when, I remember when I lost my mind," are repeated over and over.
A link to the video and accompanying story story is Here. My questions to Sims and members of the Swatek firm are elsewhere on this site, Here.
Protester Four: Young man with Fedora and the Wobblies (see video)

Poster Language: "Cavanaugh: Queen of our Future Carcinoma"

The poster criticizing PSC President Twinkle Cavanaugh would only serve to bolster her carefully crafted image as a conservative harshly critical of environmentalists. The real issue is, of course, rates, not the environment. Couching it as as conservatives vs. whacky environmentalists is a neat bit of misdirection designed to radicalize people who merely seek lower power rates.
Protester Five: Nelson Brooke look-alike with Dunn Poster

Poster Language: "We Love (a heart) Dunn, and Lies"  
Nelson Brooke is a Birmingham native, is wealthy, and has used what one supposes is a good bit of money to help fund environmental groups. He and those groups have appeared before the PSC. The picture above was taken of Brooks when he was in Oregon, protesting coal.
I'd never heard of Brooke until embarking on this story, or met any of those in the environmental community. However, I sought them out to learn more about the protest outside the PSC, and whether they knew or recognized any of the protesters.
Brooke — as the picture shows — for a time wore a beard, and certainly in this picture, wore a symbolic breathing mask with writing on it. He's also known for taking his dog with him when he goes out.
"They really did their homework," said one member of the environmental community, of the protesters.
As noted above, few people actually saw the demonstrators since the "protest" did not begin until after the meeting started. But Amelia Shenstone, who is with a non-profit environmental group, arrived late.
"The protesters were out in front of the building and I was surprised to see them," Shenstone said. "Everyone I knew in the environmental community who had been paying attention to the Public Service Commission was inside and participating."
The Alabama Coal Association video, "Behind the Mask," showed Shenstone chatting with a few of the protesters.  A screen shot from that video, within the association web-site, is below:
Shenstone naturally assumed the demonstrators were with some environmental group, and asked which one. They told her they were "a group of concerned citizens." She said they indicated they were an offshoot of Brooke's Black Warrior Riverkeeper. In fact, two of the posters specifically mentioned that river.
"I thought it was a little odd that they had a, 'We Heart (Love) Terry Dunn,' poster. That stood out as quite separate from any of the messages discussed by the groups I was familiar with. Terry Dunn, in fact, is a supporter of coal so it seemed incongruous that they would be supporting him."
Shenstone was approached by someone with a camera who asked her to comment. "He asked me if I would make a statement and I asked what it was for and he was not specific but said it was footage related to the Terry Dunn campaign.
"He didn't imply he was using it for or against Dunn, but that was a red flag for me because I'm with a non-profit and we're not supped to take positions on political campaigns so I excused myself."
Protester Six:  Girl Who Took Off Mask

Poster Language: "Warrior: 7th Most Endangered River in US."
Protester Seven: Other Girl Who Took Off Mask

Poster Language: "Heavy Metal: Not""

 
Protester Five: Young woman with a dog but no poster

Protester Nine: Young man with backpack

Poster Language: "Slurry, It's What's for Dinner"
Barking Mad: The Canine Protesters
Protester Ten: Young Man who Took Selfie

Poster Language: "Alabama Wildlife isn't a Business to Buyout"
Special Appearance By: Darryl Dewberry

Union Official and Board Member of Dunn-bashing group, JobKeeper Alliance

As noted above, the protesters arrived after the meeting started, were not there long, and were not seen or even known about by the vast majority of those who came for the hearing. One who managed to learn about the protests was United Mine Workers official Daryl Dewberry. Dewberry happens to be one of three board members of the Dunn-bashing JobKeeper Alliance. 

Dewberry and several union workers left the meeting and took the elevator down to confront them, or pretend to. No one in the real media was there to capture this bit of theater — just the cameramen whose work would appear in videos and other media by Yellowhammer News, the Alabama Coal Association, and JobKeeper Alliance. Dewberry subsequently returned to the meeting, and address the commission.

Below is a screen shot of Dewberry from a video by a new group, "Coal Jobs Count" It's an offshoot of the Alabama Coal Association. That association, which is dominated by Drummond and other major coal companies, manages to couch all of its pro-coal arguments in terms of jobs, and never, ever, the well-being of the companies and company owners who fund these campaigns. It is, of course, one and the same as the association that has, "Behind the Mask" at the center of its website.

 

"Coal Jobs Count" — like JobKeeper — has blasted away at Dunn as an enemy of the coal industry.His real sin is a desire to get the Public Service Commission to bring Alabama Power's nation-leading allowed profit levels down to regional and national norms. 

In a recent press conference on the Capitol steps, a "Coal Jobs Count" spokeswoman said:

"Our legislators have two choices — stand with Obama, radical environmentalist and Terry Dunn in support of a war on coal that kills Alabama Coal jobs or stand with the hard working coal families of Alabama in their fight to keep their jobs."

 
Dewberry, at left, watches JobKeeper Alliance Patrick Cagle at a press conference. To Dewberry's left is Jobkeeper's other director, Stewart Burkhalter.
Note: Part two of my video, "Mr. Dunn Goes to Montgomery," contains a good treatment of the protest, including comments about it by Dunn. To see it, go Here.