Mike Fields declines to answer questions about Peoples Alliance for Leadership, payments to him from Alabama Power, or connections to Matrix LLC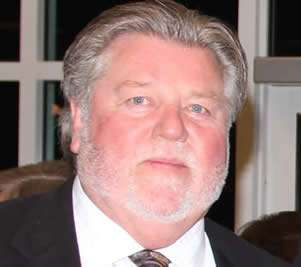 Mike Fields, member of State Port Authority, Alabama Power consultant, and head of non-profit that has funded Dunn-bashing groups JobKeeper Alliance and PACE.
NOTE: Also, as with other stories on this site, readers who have additional information are encouraged to contact me, anonymously or otherwise. My contact information is Here.
By Eddie Curran
An obscure non-profit operated by a state employee on a consulting retainer with Alabama Power has made payments totaling $279,000 to two other non-profits, both of which have openly advocated on behalf of the power company before the Alabama Public Service Commission while also participating in the smear campaign against PSC Commissioner Terry Dunn.
Tax returns of the "Peoples Alliance for Leadership" reveal that the non-profit contributed $205,000 to the Partnership for Affordable Clean Energy (PACE) between 2010 and 2012; and that it gave $74,000 in 2012 to the JobKeeper Alliance.
A chief purpose of this project is to identify the sources of funding for the closely knit array of non-profits that have participated in the efforts against Dunn. This new disclosure is an important piece in the puzzle. It moves me closer to proving that Alabama Power is behind the attacks on the man elected to oversee the rates that Alabamians pay for power and gas.
2013 was a year of immense activity and large expenditures by PACE and JobKeeper on behalf of Alabama Power, its sister company Mississippi Power, and against Dunn.
Mike Fields, the director of Peoples Alliance for Leadership (from here on out, PAL) declined to say if the non-profit gave again in 2013 to PACE and JobKeeper, and if so, how much. The non-profit will have to disclose if it's done so when it files its tax return for 2013, as the returns of non-profits, called 990s, must be made available for public review.
Fields lives in Tuscaloosa. He wears quite a few hats. His full-time position is as director of workforce development at Shelton State Community College. He is also one of nine directors of the Alabama Port Authority, where he serves alongside the likes of Sonny Callahan and Angus Cooper.
Because of those positions, he must file an annual financial disclosure with the Alabama Ethics Commission. His reports show that for a number of years he has been on a retainer with Alabama Power. In each of those years, Fields marked the income category of greater than $10,000 and less than $50,000 in reporting his income from the power company. Fields recently filed report covering 2013 again showed him again receiving a retainer from Alabama Power in the income range, $10,000 to $50,000.
Below, a portion of one of Fields' ethics filings, and the portion from PAL's 2012 tax return showing payments made that year to PACE and the JobKeeper Alliance.


PAL has an unusual history. It was incorporated in 2003 by Mac McArthur, the scandal-plagued, politically powerful head of the Alabama State Employees Association (for more on PAL's early years, see below). The other board members at its inception were Fields and James Barnhart — then the state Labor Commissioner, now a city councilman in Florence, Al.
As far as I can tell, PAL has never been written about, such as in the state media. Its tax returns show that McCarthur's final year was 2009. Fields and Barnhart are now the only directors. Its address is a P.O. Box in Montgomery.
Non-profits of the type that are the focus of this project are not required to identify their donors, only the total annual amounts received. JobKeeper and PACE, though they criticize the funding of other groups, steadfastly refuse to identify their donors. While the funds from PAL do not account for the entire reported funding of PACE and JobKeeper, it's a not insignificant portion.
For example, PAL's largest amount to PACE was in 2011. That year it contributed $135,00 out of what PACE's tax returns show were total contributions of $419,768 that year.
Unfortunately, PAL isn't required to identify its donors, either. And the only reason it had to disclose the payments to PACE and JobKeeper is because they, too, are non-profits. Issue advocacy non-profits of this type must disclose contributions to other such groups. Reminds one of PAC to PAC transfers. Similar activity going on here.
PACE and JobKeeper have been the focus of much of my research and writing on the efforts to destroy the career of the one PSC commissioner in the past 30 years to dare suggest a reduction in Alabama Power's nation-leading profit levels. Were Dunn to succeed, the power bills of Alabama citizens and businesses would go down. In other words, more money in your pockets, less for shareholders.
Dunn has been trashed by a host of groups, several — like PACE and JobKeeper — linked to Matrix LLC. That's the bare-knuckle political consulting firm that's long provided services of an undetermined nature for Alabama Power. The power company won't say what Matrix does for them, and Matrix sure won't. No doubt both have much to be hide, to say nothing of being ashamed of. 
Matrix has long been tight with McArthur and provided political services for the employees union for years. Tommy Kirkland, a Montgomery lawyer with ties to Matrix and the employees union, kept the books for PAL for many years, its tax returns show. Kirkland also incorporated JobKeeper, in 2012.
Below, a typically sleazy example of JobKeeper's work: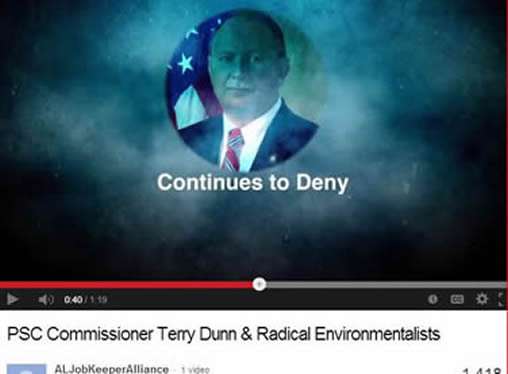 PACE was founded in 2009. As my story on this site shows, the salary of its director, Lance Brown, was paid by Matrix in 2009 and 2010, and Matrix employees provided services to PACE.
PACE paid more than $100,000 in each of its first two years to Charles Steele, the former state senator and civil rights activist who travels about, including to PSC meetings, singing Alabama Power's praises.
PACE is for all practical purposes a subsidiary of Matrix that happens to devote immense resources to boosting Alabama Power, Mississippi Power, and blasting its enemies.Below, an example of PACE giving it to Terry Dunn on its website, energyfairness.org.
I reached Fields at Shelton State this week. I explained that I was researching two groups critical of PSC Commissioner Dunn, and had come across Peoples Alliance for Leadership and its contributions to PACE and JobKeeper. He asked that I e-mail him my questions, which I did.
I asked:
1. Why has People's Alliance for Leadership contributed to JobKeeper Alliance and PACE? How did you, and thus the non-profit, become familiar with the those two non-profits?

 

 

2. Has the People's Alliance for Leadership received any donations/funding from companies or individuals in the energy business?

From Alabama Power?

From the coal industry?

 

3. The 990 for 2013 will be due shortly. I was hoping you could tell me if the People's Alliance for Leadership made any contributions or grants to PACE and JobKeeper Alliance in 2013, and if so, how much was given.

 

4. Due to Mac McArthur's initial role in the People's Alliance for Leadership, I assume that initially it was in some ways related to matters regarding state employees.

Is that so?

Has its function changed since then?

 

4. Does your involvement in People's Alliance for Leadership have anything to do with Shelton State? Has the non-profit ever received any government grants or funding, such as from the state?

 
I suppose I asked the last one because, well, Shelton State has been known to serve as a clearing house for state funds bound for unusual places. After sending those questions, I decided to check the Ethics Commission web-site for financial disclosures by Fields. It was to my considerable surprise that I saw he's been on a retainer from Alabama Power for some time.
He sent me a response that didn't address any of the questions. Here it is, in it's entirety:  "People's Alliance for Leadership operates in compliance with all state and federal regulations. All public information is available in the manner required by law."
I e-mailed back, noting that I didn't anticipate he would choose to respond but that I felt I needed to ask the following:
1. How would you characterize your consulting services for Alabama Power?

 

 

 

 

 

 

 

2. Do those services relate to the non-profit?

 

 

 

 

 

 

3. What role does Matrix LLC and officials with that firm have in the operations of the non-profit? 
He didn't respond.
Last year, the PSC held three hearings on Alabama Power's rates. They were highly informal, with most speakers offering no meaningful input on rates. Rather, they praised the company, such as for getting power back on after storms and helping people — which of course Alabama Power does. As, I might add, do most power companies throughout the country and the rest of the developed world.
Among the boosters at the June meeting in Tuscaloosa: Mike Fields. He described himself as a former coal miner and hailed Alabama Power's record of racing to storm-ravaged sites, such as Tuscaloosa after its tornadoes, to get the power back on.
Fields concluded by criticizing those in the environmental community who'd spoken.  He accused them of having a "hidden agenda." He said their real goal wasn't lower rates, but a desire to close coal mines and "put hard working people out of work." 
Fields, though, neglected to disclose that he gets paid by Alabama Power, and thus, could fairly be said to have his own "hidden agenda." Nor did Charles Steele disclose the substantial funds he's received from PACE. Steele raised the roof with praise for Alabama Power, peppering his talk with multiple references to Dr. Martin Luther King. "I represent poor people," Steele said over and over, though he certainly didn't advocate lowering the rates those poor people pay for power.
It makes one wonder: How many of the dozens of people who came to the podium or otherwise supported Alabama Power at those three meetings were directly or indirectly on Alabama Power's payroll?
I also called PAL's other director, James Barnhart. I left a message and a request that he call me. His address is listed on some of the returns so I was certain I had the correct person. I had not heard back from him when I first published this story.
Barnhart returned my call on Friday. I told him I was working on a story about Peoples Alliance for Leadership, and my reason for doing so. I said I was calling him because he and Fields were listed as its directors.
Barnhart said he'd never heard of Peoples Alliance for Leadership.
 "I've known Mike Fields for years, but that's the extent of it. It looks like somebody was looking for some names to put down (as a director). I know that happens sometimes," Barnhart said, laughing.
Fields assertion that PAL operates in compliance with the laws governing such non-profits may not be correct. Tax forms for non-profits, called 990s, include a host of questions. Among them: "Has the organization provided a complete copy of this Form 990 to all members of its governing body before filing the form?
Below is the response given on the 2012 return. The same response is given on PAL's returns for other years. Below that is the portion of PAL's return from the same year listing all of its directors, or rather, both of them.


Barnhart asked, with a chuckle, if the tax returns showed him getting paid, and I informed him that they did not.
Because of  ties between Matrix and PAL, Matrix and Mac McArthur, as well as Matrix and PACE and JobKeeper Alliance,  I asked Barnhart if he knew Joe Perkins. He said he did and was quite sure that Fields did as well. But, again, Barnhart knew nothing about Peoples Alliance for Leadership. He said he left Montgomery 10 years ago and as a result, hasn't been involved in state politics for some time.
Absent Barnhart's involvement, it appears that PAL is operated solely by a state employee on an annual retainer from Alabama Power.
Alabama Power informed me some time ago that it will not respond to my questions. Were I not persona non grata, I'd call the company's public relations office and start with these:
1. Has Alabama Power or any of its related companies in the Southern Company made any contributions to the Peoples Alliance for Leadership?

If so, how much?

IF so, why?

 

2. For what purpose does Alabama Power pay a retainer to Mike Fields?

 

3. Has anyone with Alabama Power, including its executives and members of its governmental relations team, communicated in any way with Fields regarding the activities of the Peoples Alliance for Leadership? With Patrick Cagle, of JobKeeper Alliance? With Lance Brown, of PACE? How about Joe Perkins, with Matrix?
Depending on the responses, there could well be more questions, perhaps lots of them.

PAL funds at work? Quite possibly. At left, Mark White, a high-dollar Birmingham lawyer retained by PACE to add even more muscle to the already imposing army of Alabama Power lawyers at the table during last year's informal and largely symbolic hearings on Alabama Power's rates. At right is Patrick Cagle, the executive director of JobKeeper Alliance — another beneficiary of PAL funds.
Origins of Peoples Alliance for Leadership, or as I call it, PAL
I only just recently learned of the existence of PAL. I don't know if they call it that but it works for me. At its inception, PAL probably didn't have anything to do with Alabama Power, but with another Matrix client — the state employees union.
As noted above, PAL was incorporated by McArthur. Unknown is whether he or another came up with catchy name, "Peoples Alliance for Leadership."
I think it would be way cool if they'd let "the people" in on some of their secrets.  Where do they (or rather, Fields) get their money? How do they/he spend it? Specifics and such. It is, after all, a peoples alliance, for leadership.
Now that McArthur has left, and Mr. Barnhart was never there, does the Alliance need another director? I volunteer. My number is: 251-454-1911. I pledge to review the books with the greatest of care. In fact, Mr. Fields, you don't have to pay me to be a director, I'll pay you, or rather, PAL.
I'm also curious if PAL has or had any connections with the Nationwide Retirement Solutions' McArthur/Matrix enrichment scheme that, amazingly, did not lead to prosecutions of McArthur, the folks at Matrix, and various others.? (Go here for the Alabama Securities Commission report on that scandal. Try not to become ill reading it. It is sleazy even by Montgomery standards.)
I haven't taken the time to closely go through all of PAL's tax returns but gleaned the main stuff. For example, in 2009, the last year in which McArthur was director, PAL reported total contributions of $225,000. Of that, $198,851 was spent on "professional fees." To whom and what for remains, at least for the moment, a mystery.
Again, reports for this type of "non-profit" don't disclose from where the money comes, and only identify those receiving money if its to directors or employees (none shown to McArthur or any of the directors in any years); to another non-profit; or when a single person or company receives more than $100,00 in a single annum.
So: No idea who gave $250,000 to "Peoples Alliance for Leadership" in 2009, or the six figure sums for all those other years. Nor, unfortunately, do I know at this stage who provided the money since that was forwarded to PACE and JobKeeper.
If you know, will you call me? I want to know. Am, in fact, dying to know.
If you liked this story, and want to see more like it, please consider making a donation, preferably to me, as opposed to PAL.