The Contestants
PSC President Twinkle Cavanaugh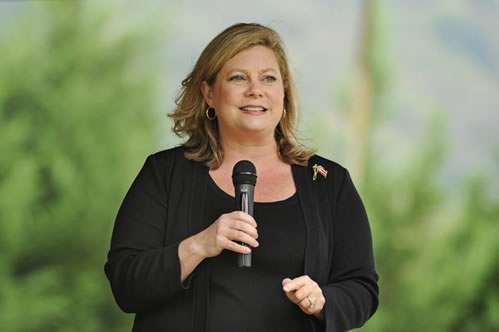 Interesting Characteristics: Uncanny ability to talk, and talk, and talk. And then, to talk some more. Known for saying, at the drop of a hat, "Jobs, Jobs Jobs." Hungers for higher office.
Party: Republican
PSC Commissioner Terry Dunn
Interesting Characteristics: Wants to win re-election but refuses to kow-tow to Alabama Power. As a result, he's likely to be that rare animal — a one term PSC commissioner. Mild-mannered. Not near the talker that Cavanaugh is.
Party: Republican
PSC Commissioner Jeremy Oden 
Interesting Characteristic: The swing vote. Thanks to Oden, Cavanaugh always gets what she wants, as does Alabama Power. Good friends with Gov. Robert Bentley, who appointed him to PSC after Cavanaugh won election as president and vacated position of PSC Place 1.
Party: Republican
The Question
On Aug. 13, 2013, the Alabama Public Service Commission voted to make certain changes in the method it uses to regulate Alabama Power's rates. Cavanaugh and Oden voted for the change. Dunn voted against it. Here is the Question:
Will the changes approved by the PSC in August lead to a decrease in rates for Alabama Power customers, and if so, by how much? 
The Answers
Before we proceed with the each competitor's response, consider this: Alabama Public Service Commissioners are paid $96,600 a year, with the exception of the president, who is paid $103,500. Regulating Alabama Power's rates is unquestionably the most important task of the commission.
Each commissioner has a staff. That's in addition to the much larger agency staff, which includes a section of employees devoted solely to electrical power, which is to say, Alabama Power. It hardly seems unfair to expect of your elected, well-paid PSC commissioners that they be fully cognizant of the anticipated outcomes of any votes that could impact your power bills.
I trust you agree.
Here is what each commissioner projected would happen to rates as a result of the August vote.
Twinkle Cavanaugh: On the day of the vote, Cavanaugh issued a press release with the headline: "Cavanaugh Votes for First Reduction For Alabama Power Customers in Almost 25 Years."
In the release, she acknowledged a need for a rate reduction, writing:"While Alabama Power felt their current rate structure was justifiable, our job as commissioners is to do what's fair for all, and our hearings showed that consumers deserve some relief in the bills they pay."
She stated in the press release that customers could expect to see a savings of between $30 and $110 on their power bills each year based on a number of factors, including amount of electricity used, weather trends, rate classification and others." 
According to Cavanaugh, her vote and the PSC's decision wasn't merely about Alabama Power's rates. It was more than that, much more. It was triumph of conservatism. She and Oden had stuck it to Obamacare and the liberals. Sayeth she:
Terry Dunn: "You won't see anything. I don't think the ratepayers will see any reduction. The things they (Alabama Power) have in place will take care of that. What would be coming back as a rate reduction, they'll have it penciled away with their accountants."
Below, a portion of Dunn's statement after the vote, as it was reported.
 Jeremy Oden: On the day of the vote Oden tweeted (see below) that he'd just voted to "lower Alabama Power's consumer electric rates." 
Summary: Cavanaugh and Oden said the change would lead to lower rates for Alabama Power customers. Dunn said that Alabamians should not anticipate any decrease as a result of the PSC's decision.
The Correct Answer
No reduction in rates.
Below, the start of an Associated Press story reporting Alabama Power — the best source of all — confirming that its rates would not go down in 2014. Company spokesman Michael Sznajderman  said that the projections of lower rates given by Cavanaugh and Oden did not come from the company. This had to be — or certainly should have been — an uncomfortable moment for the two PSC members.
The company said in a statement, "The modification will not result in any immediate reduction in customer bills, but it is expected to put downward pressure on rates over the long run."  
This "downward pressure" over the "long run" is as unlikely as it is fuzzy. In fact, rate increases appear more likely than decreases. On March 4, the Southern Company filed its annual report for 2013 with the Security and Exchange Commission. The report discussed Alabama Power and the PSC's action at length, but made no mention of future rate reductions resulting from the PSC's decision. The report provided several reasons for how rates could go up.
The Winner of the Alabama PSC Competence Competition
Loser of the Alabama PSC Competence Competition
 "We asked them to stand up and basically demanded that from (Alabama Power) because obviously these are some very tough economic times for a lot of families across Alabama."
— Twinkle Cavanaugh
Bonus Competition
AARP vs. Yellowhammer News, JobKeeper Alliance, PACE, and 60 Plus
Most of this web-site is devoted to the attacks against Dunn by a host of mysteriously funded non-profits and the like. In addition to slamming Dunn, these folks relentlessly praise Alabama Power and Cavanaugh.
The AARP (formerly known as the American Association of Retired Persons) is the leading representative of the small pro-consumer contingent that appears before the the PSC to do battle with Alabama Power's army of high-dollar lawyers. AARP has filed briefs with the PSC seeking  meaningful reductions in Alabama Power's rate of return on equity (ROE). If the company's nation-leading ROE were reduced to near the national average or even halfway to that point it would trigger meaningful rate reductions.
Like Dunn,  AARP stated after the August 2013 vote that the PSC's action would not lead to a decrease in rates. It made a formal request for the PSC to reconsider its action. This is from that request:
AARP contends that the Report and Order is unjust and unreasonable, arbitrary and unfair to residential electric consumers, in several respects … including the fact that it does not actually lower electric rates or lower electric bills, but rather affirms a rate structure that would force consumers to continue paying to Alabama Power the highest level of profit currently allowed to any regulated electric company in the entire United States.
I personally do not know AARP's position on Obamacare, nor do I care. But it's beyond dispute that AARP provided the correct answer to our question here about the impact of the PSC's decision on Alabama Power's rates.  They are thus a "winner" here.
How, you were about to ask, did the Dunn-bashers do?
Let's just say they failed the test. See for yourself.
Here's JobKeeper Alliance aka Patrick Cagle waving pom-poms, by way of a tweet, to Cavanaugh after the PSC vote. JobKeeper compounded its error by blasting Dunn for the grave sin of … being correct
If its any solace to JobKeeper and Cagle, Yellowhammer News and Cliff Sims got it equally wrong. Yellowhammer, too, compounded its  mistake by railing against Dunn for being wrong when the opposite was so. 
Wrote Sims, or one of his ghostwriters:
The one notable "no" vote today on the three member Commission was cast by Commissioner Terry Dunn, who has been at odds with his fellow commissioners since their latest round of utility reviews began. Dunn sided repeatedly with environmental groups who were pushing for the Commission to launch into formal legal proceedings, rather than open public hearings. He has said in numerous interviews that he was fighting for consumers, but will now likely have a hard time reconciling his rhetoric with his vote against one of the largest rate decreases in recent memory.
Secret Alabama Power pitchman Lance Brown — serving undercover as executive director of PACE (People for Affordable Clean Energy) – similarly erred by praising Cavanaugh for backing "first reduction for Alabama Power customers in almost 25 years."
To Brown's credit, he's not near the vicious Dunn-basher that Cagle and Sims are. He kept Dunn out of his tweets, but spouted some of the inside baseball changes by the PSC that are more likely to increase the company's profits, not lower rates. And the bit about the PSC being tougher on Alabama Power than Mobile Gas is nonsense, as Brown/PACE no doubt knows.
Also on the opposite end of the truth was 60 Plus. That's a small Washington-based non-profit that touts itself as the conservative alternative to AARP and mysteriously showed up in Alabama to bash Dunn and fight for Alabama Power before the PSC. (See my story on 60 Plus here.)
60 Plus only has a handful of employees. It sent one of them, Matthew Kandrach, down to Alabama to participate in the "Dog and Pony Show" hearings on Alabama Power. An example of 60 Plus's handiwork can be seen in a letter by Kandrach published in the Gadsden Times.
On Aug. 13, Terry Dunn had a simple choice. He could vote for a proposal that would lower the return on capital for Alabama Power Company, saving customers real dollars on their power bills, or he could continue to demagogue with the backing of liberal environmental extremists who are committed to undermining energy independence, regardless of the financial impact on our wallets. Dunn regrettably chose the second option, making it clear he doesn't consider lowering electricity bills for Alabama's families a priority.
Here's a portion of that letter, as it appeared. Typical of 60 Plus, the letter is peppered with irrelevant and non-existent connections between Dunn and Obama and Obamacare.
Below, an image from a video called, "Terry Dunn's True Colors" and put out by an apparently non-existent group calling itself, "Alabama Jobs." The same image — AARP images photo-shopped on a picture of Dunn — first appeared in Yellowhammer News.