Southern Company claims Kemper project manager 'reneged' on agreement to accept money in return for pledge not to air  'allegations' against company
March 25 Update:  The Southern Company/Southern Company Services filed a Stipulation of Dismissal today of  its demands made last month to prohibit Brett Wingo, a former plant manager at its troubled Kemper facility,  from publicly revealing certain unidentified allegations against the company. The motion (Wingo-Case-Dismissed-on-March-25.pdf) states that the company is dismissing "without prejudice" its request for a court order against Wingo. As I understand it, "without prejudice" means the company can come back and pursue the action it commenced with the court filings that are the subject of the following story.
There is no way of knowing, from the filing, if the parties reached a settlement. I wish I could report more but at this stage I cannot. 
On Feb. 27,  following a hearing attended by Wingo and lawyers for Southern Company, Jefferson County Circuit Court Judge Elisabeth French extended, for one month, the Temporary Restraining Order reported on below. In her order, French set a hearing in her court for March 26. (Here is the Feb. 27 order: TRO extended.)
After Southern Company's filing on Wednesday, French issued an order dismissing the case and lifting the restraining order against Wingo. (Order Dismissing Case and Restraining Order)
The following story and author's note were posted on Feb. 25.
Author's Note: The purpose of this somewhat lengthy author's note is to, well, "absolve" all parties to this matter should anyone suspect one of them of alerting, of all people, me and my moderately traveled web-site, to the existence of this clearly sensitive dispute. 
I came across the court records that are the basis of this story  on Feb. 21, two days after they were filed. I was making a routine check of the state court system's online database, called AlaCourt, looking  for any lawsuits involving Alabama Power and Southern Company Services that may have been filed since I last made such a review. I routinely check AlaCourt as part of my ongoing research into Alabama Power,  primarily as it relates to the smear campaign against former Alabama PSC commissioner Terry Dunn. Exposing those behind that campaign, including the financing of it, is the primary purpose of this site. 
Southern Company Services Inc., or SCS, is the named plaintiff in this case . SCS provides some $1.5 billion a year in services — construction and engineering, research and development, accounting, cell phone service and much else — to the Southern Company and its subsidiaries, primarily Alabama Power, Georgia Power, Gulf Power and Mississippi Power. 
Because those services include lobbying, government relations, and political consulting services, I've long considered it possible that SCS has participated in the campaign against Dunn. Thus, my research into that company as well as into Alabama Power. (In most cases in the story, for simplicity sake, I identify the plaintiff as Southern Company, since SCS exists to serve Southern and its affiliates.)
To be clear: I do not know nor have I ever spoken to or communicated in any manner with Brett Wingo or his lawyer, and had never heard of either prior to coming across this case. I do know one of the lawyers shown as representing SCS in this matter and have the greatest respect for him.  I elected not to contact either of the parties or their attorneys prior to posting this story because, as will be clear, none would have been permitted to discuss the case or answer any of the many questions raised by the below described filings.
Should any media elect to use the information reported in this story, I would request that they credit this web-site and, if possible, provide a link to it within their report.
 By Eddie Curran
A state court judge in Birmingham has granted an emergency request by Southern Company to temporarily prohibit a top manager at Mississippi Power's troubled "clean coal" power plant in Kemper, Miss., from disclosing what the company describes as highly confidential information that would cause it "substantial and irreparable injury" were it to become public.
As its Feb. 19, court filing states, the goal of Atlanta-based Southern Co.  is to win a permanent order barring Brett J. Wingo from, among other things, disclosing "certain allegations" he has made against the company.
The company is also asking the court to compel Wingo to abide by what the filings describe as an "unexecuted" agreement between Southern Co. and Wingo that calls for immediate as well as future payments to Wingo in return for his silence on all manners related to his tenure at the company. The settlement would also conclude his tenure with the company, and prohibit him from revealing, not just the terms of the settlement, but that such a settlement even exists.
Neither the nature of Wingo's allegations nor the amount offered to him are to be found in the publicly available portions of the filing. There's not an iota of information about his role with the company, nor, for that matter, the first mention of the Kemper facility.
He is identified only as a current employee of Southern Company Services who lives in Homewood, which is near Birmingham.
After coming across the company's request for a temporary restraining order, I performed Internet searches on Wingo to try determine why Southern Co. would be taking such apparently Draconian steps to ensure his silence. The search revealed an immensely detailed resume, apparently posted by Wingo on Feb. 3.
The resume shows that Wingo has worked for, "SCS (Southern Company Services) Gasification Technologies," since 2007. His job title, since 2011, is project project manager of the  all-important "Gasification Island" element of the Kemper plant.
Here's the top of Wingo's resume and a small portion from one the three pages devoted to his work at Kemper and the gasification project. (For his complete resume, go Here.)


The Temporary Restraining Order, or TRO, was issued by  Jefferson County Circuit Court Judge Elisabeth French. The record reflects that she issued the order after reviewing the publicly filed request from Southern Company as well as supporting documents which the company asked in a separate motion to be filed under seal; and after considering arguments presented by lawyers for the company.
Because subjects of TROs are not given the opportunity to object, the orders are, as the term reflects, temporary.  Upon issuing the orders, French scheduled a hearing  for Feb. 27 — Friday — at 11 a.m. At that hearing, Wingo will have the opportunity to urge the court to rescind the restraining order against him, and Southern Company will, as its filings make clear, urge the court to make the temporary order binding.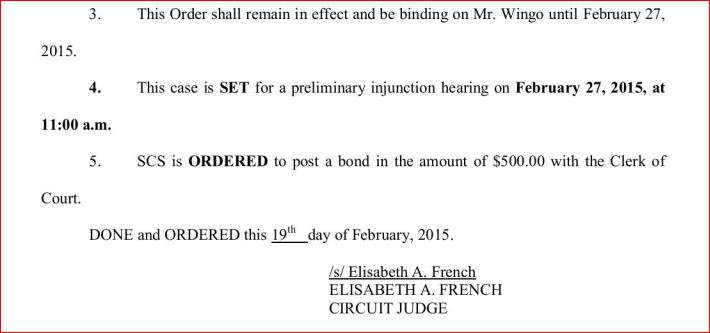 In Alabama, the Southern Company, like Alabama Power, has long been represented by Balch & Bingham. However, in this matter, the firm is using Lightfoot Franklin & White, a Birmingham firm that specializes in complex litigation.
The documents filed under seal are an affidavit by Lightfoot Franklin attorney William King, who represented Southern Company in the settlement negotiations, and a pair of Dec. 31 e-mails. One of the e-mails is from King to Wingo's attorney. It is described as spelling out the terms of a confidential severance settlement between company and employee. The other e-mail is a response from Wingo's attorney.
The affidavit and e-mails are described as containing highly confidential material that, if made public, would result in great harm to the company.
On Tuesday, Southern Company issued a subpoena to Birmingham attorney John Saxon, demanding that he appear at Friday's hearing to provide testimony. It seems fair to assume that Saxon is the attorney who represented Wingo during the settlement negotiations. Saxon's web-site shows that he specializes in employment law.
Other Lightfoot Franklin attorneys are handling the case before French. The documents suggest that King and Saxon are likely to testify Friday about the settlement negotiations and the company's claim that the e-mailed response from Wingo's lawyer to King amounted to a binding agreement to accept the settlement terms spelled out in the prior e-mail from King.
Before continuing with details of the legal case, I'll provide some background to those readers unfamiliar with the Kemper project. After all, it is the context of the Kemper situation that makes the company's dispute with Kemper a matter of potential public interest.
Southern Co's Mississippi nightmare
The Kemper plant was initially projected to cost about $2.4 billion and be completed and fully operational some two years ago. That total, to say nothing of the starting date, have long been surpassed.
In early February, Southern Co. and Mississippi Power announced the latest projected cost over-runs, of $45 million. That brought the projected final cost to an astronomical $6.17 billion, with a completion date sometime in the first half of 2016.
Kemper was never going to be an ordinary coal-fired power plant, turning coal into power. Rather, it's being designed to use a multi-step process that starts with converting coal into gas.  Kemper County, in east Mississippi, was selected because it has abundant supplies of lignite, a low grade type of coal. The plant is being built adjacent to a lignite mining operation that will feed it.
This highly technical "gasification" process also involves "capturing" carbon and other byproducts for sale to industrial users. Sales of the byproducts are to serve as one of the economic engines of the plant. But the chief purpose of gasification is that it provides a means for power companies to use coal in a manner that produces fewer emissions than normal coal-fired plants and is thus far superior from an environmental standpoint.
The success of the Kemper project is important, not just for Southern Company, but for companies and countries that hope to utilize the process to build so-called "clean coal" plants. The massive cost over-runs could dissuade firms and countries from building such plants.
Last year, Kemper started producing power, but from natural gas purchased by the company, not from the gasified product that is the central element of the project.
From a financial standpoint, it was arguably a bad decision for Southern Co. to choose Mississippi for the site and for state officials to approve it and provide incentives.
The reason: Mississippi Power is Southern's smallest power producing company, with just 185,000 customers in the southern part of the state. A utility's costs — including construction of new plants — are passed on to customers in the form of higher rates. The larger the rate base — in other words, the more the customers — the more these costs are spread out, and the lower the rate increases. 
At Kemper, the overruns have been so massive that Southern Company and its shareholders are having to eat a substantial amount of those costs — far more than anticipated. This has had an impact on the company's historically steady and impressive earnings. It's impacted the bonus-related provisions of company executives, thus lowering their pay, and led to the removal of Mississippi Power's president and another top executive.
Those who've paid any attention to the Kemper situation are all too familiar with the seemingly endless flow of stories in the Mississippi and national business press reporting new, higher project costs and delays. These reports invariably follow mandatory disclosures to the Mississippi Public Service Commission and the Securities and Exchange Commission.
Here's a portion of one such news story, from July 2013.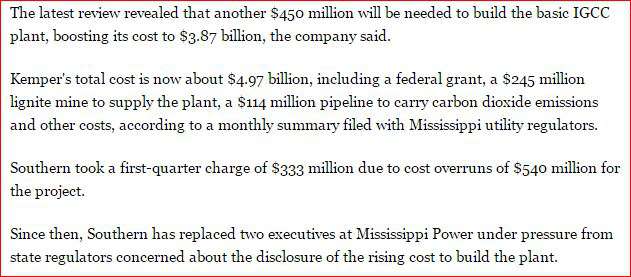 That was a couple of billion dollars ago. And with its latest disclosures, Southern Co. and Mississippi Power reported that the current projected cost of $6.17 could grow even higher due to weather, labor costs and other factors, possibly to include, "unforeseen engineering or design problems" related to gasification technology.
Sometimes cartoons say it best. For example, this one from the Jackson Clarion-Ledger: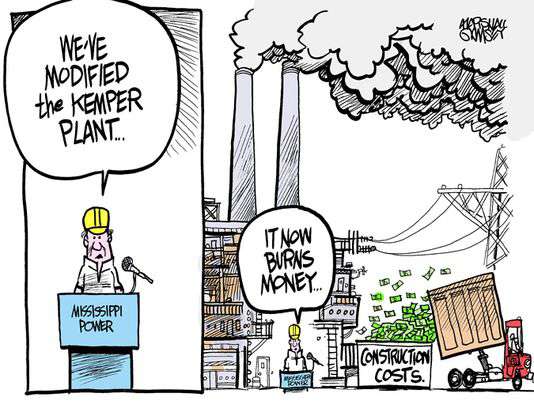 Company claims lawyer's e-mail binds Wingo to agreement
Southern Company's filings show that on Dec. 31, Lightfoot Franklin attorney William King sent an e-mail to Wingo's attorney —  presumably Saxon. The following is Southern Company's account of what occurred: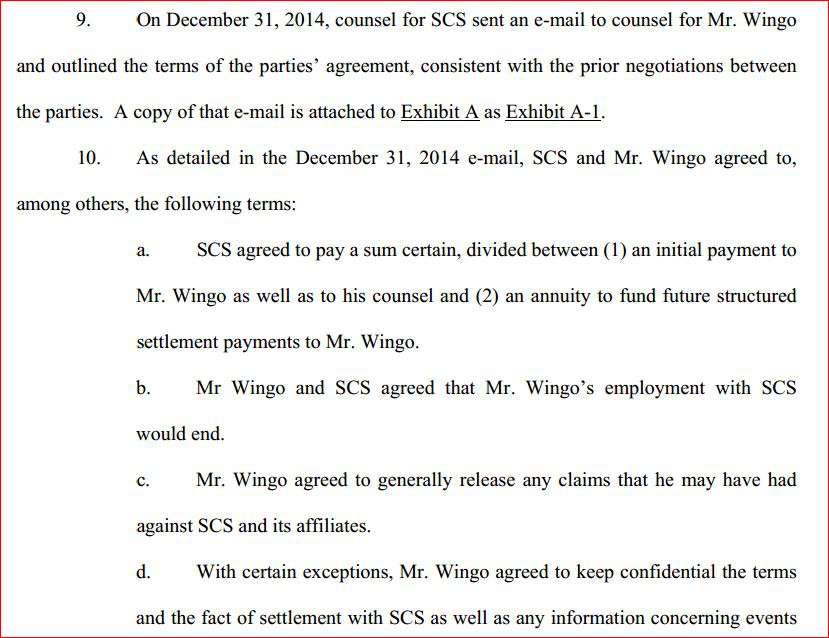 That Southern Company was to make an initial payment to Wingo and his attorney, then begin funding "future structured settlement payments" suggests that the company had offered a substantial sum to Wingo in return for his silence.
Later in the filing, it states that subsequent to the Dec. 31, e-mails, the "parties had further discussions regarding the form of a final settlement."
During those discussions, Wingo "demanded more money" and insisted that certain terms, "be removed from a final settlement," according to Southern Company's court filing.
"To date, Mr. Wingo has refused to execute a settlement agreement and has given no assurances that he will ever do so," the company asserted. Elsewhere in the filings, Wingo is described as having "reneged" on the agreement.
To the extent the language suggests Wingo was being greedy by seeking more money, the company's fear that he would never enter into a settlement implies that Wingo may have decided not to trade his silence for money, even an apparently substantial amount.
The company declared in last week's court filing that it remains, "ready, willing, and able to execute a settlement agreement, pay the settlement amount, and fund the structured portion of the settlement."
Case could hinge on court's finding regarding the 'agreement in principle'
Southern Company argues that the "unexecuted" agreement as spelled out in the e-mail from King to Wingo's lawyer should be declared a "valid, enforceable agreement;" and that Wingo should be, "bound by that agreement, including its confidentiality terms."
Assuming the parties do not settle before Friday, and that testimony is given and arguments made, the central issue upon which the dispute will hinge would seem to be the court's finding regarding the e-mailed response by Wingo's lawyer that the parties had an "agreement in principle."
I researched (Googled) "an agreement in principle" to determine if it was indeed as iffy in the legal sense as it is to the layman's ear. Did it hold water, contractually speaking?
The most pungent definition: "(An agreement in principle is) an oxymoron as an agreement in principle is no agreement at all."
But the same definition went on to state — as others similarly did — that a "contract must be concluded in all its fundamental terms, with nothing left to negotiate" for it to be considered binding." This suggests that in some cases, depending on the facts, an "agreement in principle" can be binding.
As previously noted, Southern Company's lawyers acknowledged that there were "further discussions regarding the form of a final settlement" and which occurred after the Dec. 31 e-mails.
For French to rule for Southern Company, she must (or so it seems to this layman) accept as a binding contract an "unexecuted" agreement whose ratification amounted to an e-mail from Wingo's lawyer to Southern's stating that there exists an "agreement in principle."
The court would seem to also need to find that the "further discussions regarding the form of a final settlement" occurred, to use a sports analogy, after the game was over and the scoreboard turned off.
It seems from the available information that Wingo's position has the edge. But if I were a betting man, my money would be on the Southern Company.
And why is that?
Because this is Alabama, home of the state's political behemoth, Alabama Power. The Southern Company and Alabama Power always get their way here. Just ask Terry Dunn, who after all is now a former as opposed to current member of the Alabama Public Service Commission. 
Southern Company even hauled in lobbyist supreme Haley Barbour to host a fundraiser in Mountain Brook for Dunn's opponent, Chip Beeker.
It's been decades, best I know, since Alabama Power did not gets its way on a matter of substance in an arena run by elected officials. Judges, of course, belong in that group.
So I'm picking Southern Co. to win this battle. And that, I should add, is without knowing the first thing about the judge. Especially given her location — Birmingham, home of Alabama Power — the judge won't need anyone to introduce her to the elephant in the room or explain the breadth of its political influence and willingness to wield it.
Wingo not barred from contacting Securities and Exchange Commission
The settlement as described by Southern Company in the court filings contains one exception to the confidentiality terms to which it seeks to bind Wingo. It reads:

The existence of that exception at least suggests the possibility that Wingo's allegations could put in doubt the accuracy of some of the public disclosures regarding Kemper by Southern Company and Mississippi Power.
It's my understanding that it would be illegal for a publicly traded company to bar its employees or former employees from reporting possible infractions of securities laws to the Securities and Exchange Commission. That exception, or so it seems, shows the company being careful, as well as principled, in making it clear that it does not seek to bar Wingo from taking his allegations to the SEC should he feel compelled to do so.
Unquestionably, Southern and Mississippi Power have with unceasing regularity reported new, ever larger costs at Kemper and almost as often, later projected dates for the gasification operation to go on line. But I suppose it is possible that Wingo could assert that the company at some stage or perhaps still is under-reporting the costs and/or starting date for the gasification operation.
Unquestionably, Wingo — the apparent manager of the most troubled aspect of the multi-billion dollar plant — has made allegations of a serious nature. The slight information in the filings reflects that the Southern Company disputes those allegations.
Given the delays and extra costs in the billions of dollars, it would be a miracle if Kemper was a big happy family, with everybody on the same page.
But if Wingo does possesses information or documentation supporting serious allegations regarding the plant operations, an argument can be made that this information should be provided to various interested parties. Depending on the nature of the information, and its accuracy, that could include the Mississippi Public Service Commission and possibly the investment community, through the Securities and Exchange Commission.
Pardon the speculating, but it's hard not to, given the alarm-raising language in the filings and the sealing of affidavits and e-mails. Consider, for example, the proposed order to seal the affidavit and e-mails which was drafted by Southern Company's lawyers. It reads in part, with emphasis mine:
          "Having reviewed the Affidavit and heard argument from counsel, by clear and convincing evidence, the Court finds that the Affidavit reflects confidential commercial information and that, without sealing the Affidavit, SCS faces particularized harm associated with the public disclosure of confidential settlement negotiations as well as the subject matter of the dispute resolved through the settlement agreement."
Why this filing now?
It can reasonably be inferred that the Southern Company hoped that no one would discover this filing. Certainly, though, there was a risk of this happening. A request for a TRO is a public filing.  I suspect Southern Company's lawyers hope not only to have the matter resolved in their favor, but, once that's done, to ask the judge to seal the pleadings that were filed in order to get the TRO.
In the motion to seal the supporting documents, the company stated that, "but for this dispute, SCS would have no reason to disclose the settlement agreement to this Court or to any other party."
That the Southern Company took this step reflects deep concern that Wingo had already or is contemplating disclosing the information and allegations the company seeks to bar him from making public. Possibilities include going to the media or, more likely, suing Southern Company and spelling out in great detail both his "allegations" and the information the company seeks to keep confidential. 
I initially planned to hold off on this story and drive to Birmingham and attend the hearing. I would unquestionably have learned far more than I'm able to report here.
However, I feel certain that someone would have either recognized me or asked who I was; brought my attendance and outsider's status to the court's attention; and requested, with a high likelihood of success, for the public to be barred from the proceeding.
No one is paying me for my time or expenses. Rather than waste both, I decided to go ahead and do the story.
——————————————————————————-
If you liked this story, and want to see more like it, please consider making a donation. Directions on how to do so are HERE.
Also, if you have information that can help me prove beyond any question Alabama Power's role in the campaign against Terry Dunn, including financial information or documents, please contact me. My contact information, and a description of some of the information I'm seeking, can be found HERE. Anonymous tips are fine.
Lastly, I will pay $300 to anyone who can provide me with the identity of the bearded man in the picture below, and $100 for the name of the woman next to him. I believe they are both from the Birmingham area.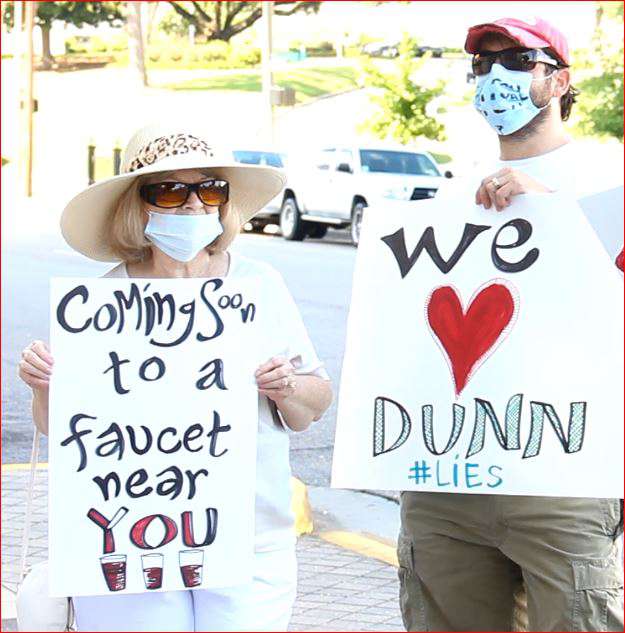 Here are the court filings made by Southern Company Services on Feb. 19 and which are the subject of this story:
Complaint vs. Wingo: Complaint vs. Wingo
Motion to seal affidavit and e-mails: Motion to seal affidavit and emails
Proposed order to seal affidavit and e-mails:Proposed Order to Seal
Proposed TRO: Wingo proposed restraining order
Judge's signed TRO: TRO Order