September Super Blog I: Alabama Power, Publishing Company?; Alabama's 'Yellow Media' refuses to shine light on APCO's 'Dark Money;' and More
By EDDIE CURRAN
Usually I spend a lot of time on one story, post it, and do what I can to publicize it. Today (Sept. 25, 2015), I'm posting  what I'm calling, for the fun of it, September Super Blog I.
As it suggests, September Super Blog II is in the works, and coming soon.
There's much here for those who follow Alabama politics, Alabama Power, and the multi-billion dollar debacle facing APCO's sister company, Mississippi Power, in building its revolutionary "coal gasification" plant in Kemper County.
These stories involved considerable time to research, write and put together. If you find you are enjoying it and learning something, please consider scrolling down to the bottom, where directions for making donations are provided. And by all means share with others you believe will find it interesting.
Should any media pick up on these stories, or others on the site, I would ask that they credit the site and provide links. 
Now, for today's menu, in order of appearance:
— Watch out, Al.Com: There's a new face in the state news market,
 — State of Alabama claims vs. Walter Energy top $70 million
— Importance to Dunn project of Bentley/Mason story and the Alabama Council for Excellent Government
— Alabama's Yellow Media could learn much from Arizona coverage of Dark Money and PSC
— Coal Job Counts and JobKeeper Alliance AWOL in miners battle vs. Walter Energy on executive pay
— Will Ethics Commission exercise its new authority to police campaign finance violations?
— Still waiting for the  'The Stand Up for Alabama Coalition'  to Stand Up
— My story on Kemper foe Thomas Blanton praised by unlikely sources: APCO shill groups PACE and JobKeeper Alliance
— The Power to Tweet: Alabama Power's Social Media Explosion
— The Editor Goes Home Early, and Silliness Ensues
Watch out, Al.Com: There's a new player in the state news market
As has been reported here and elsewhere, Alabama Power's spending on political operations — roughly $24 to $25 million a year — dwarfs what other state-regulated investor owned utilities spend, including far larger ones.
I suspect that Alabama Power is also all alone among investor-owned utilities in the sums it spends on a category I'll call, "media and publishing." I don't know the amounts spent, and am sure the company won't say, but a review of company web-sites and social media reflects that Alabama Power's generation of such product is big and getting bigger.
In pointing out the following, I'm not criticizing the quality of product, but asking, "Is all this really necessary?"
Was it necessary, for example, for Alabama Power to launch, as it did this spring, "The Alabama News Center."
The new entry into Alabama journalism contains stories on news, sports, weather, entertainment, even what newspapers have long called a, "Living Section," in this case, called, "Community." There, you'll find all manner of feature stories, including recipes and stories about restaurants.
To be clear, the "news" section focuses primarily on economic development. The company has long been the state's biggest mover and shaker in economic development, and one can see why the company might wish to promote major industrial developments in the state.  For example, this screen shot of a story about Airbus's recent grand opening in Mobile.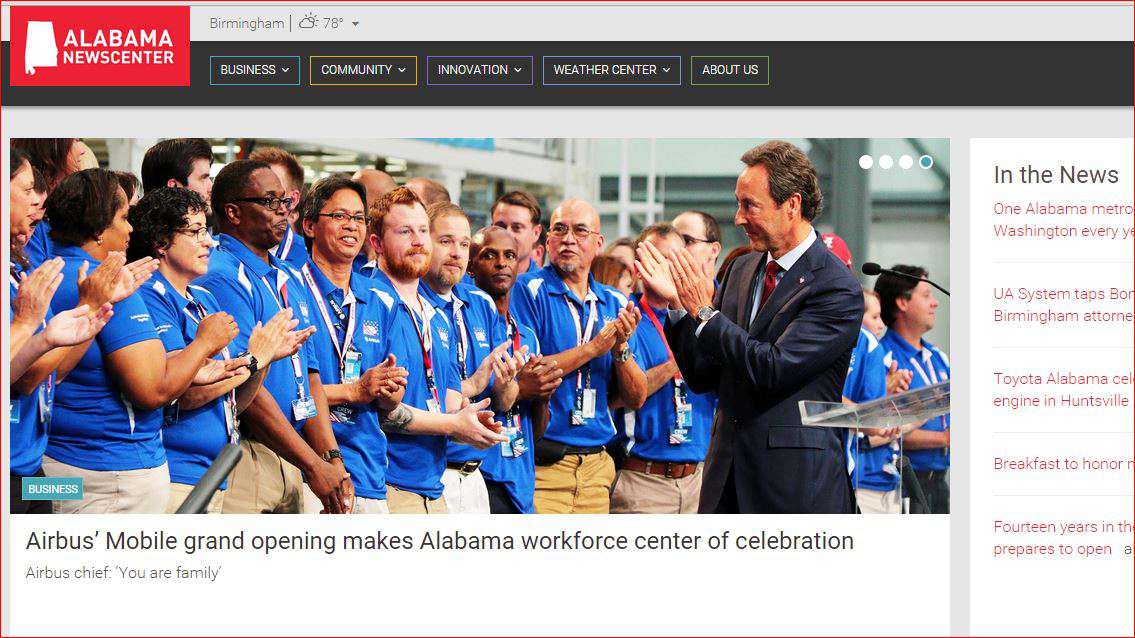 Alabamians — at least those in the Birmingham area — now have yet another means of finding out what's happening, entertainment-wise, in the coming weeks. A Van Halen concert, for example.

The editor of the Alabama News Center is Michael Tomberlin, a veteran business reporter with the Birmingham News.
In February 2014, Tomberlin crafted a glowing feature in the News on newly crowned Alabama Power CEO Mark Crosswhite. Six months later he left the paper to take a position as a "senior communications specialist" at Alabama Power. In May, Tomberlin became editor of the Alabama News Center.
In leaving Al.Com for Alabama Power, Tomberlin was following a well-worn path. 
In 2001, one of the paper's top reporters, Michael Sznajderman, left to become an Alabama Power spokesman. He now holds the title, Manager of Corporate Information and Media Relations, and is generally the one quoted in stories regarding serious company matters, such as questions about the PSC.
During the 2014 campaign, Terry Dunn told reporters that challenger Chip Beeker was Alabama Power's chosen candidate to take his seat on the Public Service Commission. Sznajderman, contacted by reporters about Dunn's comment, said: "We are not involved, directly or indirectly, in any PSC campaign."
I use that quote often on this site because it's a lie. Everyone with the faintest understanding of Alabama Power's control over the PSC knows it's a lie. That includes Sznajderman, everyone at Alabama Power, and the state political media.
In June 2012, Bob Blalock, for years the much esteemed editor of  the Birmingham News' editorial page, left the paper for a position as a "senior communications specialist" at Alabama Power.
Now, according to his LinkedIn profile, Blalock has a new title: "Content Development Team Manager."
Taken literally, this suggests — correct me if I'm wrong — that there is an entire "team" of "content developers" at Alabama Power.
I used one of my favorite searches — LinkedIn — to see if I could learn more about this "team." 
I quit after finding three "senior communications specialists;" six "communications specialists"; a "communications marketer;" various writers and editors; a "digital and social media strategist," and the guy pictured below, who has four titles, including, "Speaker and Social Media Explorer."
For sake of clarity, the Communications Specialist People (my term) are in addition to and separate from Alabama Power's public/media relations staff. And that's as it should be. One would have to be pretty daft not to see that "Media Relations" and "Communications" are two entirely separate personnel categories, requiring different skill sets, purposes, staffs, leadership, etc etc etc. etc etc.
The Media Relations Small Army is headed by a company vice president (John Hudson). It includes an "assistant to the vice president of public relations and communications;" Sznajderman; two Birmingham/headquarters-based "Public Information Representatives," and five public information staffers spread throughout the state.
As a former reporter, I can attest to the importance of the folks in various district offices, especially before, during and after hurricanes and other major weather events. No complaints here or elsewhere on this site about Alabama Power's services,  or the company's efforts to keep customers abreast of all necessary information, especially when Nature makes a mess of things. A worthy use of ratepayer money.
But an outdoors magazine?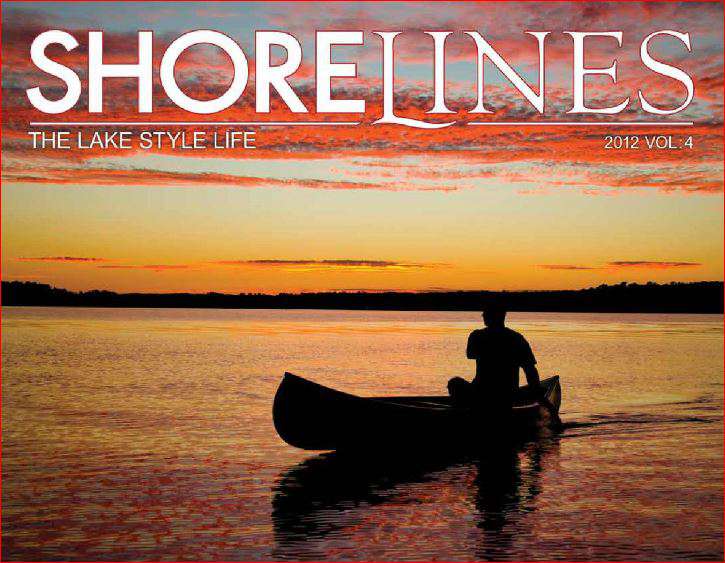 The above-mentioned Blalock oversees Shorelines, which provides stories and features about, "The Lake Style Life." It's unquestionably a fine product, well-written, illustrated with top caliber photos, and professionally designed. It even has one of those "Contributors" pages, like Vanity Fair. (See below.)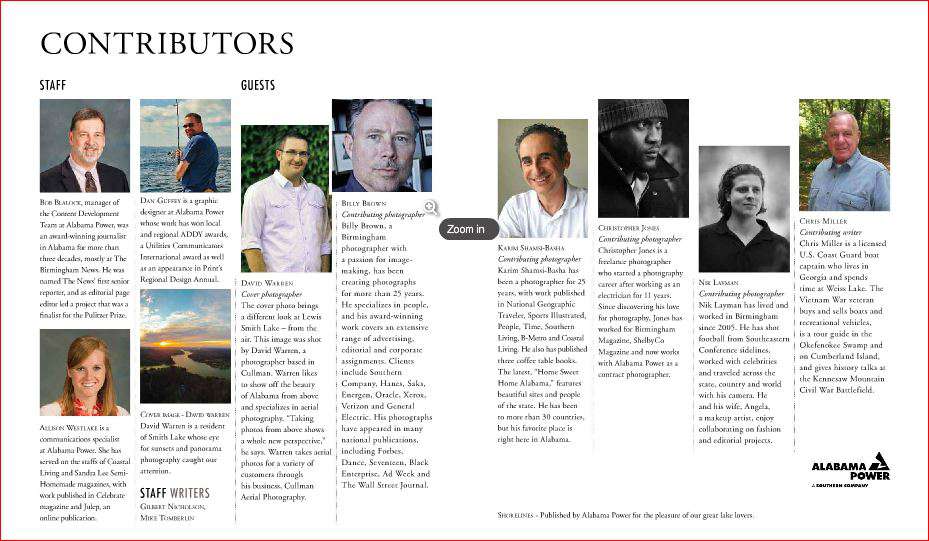 Below, a story about the Hank Williams Cabin on Lake Martin, where the country great went to escape the pressures of the music business.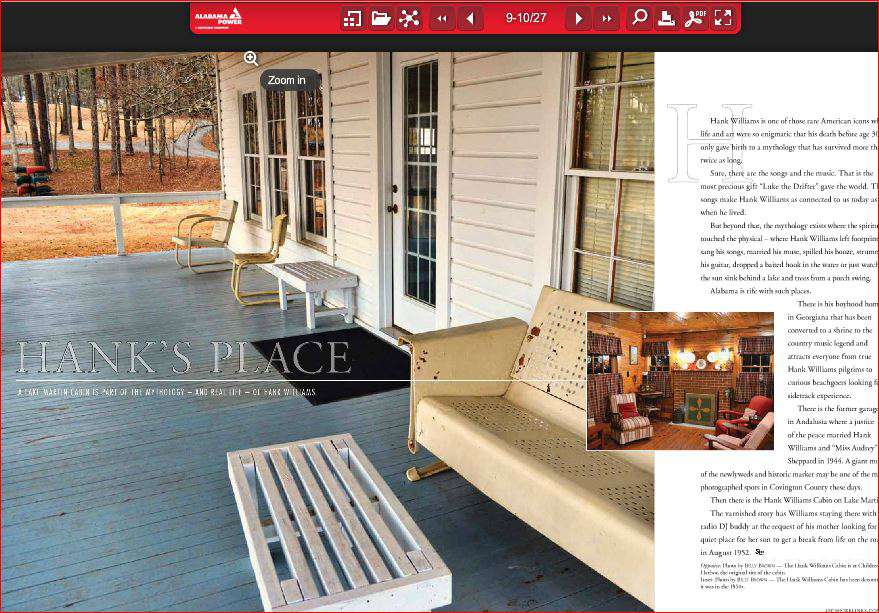 The smear campaign against Dunn began in early 2013, immediately after he urged the PSC to consider bringing Alabama Power's profits down closer to national norms to urged the commission to hold rate hearings.
During such hearings — held in almost every state — company officials must answer questions under oath about spending. The purpose is to assure state regulators and the public that a company's expenditures are justified and in line with industry norms. After all, these expenses are passed on to customers.
The Alabama PSC has not held a rate case in more than 30 years. The reason: Alabama Power doesn't want to be subject to a rate hearing; and the gutless wonders who have sat on the PSC for decades haven't dared suggest otherwise. Not, in any event, until Dunn. Thus, the target put on his back.
Were the PSC to grow a spine and do its job, and hold a rate hearing, I think Alabama Power's spending on media relations, communications and, well, publications, would be among the many spending categories to merit serious inquiry.
Surely it would be fair to ask an Alabama Power executive why the company felt it necessary to fund the above described communications products (and others I've no time to get into) and to disclose the budgets of these operations.
And to ask: What are the company's future plans regarding its media? Are there additional magazine type publications in the works? Any expansion plans for the Alabama News Center?
Can we be expecting coverage of state politics, in addition to what you already provide, if secretly, through Yellowhammer News and the Alabama Political Reporter?
Inquiring minds want to know.
State of Alabama claims vs. Walter Energy top $70 million
In July, Birmingham-based Walter Energy filed for Chapter 11 bankruptcy protection. The company has been battered in recent years by the severe drop in coal prices and debt it took on in 2011 with an ill-timed, $3.3 billion purchase of Canada's Western Coal Corp.
In its bankruptcy filing, the company cited some $5 billion in debt.
I recently searched the portion of Walter Energy's website devoted to its bankruptcy, looking for items related to this project.
Historically, Alabama coal interests and their respective unions have participated heavily in PSC campaigns by donating to pro-Alabama Power candidates. In 2013 and and 2014, coal interests and miners worked with Alabama Power shill groups in mounting an unprecedented attack campaign against a sitting member of the commission.
The most astonishing finding from the company's bankruptcy case involved claims brought by the Alabama Department of Revenue, some in the millions of dollars.
But there was one from the state tax agency that I feared reporting, lest it turn out to be a typo.
The reason: It showed a single claim for $66,024,853.
I contacted the Revenue Department and basically asked, Is this true?
It was. The department provided the claim it filed on July 23 in the Walter Energy bankruptcy case. The claim broke down the types of taxes owed and the years for which they were owed. All but a few thousand dollars were for business income taxes the state contends is owned from 2009, 2010 and 2011.
Below is a portion of the Revenue Department's filing against Walter Energy. It shows claims of almost $70 million in back taxes, penalties and interest.

Of that total, some $66 million is "secured," which means those claims would be in line for payment from the bankruptcy case before claims by "unsecured" creditors. About $3.9 million of the department's claims are shown as unsecured.
It's important to keep in mind that this is the amount that the state claims is owed. It's reasonable to assume that the company may dispute this, with the final claim subject to litigation or negotiation. 
When Walter Energy filed for bankruptcy, it provided the amounts owed to some creditors, an indication that the company doesn't dispute those debts or the amounts. A list of the top unsecured creditors showed that the Alabama State Port Authority is the fourth largest unsecured creditor.
The company reported owing more than $1.1 million to the state agency that operates the Port of Mobile. (See below.)

A spokesperson for the Port Authority said she could not comment on the debt because it's a legal matter. However, she said that Walter Energy "continues to operate its mines and ship (coal) through the Port of Mobile."
On Thursday (Sept. 24) Bloomberg News reported that lenders and creditors are at odds over the Walter Energy bankruptcy case. The judge warned at a hearing last week that that hopes for Walter to come out of bankruptcy as an operating concern may soon "crash and burn" due to the inability of the warring parties to negotiate. 
Such an outcome would not seem to bode well for the ability of the Revenue Department and Port Authority to collect a meaningful amount of the sums they contend are owed.
Importance to Dunn project of Bentley/Mason story and the Alabama Council for Excellent Government
In February, a non-profit called the Alabama Council for Excellent Government (or, ACEgov) was formed with the stated purpose of supporting Gov. Robert Bentley's policies, especially the tax increases Bentley was seeking to fix the state budget mess.
There was no effort then or now to conceal ACEGov. It has a website and a Facebook page. Below is a screen shot from its website. The "What We Do" link does not, for reasons I'll leave you to ponder, include something along the lines of: "We pay the salary of the governor's senior political adviser."
One of the three directors of ACEgov is R.B. Walker, a  top Alabama Power official heavily involved in the company's governmental relations operations.

Several weeks ago the Birmingham News/Al.com  reported that ACEgov has been paying the salary of Bentley's senior political adviser, Rebekah Caldwell Mason. Separately but similarly, the salary of Bentley's chief of staff, Seth Hammett, is being paid by his former employer, Power South Energy Cooperative. Power South, I will note, is a partner in some Alabama Power/Southern Co. power plants.
Can there be any other state so upside down backwards and goofy as to allow politically influential companies and shadily funded "non-profits" to secretly pay the salaries of its governor's most senior advisers? (Mexico is not a state, so that is not a correct answer.)
One problem with these reports is the apparent failure of the reporters writing them (and the editors editing them) to take the obvious as the nose on your face step of calling Alabama Power and asking: Has the company provided funding to ACEgov and, if so, was it aware that ACEgov was paying Caldwell Mason's salary?
(Anyone who pays an iota of attention to Alabama politics has read the news stories suggesting that Mason and Bentley were having an affair, and that the affair is the reason Bentley's wife filed for divorce in August. I tend to doubt that the pair had an, umm, physical relationship. I think it more likely that they developed a professional and perhaps emotional closeness that was just too much for Bentley's wife to tolerate. In any event, love and romance are not the issue here.)
I hope someone will correct me if I'm wrong, but I've seen nothing — in Al.Com or any other state media outlet — such as: "Alabama Power spokesman Michael Sznajderman said the company has not provided funding, directly or indirectly, to ACEgov." Or, more likely, a statement to the effect that the company would not be commenting on matters relating to ACEgov and the funding of Caldwell Mason's salary.
The result is a giant "Dark Hole" in Al.Com's stories and columns on the matter. 
On Sept. 9, Al.Com reporter Leada Gore provided what in some ways was an aggressive exploration of ACEgov funding, calling it a "Dark Money" group. (Go here for story.)

It was, unfortunately, another "Dark Money" story with a "Dark Hole" at its center. There was no indication that the reporter contacted Alabama Power for comment.
The story contained a thorough explanation of  dark money. In short, this is when companies and individuals seeking to influence political issues and campaigns conceal their identities by funding 501(c)4 non-profits, which use the money to carry out the wishes of the secret donors.
Such political spending is referred to as "dark" because no one can "see" the source of it. The donors are hidden, as if in the dark.
From now on, I'm going to start using the phrase on my site. If I had to sum up a purpose of my work here, it is to shine a light on the millions of dollars spent by "Dark Money" groups including but not limited to JobKeeper Alliance: Partnership for Affordable Clean Energy (PACE): the 60 Plus Association; Coal Jobs Count; the Free Market Alliance; Peoples Alliance for Leadership; and Vote Alabama.
To those, add "Dark Money" faux news publications Yellowhammer News and the Alabama Political Reporter, and two political consulting/lobbying firms who work for Alabama Power — Matrix LLC, and Swatek Azbell Howe & Ross.
All participated in the smear campaign against Dunn; the successful effort to replace him with Chip Beeker; and the PR campaign to provide cover for Alabama Power's December 2014 rate increase by blaming it on Obama and the EPA.
These Dark Money trolls even went after Dunn's chief of staff, David Rountree. The picture below is from a video by JobKeeper Alliance, and is but one of many examples of the shameful efforts against Rountree.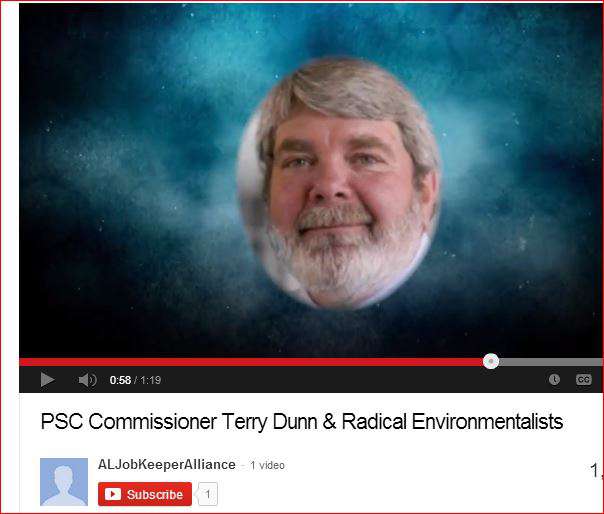 The state media — especially AL.Com but also the Montgomery Advertiser, the Associated Press, and the Anniston Star — published loads of stories, columns, editorials, even cartoons about the rate issues before the Public Service Commission. To a considerable degree, the reporting and opining supported Dunn's efforts to lower rates and hold rate hearings.
Certainly, then, these same reporters, columnists and editors would take it to the next step — to try to shed light on the Dark Money Campaign connected at the hip to the story they were already covering. But they didn't touch it. As a result, substantial numbers of Alabamians who still go to those sources for state news remain in the dark.
When I first launched my site, I sent a press release to the state media summarizing my findings up to that point (October 2013) and provided links to my web-site and companion video. Also, the media is on the e-mail lists I have used ever since.
I hoped, even expected, that the state media would use my findings and aggressively question Alabama Power about its involvement in these dark money campaigns. This hasn't happened.
I was sure, though, that the stories on the Alabama Council for Excellent Government would finally lead the state media to aggressively question Alabama Power's dark money practices.
So far, not a peep. The task remains a bit too steep for Alabama's Yellow Media.
——————————————————————————-
Some Perspective on the Profit Allowed Alabama Power by the Alabama Public Service Commission

This next item is from an explainer piece called, "How Do Utilities Make Money," published in April by a business association called Advanced Energy Economy.  It cites current data showing that the average Rate of Return on Equity (profit) for regulated utilities is 10.13 percent; and that  Alabama Power enjoys has the highest ROE in the country, at 13.75 percent.

It's been this way for decades, with no change.
Imagine the outrage of Alabamians if their Legislature taxed them at a rate 3.5 percent higher than the national average.  That's essentially what the Alabama PSC does with the power bills of Alabama residents and businesses.
Terry Dunn was the first and only PSC commissioner in more than 35 years to try to bring the company's allowed profits down to something closer to the national average.
Considering what happened to Dunn, it's unlikely that any future member of the PSC will dare challenge the Power Company.
Alabama's Yellow Media sat on its ass and let it happen.
——————————————————————————-
Alabama's Yellow Media could learn much from Arizona media coverage of Dark Money and PSC
In December 2013, I published the first of several stories on this site about a small but heavily funded Washington D.C.-based "Dark Money" outfit called the 60 Plus Association. The short story is that this group had come to Alabama, as if out of nowhere and injected itself into the campaign against Terry Dunn and his effort to lower the power bills of Alabama residents and businesses. (Go Here to read that story.)
That first piece showed that 60 Plus was spending money on radio and newspaper ads, authoring letters to the editor to newspapers, and had sent its "vice president" to Alabama to participate in PSC meetings on behalf of Alabama Power.
I have since reported that "dark money" non-profits with ties to Alabama Power — Vote Alabama and the Peoples Alliance for Leadership — have routed millions of dollars to JobKeeper Alliance, PACE and, yes, 60 Plus. Vote Alabama and PAL provided $726,000 to 60 Plus in 2013. The screen shot below is from PAL's tax return for 2013.
Amounts provided to these groups in 2014 will not be available until November at the earliest. The sums for that year may well exceed those for 2014, considering that 2014 was the year of the election and the rate increase.
It was last year, for example, that 60 Plus funded a robocall blast to Alabama voters. It was a recording by 60 Plus "national spokesman" Pat Boone urging Alabamians to vote for Dunn's foe, Chip Beeker.
While researching my first story on 60 Plus, I was surprised to learn that this very same group had injected itself into a matter before that state's public service commission, called the Arizona Corporation Commission.
For brevity sake, the issue, called net metering, pitted the solar industry against the state's investor owned power company, called the Arizona Public Service Co., or APS.
Below, a shot from one of the 60 Plus ads in Arizona.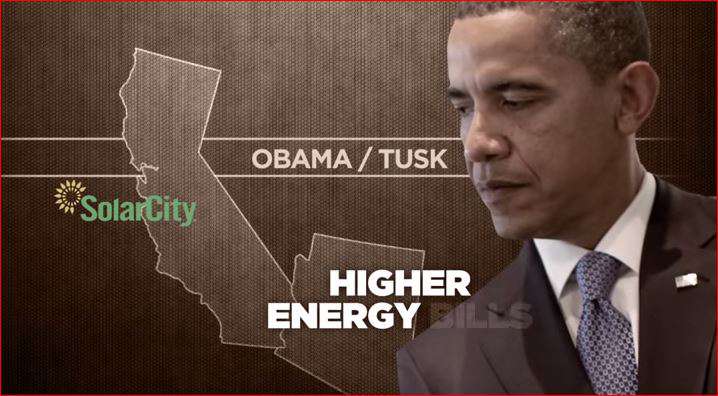 I discovered this because it was covered by the Arizona Republic. The paper had aggressively reported on the "Dark Money" being spent by both sides. The stories by reporter Ryan Rendazzo showed that 60 Plus was a major recipient of funds sent by APS to a "dark money" non profit operated by a lobbyist.
That non-profit, in turn, funneled the the money to 60 Plus and another group. Both used the cash to fund an anti-solar TV ad campaign in the state.
The first story quoted an APS spokesman saying that the company did not agree with efforts by 60 Plus to politicize the issue. "Was (the 60 Plus campaign) made with resources that could have originated with APS? I don't know," the spokesman said. "We are not directly funding them. We didn't write the script, review the script."
With that first effort, published in July 2013, Rendazzo went further than any Alabama reporter has done in the almost three years since the attacks on Dunn commenced. And he didn't stop when the company claimed it didn't know if it had provided the money used to pay for 60 Plus's campaign — presumably because he didn't believe APS.
The stories reflect that Rendazzo, kept at it. He developed a level of evidence that left the power company with two choices: Continue to lie, or acknowledge funding the efforts of 60 Plus and others.
An Oct. 2013 story by Rendazzo reported that APS had routed hundreds of thousands of dollars to 60 Plus and the other group. This time, the power company acknowledged paying for the anti-solar campaign. The following is from that second story:
John Hatfield, APS vice president of communications, said the utility is contributing money to the non-profits, and potentially other groups, through political consultant Sean Noble and his firm, DC London.

"We needed to respond to these ridiculous assertions that we do not support solar," Hatfield said, adding that APS does not agree with all political positions at 60 Plus and Prosper.
Last week, I looked to see if the Republic was still covering the "dark money" issue. Not only is it doing so, it's doing so to a much-heightened degree. And not just the Republic, but others in the Arizona media.
Daily and weekly newspapers, public TV and regular TV news have been aggressive reporting into "Dark Money" spending by Arizona's power company during last year's elections to the Arizona Corporation Commission. It should be noted that nothing in those stories reflects anything approaching the ugliness of the attacks in Alabama against Dunn and his chief of staff.
Here are but a few of the many examples of this reporting.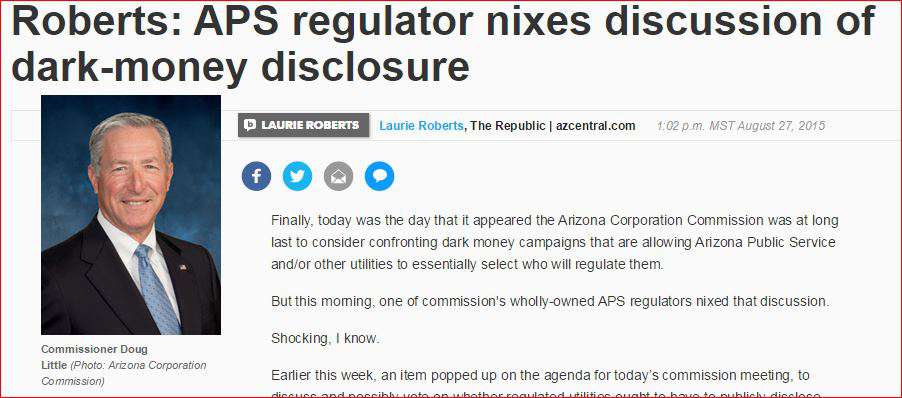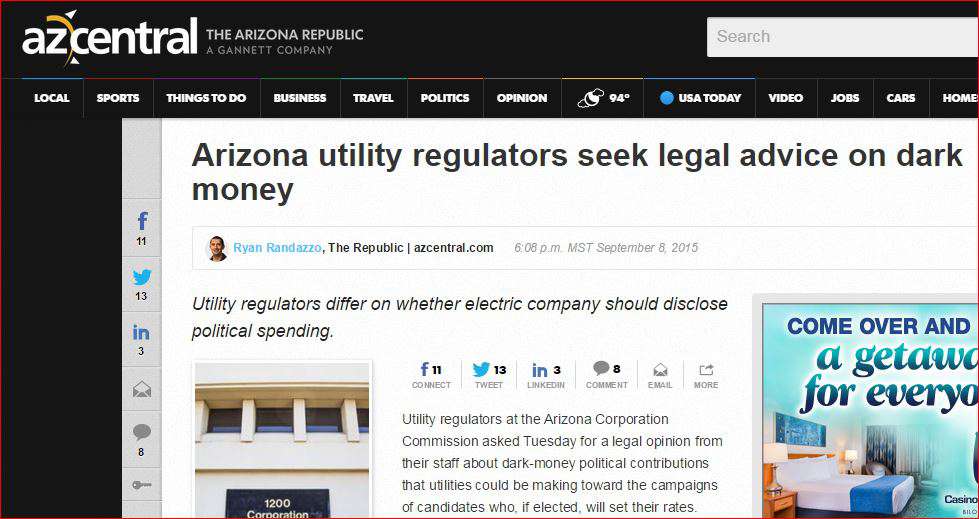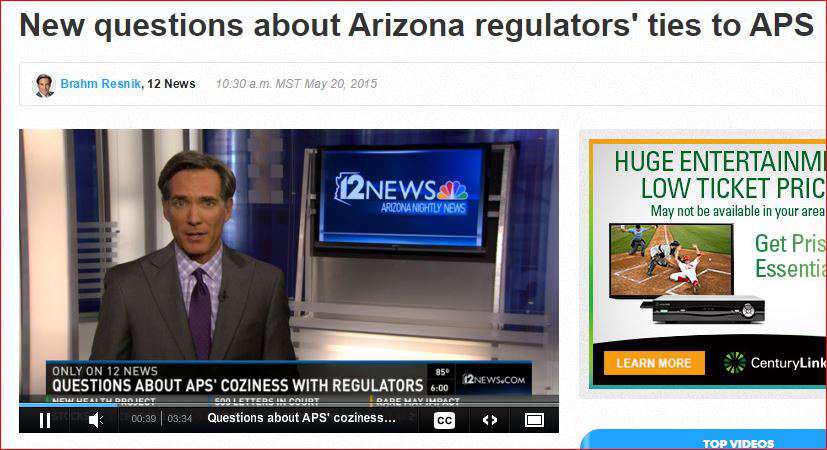 Not surprisingly, there's been no such probe of Dark Money by Alabama TV news operations. On the contrary. Tiffany Bittner, the "executive director" of Coal Jobs Count, was a well-known former TV news personality. It seemed she merely needed to get on the phone with her pals from the TV biz to get glowing coverage for Coal Jobs Count' critical message about Terry Dunn, and free TV media time for his opponent, Chris Beeker (see below.)
So, the obvious question: Why hasn't the Alabama media pursued the story as Arizona's has?
I don't know the answer. I can only speculate. The following are what I believe to be three contributing factors.
ONE: Birmingham News alums at Alabama Power
As noted in the first post, the Alabama Power communications trust now includes three key employees who came to the company from the Birmingham News.
I feel sure that the dramatic cutbacks in funding and staff at Al.Com contributed to the last two leaving the paper. It seems that every few months, there's news of more trimming of reporters and editors. And it's not just at Al.Com. This is occurring at newspapers throughout the country, the rest of the state, and at the Associated Press as well.
Whatever the cause, we now have three key employees of the Birmingham News/Al.Com holding positions at Alabama Power that I suspect pay better than their old jobs. I think we've reached  the point where it's fair to suggest concerns about a "revolving door" situation.
That phrase is commonly used by the media when reporting that that elected officials have left office to take positions with lobbying firms or corporate associations who had been subject to their decisions as elected officials.
I do not think it unreasonable to pose the following questions:
—  Might reporters who worked with those three be less likely to pursue a potentially damaging story about the company because of those relationships? The same question is also fair to ask regarding non Al.Com reporters who nevertheless developed close relationship with any or all of the three as peers.
— Considering the shaky future at Alabama newspapers, and the growing communications/writing  operations at Alabama Power, might a reporter hesitate to aggressively report on the one company that's hiring rather than firing reporters?
I could go on, but that's enough to consider for now.
Two: Fear of alerting readers to the work of others
Weakness breeds weakness. I think that, with their diminishing audiences, news operations are less likely than ever to cite the work of others. Doing so poses the risk that readers will find other sites where they can also get news.
It's worth noting that some of the Arizona stories have cited records and reporting by a non-profit. In other words, the media there hasn't "not reported" on an issue because someone else did it first.
But the best example of this in Alabama is an important story that the media here his ignored as if it didn't exist.
An important role of political reporting is to show readers how power is wielded and who is wielding it. In the past three years, influential political interests, including Speaker Mike Hubbard, Alabama Power, and the Alabama Education Association have established a new means of influencing public opinion.
Hubbard and his minions at the political consulting/lobbying firm Swatek Azbell Howe & Ross have used an unseemly relationship with Yellowhammer News to generate "news" that reflects good on Hubbard and the firm's corporate and political clients, and badly on their foes.
I've published stories on this website proving the connection between Yellowhammer and the Swatek firm in Yellowhammer's ceaseless and dishonest attacks on Dunn and fawning reporting on Beeker.
The Alabama Political Reporter does the same, but from the other side of the Hubbard coin. I doubt APR would even exist without Mike Hubbard — not to support the Speaker, but torment him. In its defense, APR does actually break stories. That's because Hubbard, indicted last year on public corruption charges, has much to reported on, and APR throws all it has at the Hubbard story.
On one issue, Yellowhammer's Cliff Sims and APR's Bill Britt are twins. Both publish loads of stories supportive of Alabama Power's lackies on the Public Service Commission.
APR, just like Yellowhammer, thought it a bid deal that Pat Boone of all people had "endorsed' Chip Beeker against Dunn.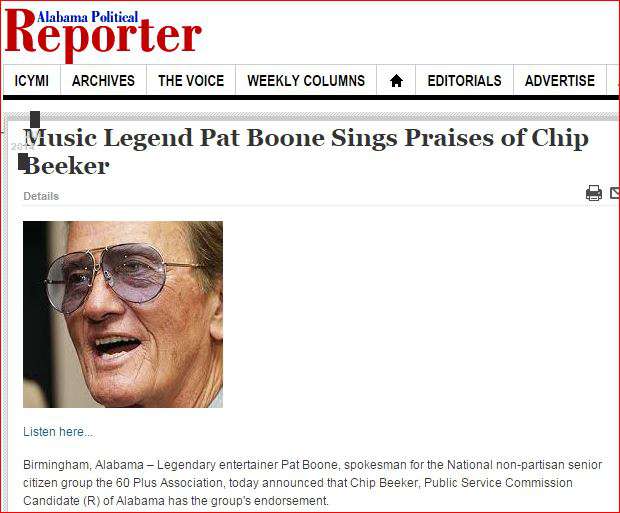 It's beyond excusable that neither Al.Com nor the Montgomery Advertiser or what's left of the Associated Press has taken a hard look at Yellowhammer and APR and published a major piece examining the role of the two faux news sites. Such a story would delve into the financial relationships that drive the coverage of both publications, and describe the role both play in driving public opinion.
I think Alabama's Yellow Media fears pointing readers to other potential sites to read about state politics. If an Alabama news operation were to do the Yellowhammer vs. APR story, and do it right, it would bring attention and readers to their product.
Instead, they prefer to be Yellow, and lose readership that way.
THREE: David Azbell
True Story: Several years ago Montgomery radio host Mark Monteil had me on his show. I can't remember why, but probably to talk about developments in the Don Siegelman case. In any event, Monteil started talking about various corrupt acts by Speaker Hubbard. He asked my thoughts on Hubbard's alleged misdeeds.
At the time I was paying little attention to state politics and wasn't aware of even the first hint that Hubbard was corrupt. I explained this to Monteil (and his audience), and said I wasn't qualified to comment one way or other on the matter.
A couple of hours later, David Azbell called. He'd heard, incorrectly, that I'd said all manner of terrible things about Hubbard on Monteil's show.  He may have even called Hubbard "his man" or some such. In any event, to him, that I would have said something negative about Hubbard represented a breach of protocol and an act of disloyalty by me to him.
I assured him I had not said anything bad about Hubbard, as I wasn't aware of anything Hubbard had done wrong.
I thought the call odd, and feel sure that many an Alabama reporter have received similar calls from Azbell. 
I'd known David for years, but didn't really get to know him until I called him to ask about a story I included in my 2009 book on Siegelman ("The Governor of Goat Hill.") Azbell told me a wild but true story about how then governor Siegelman had tricked an Alzheimer's racked Charlton Heston into endorsing him while the NRA spokesman was in Mobile on a trip to Alabama touting his opponent Bob Riley's candidacy. (Heston shortly thereafter ceased making public appearances.)
Azbell is, for his relatively young age, a legend among Montgomery reporters. He's one of those people about whom the word "character" is often used.  He's famous for his encyclopedic knowledge of Alabama politics, especially stories about George Wallace, and his collection of Wallace memorabilia.
After the Republicans took control of the State House of Representatives, Hubbard became speaker. Azbell co-wrote Hubbard's book, "Storming the Statehouse." He soon entered the first of his $96,000 a year state contracts to assist the speaker in managing the House Republican caucus (a contract he still has.).
After the Republicans took over the House, Hubbard's four political acolytes — Dax Swatek, Azbell, John Ross and Tim Howe — formed a political consulting and lobbying firm. They used their relationships with Hubbard and Republican leaders to attract a blue chip clientele that included not just Alabama Power, but its parent, Southern Co., and its wireless affiliate, SouthernLinc.
I need to get the point, and will here: When I became involved in the Dunn project, I had no idea that Azbell or his firm were involved. But when I did learn this, what was I to do, cease the project because I knew David, and considered him a friend?
It was with considerable discomfort that I wrote my first (of many) stories detailing his firm's participation with Yellowhammer News in the shameful campaign against Terry Dunn. (I would bet my left shoe that Azbell and his partners have ghost authored loads of the stories published under Cliff Sims name in Yellowhammer.)
I  believe that there are members of the state media — people whose first obligation is to their readers — who have failed to do stories, first on Hubbard's corrupt activities when they were waiting to be exposed, and then and still on the unseemly relationship between the Swatek Azbell firm and Hubbard and as well with Yellowhammer News, because they fear harming their relationship with Azbell.
Consider the following 2011 e-mail, from Hubbard to Bob Riley (his name is blacked out but it's to Riley). It was released last week in a filling in the Hubbard case. The speaker is telling the former governor how he can represent and get paid by corporate clients but dodge having to disclose doing so.
The Dax in the e-mail is Dax Swatek; John Ross is the Ross in the firm; and Azbell is of course Azbell. The DOT is the Alabama Department of Transportation, and BR & A is Riley's firm, Bob Riley & Associates. Canary is presumably Bill Canary, the head of the Business Council of Alabama.
In other e-mails, Hubbard pleads with Riley to secretly hire him and pay him as a lobbyist, even as he remains Speaker. To Riley's credit, there's been no evidence that he succumbed to Hubbard's relentless, frequently pitiful appeals for lucrative work with Riley's corporate clients.

Interesting, isn't it. The taxpayers pay Azbell and the firm $96,000 a year, per Hubbard's orders; and the Speaker just pays them $1 a year for services he implies are provided, the nature of which one can only imagine.
This email is about as likely to appear in the state's Yellow Media as in Yellowhammer News. It would require writing about Azbell and his firm. Not going to happen.
Coal Job Counts and JobKeeper AWOL in miners executive pay battle vs. Walter Energy
On Sept. 10, about 100 union employees of Walter Energy attended a bankruptcy hearing in Birmingham and voiced displeasure at the company's efforts to get miners to take cuts in pay and benefits.
Recent reports in Al.Com  have shown that, rather than tighten belts at the top, company decision makers approved substantial increases in pay for upper management.
CEO Walter Scheller was paid $2.6 million in 2012; bumped to $2.9 million in 2013; and saw his total of pay and bonuses more than double last year, when he received a combined $6.3 million. Other top executives also enjoyed substantial pay increases. This, again, was as the company was not merely bleeding money, but sliding toward bankruptcy.
"Bonuses are a major issue for us," a lawyer for one of the unions told Al.Com. He said it was hard to ask workers to accept cuts in pay and benefits when they see such dramatic increases in pay to company executives. And, hey, can you blame them?
In the past two years, two of the "dark money" groups featured prominently on this website — JobKeeper Alliance and Coal Jobs Count — have expended considerable money and energy linking themselves with unions and the coal miners who belong to them. To anyone who would listen, JobKeeper and Coal Jobs Count were fighting, on the front lines, for the miners.
With the bankruptcy of Walter Energy — and with the company asking those same workers to take cuts in pay and benefits — you might expect to see Tracy Bittner, from Coal Jobs Count, and Patrick Cagle, from JobKeeper Alliance, joining hands with the miners.
             "These families are the people you live next door to or you go to church with maybe your kids play ball together.  We are talking about real people, the hard working men and women who get up every day to provide for their loved ones."

           — Tiffany Bittner, Executive Director of Coal Jobs Count

 
I say that, of course, in jest. It's been obvious from the start that these two "dark money" outfits don't work for, much less get funded by, and arguably could care less about, lowly miners. They serve the interests of Alabama Power and the coal company owners who, as part of an arrangement decades old, help Alabama Power elect PSC candidates sure to kow-tow to the company.
It is inconceivable that Cable or Bittner would support miners against company owners and $6 million a year executives.
I've checked their respective websites and the social media (Twitter and Facebook) they regularly use to spout the company line. Neither Coal Jobs Count nor JobKeeper has weighed in for the miners. Not a peep on an issue that really does impact coal jobs. 
Certainly there have been no press conferences, like the one below from back when Dunn was still on the PSC, and Cagle and the rest of the Dark Money outfits were making the fraudulent case that Dunn, in seeking to bring Alabama Power's profits closer to the national average, was in some manner attacking coal as a fuel source, and thus, miners.
Will Ethics Commission exercise its new authority to police campaign finance violations?
Earlier this year, the Legislature passed a law authorizing the Alabama Ethics Commission to investigate and bring charges for violations of the Alabama Fair Campaign Practices Act. This new power went into effect Sept. 1. It's my understanding that violations of the state's campaign law which occurred prior to then, but within the statute of limitations, are subject to investigation by the commission.
On its face, this is good news for those troubled by the almost non-existent enforcement of the law since it was passed decades ago.
But there is, unfortunately, little cause for optimism. 
After all, we're still talking about the Alabama Ethics Commission. 
Jim Sumner, the director of the commission for the past 17 years, was wont to tell anyone who'd listen that he'd pushed through the strongest ethics law in the country. I have not and don't plan to compare Alabama's law to those of the other 49 states. But for sake of argument — or in arguendo, as lawyers like to say -let's assume Alabama's is the strongest.
If the director, the commission staff and the governing five-member commission don't have the stomach for enforcing the law, if they are too scared to take on the Big Boys lest they face political bounce back, the strength of the law is irrelevant. And that, regrettably, pretty much sums up the commission for at the least, the 17 years in which Sumner served as director.
Sumner mercifully retired last year. The five person commission — which itself is appointed by the governor (Robert Bentley), Speaker of the House (Mike Hubbard) and Lieutenant Governor (Kay Ivey) — recently chose 48-year old Andalusia lawyer Tom Albritton to replace him.
The current commission is composed of: Retired Air Force Brig. Gen. Edward Crowell, James Jerry Wood and Dr. Stewart Hill Tankersley, all of Montgomery; Jerry Fielding of Sylacauga; and Larkin Martin, of Courtland.
My concern is that their selection as the state's new ethics chief has no background of which I'm aware as a prosecutor or as someone who has otherwise gained experience investigating or enforcing corrupt activities. The website of Albritton's long-time law firm — Albrittons, Clifton & Moody — reflects that he, and the firm, specialize in representing corporate clients.
Albritton's bio, still on the site, shows that he's a member of the Alabama Defense Lawyers' Association; the Defense Research Institute; and the Alabama Nursing Home Defense Lawyers Association. 
I do not say this out of any pro-plaintiff's lawyer bias, but good plaintiff's lawyers are in many ways like good prosecutors.  There are similar skill sets.
Considering the endemic corruption that has dogged Montgomery for seemingly forever, with no sign of letting up, the Commission should have appointed a director with a well-known reputation for ferocity and fearlessness. Someone, in short, who doesn't give half a rat's ass if he pisses off powerful folks by doing his job. 
The Commission had a chance to make a statement, to take a public stand against corruption. Not surprisingly, the political appointees of the state's top leaders elected not to do this.
Albritton has one choice: Treat people with abundant power and influence the same as those with neither. Don't enable corruption, but make it your mission to stamp it out.
Here I'll suggest two campaign finance investigations for the new director. To take these on, he, and his staff, will require actual fortitude.
The first involves the largely undisclosed work by John Ross, of the aforementioned Swatek Azbell Howe & Ross firm, for Chip Beeker successful campaign 2014 campaign to unseat Terry Dunn.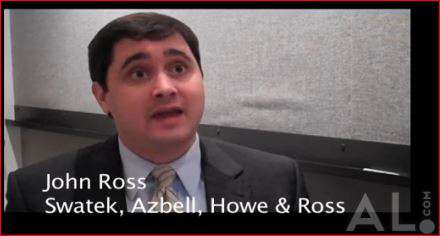 For what I think is a thorough telling of a blatant violation of the campaign law by Beeker, Ross, and no doubt others, including Alabama Power, Go Here.
Perhaps Albritton and his investigators can ferret out who was paying Ross to help Beeker; and why Beeker, after disclosing Ross's help on his first campaign reports, ceased doing so, even as Ross's work on his campaign continued.
Should Albritton be interested in an equally promising campaign finance violation — as in, one likely lead to findings against very influential people and companies — I'd suggest he read the next story.
Still waiting for the  'The Stand Up for Alabama Coalition'  to stand up
If state or federal prosecutors were ever to look into Alabama Power's efforts to manipulate the Public Service Commission — and they should — they should first interview Kathy Peterson, and get her records, then have a serious sit down with Bob Lochamy.
The longtime Birmingham area radio personality and public relations/media consultant served as point man in the ploy to essentially bribe Kathy Peterson to drop her 2014 Republican primary challenge to incumbent PSC member Jeremy Oden.
Within weeks of announcing her candidacy, Peterson was contacted by Lochamy, a man she'd never met. He offered her a $6,000 a month job with a non-existent advocacy group, "The Stand Up For Alabama Coalition."
The job offer was contingent upon Peterson dropping out of the race against Oden.
Oden, like PSC President Twinkle Cavanaugh, is a power company lackey. When weighing the interests of ratepayers vs. the company, neither considers ratepayers. They do what they're told, and it's Alabama Power that tells them what to do.
Peterson, a Tea Party member, made it clear that, should she win, she would not be a power company toady. Alabama Power thus faced the possibility that Dunn would hold his spot by defeating Chip Beeker, Peterson would oust Oden, and the company would lose control of the PSC for the first time in more than 35 years.
For Alabama Power, this was the disaster scenario, the iceberg to its Titanic.
In one of his e-mails, Lochamy urged Peterson to become his "loyal and passionate 'partner' in this great opportunity and tremendous challenge to motivate, encourage and inspire our fellow citizens to 'stand up' to protect our state and our country, starting first at home in our state's cities and counties… "
And then (emphasis mine):
 "(It is) my recommendation to offer you the opportunity to serve with me as my 'partner' as Co-Chair of 'Stand Up For Alabama Coalition' requires that you make a full-time commitment to serve as Co-Chair of 'Stand Up For Alabama Coalition' and that you discontinue your campaign to unseat Jeremy Oden's incumbent seat on the PSC…"
As their e-mail correspondence showed, Peterson asked Lochamy who was funding the new project. She asked the sort of questions any prospective employee would want to know before taking a new job.
Lochamy refused to disclose the backers of "Stand Up" or much else about it. One would think that deep pocket conservatives would have no problem declaring their backing of such a group, especially to a woman in the midst of being courted to serve as one of its top two officials. Instead, Peterson was kept in the dark.
Lochamy's insistent demands that Peterson take the job and his refusal to identify the backers made her suspicious. A few days after a meeting with Lochamy, Peterson told a crowd in Huntsville that an attempt had been made to get her to drop out of the race.
The next day, Lochamy sent her an e-mail with the subject heading, "update on Stand Up For Alabama Coalition…"
He wrote that based on Peterson's lack of response since their last meeting, he and the group's backers "have chosen another of our candidates to serve as my Co-Chair, and we will be announcing the launch of the coalition this month."
As described at great length in his e-mails, Stand Up For Alabama Coalition was to serve a a bully pulpit — to hold press conferences, meetings, to rouse the public and make noise for the conservative issues it supported.
Three months after Peterson rejected Lochamy, I wrote a story on Lochamy's scheme, and quoted Peterson calling it a "bribe."
 "I believe Stand Up For Alabama Coalition was a bogus organization that was dreamed up solely to entice me into getting out of the public service commission race," she said.
I contacted Lochamy more than two months after he'd told Peterson that he'd selected another candidate and would soon "launch" the Stand Up For Alabama Coalition." I asked why "Stand Up" still hadn't commenced operations.
In an e-mail, Lochamy stated he'd gone back to his first choice, who he said he'd tried to recruit before Peterson. He declined to identify this person. Lochamy said this candidate "was receptive to accepting my offer to be my partner but that she felt that she needed a bit more time to reconcile her personal issue before she could join me in forming Stand Up For Alabama."
And this, from his e-mail:
"Based on my desire to have this individual be my active 'boots on the ground' partner and the short timeline that then existed before the upcoming primary elections, I decided that it would be best if I held up launching Stand Up For Alabama until around late August or early September.

"Eddie, I will keep you posted as we begin to re-establish our timeline to formerly establish and launch Stand Up For Alabama."
No such updates ever arrived.
Oden received more than $560,000 in contributions, to just $1,475 for Peterson. She still managed to make a race out of it, capturing 47.5 percent of the vote to 52.3 percent for Oden.
Now, some 18 months since Peterson rejected Lochamy's offer, there is still no, "Stand Up For Alabama Coalition." Still hasn't been incorporated, no Facebook page, no evidence whatsoever that it has ever existed in any form or fashion.
I e-mailed Lochamy recently to tell him I'd been unable to find any evidence of its existence. I told him I'd be reporting that, despite his having said otherwise, the Stand Up For Alabama Coalition never did "launch." I wrote, "If I don't hear from you I will assume that it never came to be."
I didn't hear back from him, nor did I expect to.
Only someone of extraordinarily limited intelligence could believe that that the "Stand Up For Alabama Coalition" was anything other than a ploy to get Peterson to drop out of the race, and equally simple-minded to think that Alabama Power and its political consultants weren't behind the curtain.

To read my story on the scheme to remove Peterson from the race against Oden, including Lochamy's comically overboard e-mails to Peterson, Go Here.
Story on Thomas Blanton wins praise from unlikely sources: PACE and JobKeeper Alliance
This web-site is replete with critical reporting on Alabama Power and its shill groups, especially the Peoples Alliance for Clean Energy (PACE) and JobKeeper Alliance.  It would be fair to say that a "no love lost" situation exists between myself on the one hand and on the other, JobKeeper (Patrick Cagle), and PACE (Lance Brown).
JobKeeper and Cagle, I will note, are worse actors than PACE and Brown, though the two are are equally servile to Alabama Power and Southern Co., and thus, Mississippi Power as well.
On Sept. 4, I published a story (Go Here) that I suspected might actually please Southern Co. The story came to pass, completely to my surprise, after Mississippi Power tormentor Thomas Blanton told me of a plan to remove Mississippi Power's "certificate" to operate in Mississippi.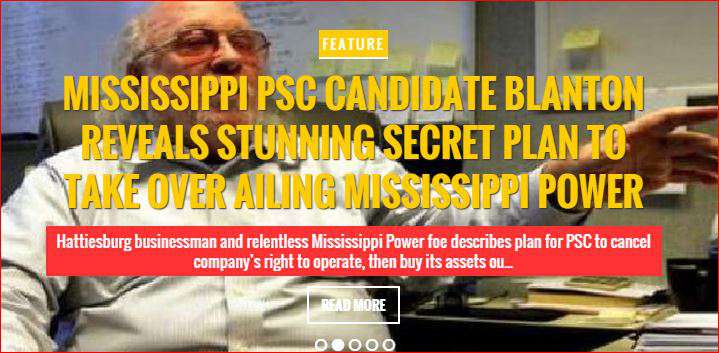 Blanton said he and presumably others had "lined up a $600 million payment-to-arbitrage loan" that would be used at some point to purchase the the assets of Mississippi Power and start a new power company. In a series of e-mails to me after my story, Blanton said he had no involvement in such a plan but is merely aware of it.
Certainly, with his own words, he expressed strong support for such a plan and a fervent desire that it come to pass.
I make no secret of my low opinion of the ethics of the respective governmental relations/political operations of Alabama Power and Southern Co. But I assuredly don't hate the companies or wish ill on their employees or shareholders. And I certainly wouldn't be willing to ignore the sort of plan described to me by Blanton. 
The Hattiesburg oilman, in addition to being the plaintiff in a devastating lawsuit against Mississippi Power, is also s a candidate for that state's Public Service Commission. Should Blanton win in November, he would be in a position to take acts that — at least as he described it — could conceivably end the existence of Mississippi Power.
That's a draconian outcome I'd never imagined possible until he began freely discussing it — apparently assuming, but certainly not stating — that he was "off the record."
So, I wrote the story.  In order to promote this site, when I write a new story, I send emails to well over 1,000 people whose addresses I've compiled in various ways. I feel sure these e-mails irritate most recipients, but it's the only circulation department I have. In any event, deleting an e-mail is no great hardship.
Recipients of these mass e-mail blasts include government officials; entire law firms; people involved in utility regulation; people on political mailing lists I've come across; folks in the Alabama business development community; employees and executives of Alabama Power and Southern Co.; and Lance Brown and Patrick Cagle. 
While I anticipated that Southern Co., would find much to like in the Blanton story, I was surprised when someone told me that PACE and JobKeeper had promoted my story on their respective websites and social media.
Both cited a story by "blogger Eddie Curran." Neither identified this web-site or provided a link to my story. I believe they neglected to do so to avoid sending folks to the site, which I suppose is understandable.
JobKeeper "wrote" its own story and added some conclusions I didn't make, such as that the plan described by Blanton's would "kill jobs" and "hurt Mississippi families." Maybe so, but I don't know that to be true and didn't state as much in my story.
PACE promoted JobKeeper's story on its website, in social media, and however else it gets things out. The following is from Jobkeeper's story.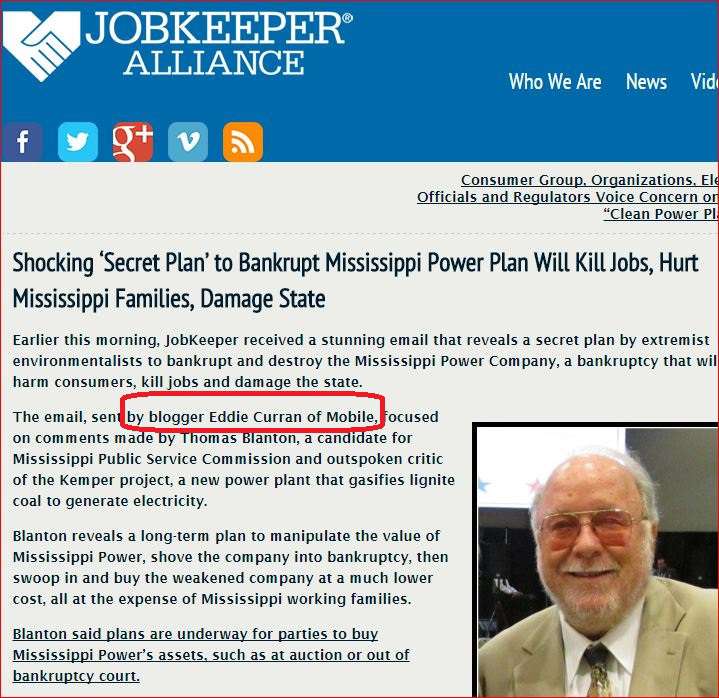 That these guys work in tandem, and for Alabama Power and its related interests — Southern Co. and its subsidiaries, especially troubled Mississippi Power — has been established beyond any question. For fun, we'll provide another example of the PACE/Jobkeeper matrix.
The photos below are from trip by representatives of Alabama Power and related shill groups to Washington, where they visited Alabama's elected representatives to make them feel loved and important. Clearly a "more shills is better" approach was taken, costs be damned. These pics were taken during their stop at the office of Bradley Byrne, the Mobile area Republican.
At the table, with the purple striped tie, is Alabama Power Senior Governmental Relations Specialist (and Alabama Council for Excellent Government director) R.B. Walker. Lance Brown of PACE is seated second to right against wall; and JobKeeper's Patrick Cagle is at the table, far right.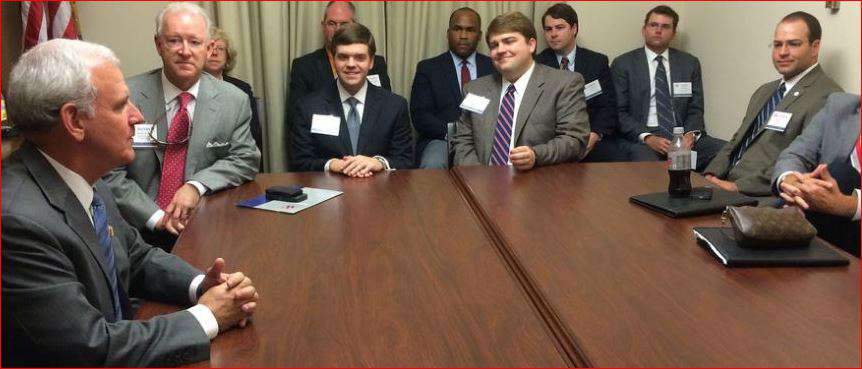 Below, a screen shot from another photo taken at the meeting with Byrne. Apparently, the life of a shill is not always what it's cracked up to be, though the pay is damn good.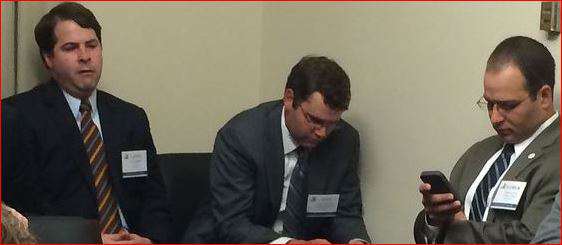 The Power to Tweet: APCO's Social Media Explosion
In researching Alabama Power's burgeoning media empire, I was struck by the amount of Tweeting by the company and its army of Communicators. For example, when I went to the Twitter page of Michael Tomberlin, the editor of the, "Alabama News Center."
As anyone familiar with Twitter knows, when you go on someone's page, you see, among other things, how many Tweets the person or organization has generated.
When I looked at Tomberlin's page about two weeks ago, I saw that he'd Tweeted 17,000 times, or, as the page put it, "17K."  I haven't had that many individual thoughts in the past 10 years, much less thoughts worth sharing with the entire Twitter universe.
Surely this is has to be a job requirement. Can you imagine Tweeting that much if you didn't have to? One can't help but imagine a job performance meeting with a supervisor.
"Michael, we need to talk about June. I know you were on vacation, but still, just 400 tweets?"
In fairness, I see where he has had a Twitter account since 2009. But I suspect the bulk of his Tweets have been since coming to the company. My reason: When I went back to the site, the Tweet Tally had climbed, to: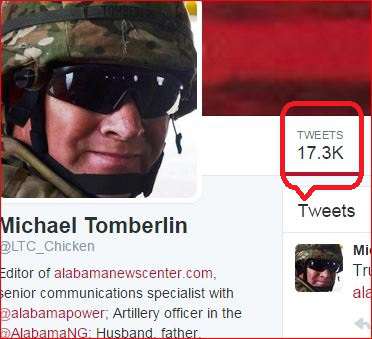 Alabama Power even has its own Social Media Guru. Today's first story contained a screen shot showing the top of Isaac Pigott's LinkedIn page. The job titles he lists bear repeating (emphasis mine) :
Communicator at Alabama Power

Media Trainer

Communications Troubleshooter

Speaker and Social Media Explorer
Apparently there are so many Alabama Power employees working in the media/communications operation that they need a "trainer."
Chip Beeker: Conservative American not afraid to Stand By his Principles and Raise Your Power Bill
(Author's Note: The following report is based on 11th-hand information. As yet, it has not been verified. In any event, some of it is unquestionably true!)
Chip Beeker has never been awarded a Purple Heart. However, during his campaign against Terry Dunn, Beeker was awarded the Jeff Sessions Clear Eyed Handshake from Strom Thurmond's Secret Son Badge of Approval Award.
This is the highest honor awarded by this country, and most feel it trumps the Purple Heart. It is only bestowed upon Americans with conservative bonafides earned in rural settings. Recipients are limited to, 1) Patriots who Love America; and who, 2) Can't Wait Until that Glorious Moment when We Secede from the Union.
Pictured below, the exact moment that Beeker received the Jeff Sessions Clear Eyed Handshake from Strom Thurmond's Secret Son Badge of Approval Award. (Photo courtesy of Yellowhammer News.)
Beeker has for the most part proven to be a deserving recipient.
In December 2014, in his very first meeting as a member of the Alabama Public Service Commission, he courageously supported higher rates for Alabama Power, without fear of citizen backlash.
Beeker and fellow commissioners Twinkle Cavanaugh and Jeremy Oden displayed rare fortitude by voting to transfer hundreds of millions of dollars a year from the pockets of voters into the coffers of the state's numero uno political kingmaker and the kingmaker's respective shareholders and news publications.
At a subsequent PSC meeting, Beeker stood, courageously, and spoke at length, as in, for a full, seemingly endless 6 minutes, about the evils of queers, especially when they marry each other. Though arguably irrelevant to the duties of his elected office (regulating utilities and the prices they charge lowly citizens) Beeker also took a courageous stand against "multiculturalism."
But was it an empty gesture?
I kept waiting on Beeker to urge the PSC to order utilities under its control to cease providing power and natural gas to Hispanics, Thais, Vietnamese shrimpers, and other practitioners of multiculturalism (and damn sure to turn the lights off on Married Queers.)
I won't pretend otherwise. I was disappointed by his failure to put his creed into practice.
Until he does so, Commissioner Beeker is practicing "all talk and no action."
————————————————————- 
PLEASE CONSIDER MAKING A DONATION
For me to continue the type time-consuming, detail oriented reporting found on this web-site, I must receive donations. My wife has taken to calling this my "Jesus Project" — because I'm doing it without pay, and thus, for charity.
To make donations, large, medium-sized, or small, Go Here. You can also send checks to the address below.
People with tips on this story or regarding other subjects addressed on this website are encouraged to contact me.
Lastly, if you or you company could benefit from the sort of research on display throughout this website, I do provide such services.
Contact Information
Eddie Curran
133 Silverwood
Mobile, AL 36607
Phone: 251-454-1911
E-mail: eddcurran@aol.com