D.C.-based "60-Plus" came out of nowhere in 2013 to insert itself into the Alabama Public Service Commission's review of Alabama Power's rates, and played an active role in the smear operation against Terry Dunn.
Now we can report what was suspected all along  —  that 60 Plus and its very own celebrity huckster, Pat Boone, did it for the money.
Note on Jan. 27, 2015: This is my first post since challenger Chip Beeker defeated incumbent Terry Dunn in the July 15 Republican primary run-off for Place 2 of the Alabama Public Service Commission. In December, on the event of Beeker's first meeting, the PSC approved a rate increase of almost 5 percent for Alabama Power.
The commissioners asked not a single question of Alabama Power, instead, rubber stamping the rate increase. In the coming days and weeks I will be posting more stories examining the different ways that Alabama Power — acting through well-paid shills and top-dollar political consultants — orchestrated Dunn's defeat, thus eliminating the first commissioner in decades to question the company's astronomical profit level and guaranteeing smooth sailing at the PSC.
By Eddie Curran
In the summer of 2013, a little-known Washington D.C.-based group that touts itself as the conservative alternative to the AARP appeared in Alabama, as if out of thin air.
The 60 Plus Association, which has but a handful of employees, inserted itself into the battle within the Public Service Commission over Alabama Power's rates. That battle began when Commissioner Terry Dunn questioned the stratospheric profits allowed the company by the PSC, and called for the sort of judicial rate hearings that are the norm in other states but which haven't occurred in Alabama in more than 30 years.
60 Plus joined other non-profits, including the JobKeeper Alliance and the Partnership for Affordable Clean Energy (PACE), in supporting Alabama Power and attacking Dunn. They falsely linked the long-time Republican to left-leaning environmentalists, Obama and the EPA, and accused him of being anti-coal.
60 Plus ran radio and newspaper ads, penned op-eds in Alabama newspapers,  and participated in the PSC's non-judicial proceedings  as an "intervenor," presenting written and oral arguments in support of Alabama Power.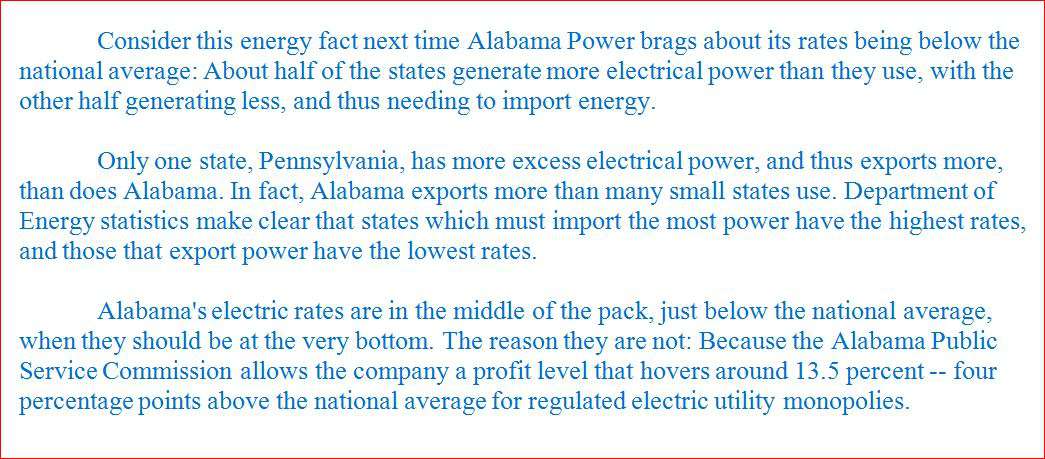 Last January, I published a story under the headline, "Did APCo Pay 60 Plus to Bash Dunn, Carry Water at PSC?"
The piece examined 60 Plus's activities in Alabama, as well as reports in the Arizona Republic showing that Arizona's regulated electric utility monopoly had admitted to funneling hundreds of thousands of dollars to 60 Plus though a political consultant.
In Arizona, 60 Plus waged an advertising/media campaign supporting the power company's position on a matter before that state's public service commission related to a dispute over solar power.
I did not think it unreasonable to wonder if someone was paying 60 Plus to for its Alabama activities, but was unable to prove it.
Until now.
Tax returns of non-profits show big bucks to shill groups
Last spring, this website reported that two obscure Alabama non-profits with ties to Alabama Power and its long-time political consultant, Matrix LLC, had been serving as the primary funding sources for JobKeeper Alliance and PACE.
One was called Peoples Alliance for Leadership (PAL), the other, Vote Alabama.
Below is the relevant portion of Vote Alabama's tax return for 2012.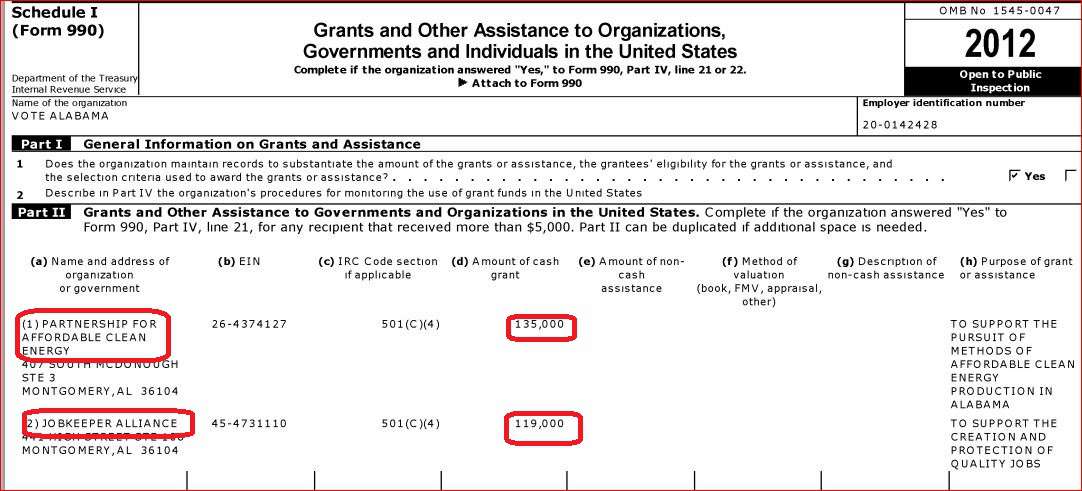 Unfortunately, non-profits can wait until November to file the tax returns for the prior year. As a result, the 2013 tax returns for these groups did not become available to me until December. The filings for 2014 — a year of heavy activity for 60 Plus in Alabama — won't be available until at least November 2015. 
The returns showed that in 2013, as in prior years, Vote Alabama and PAL made donations to PACE and JobKeeper — more, in fact, than ever before. The surprise, though perhaps it should not have been, was that 60 Plus also showed up on the returns of Vote Alabama and PAL.

Vote Alabama gave $349,000 to 60 Plus in 2013 and PAL gave $377,000, for a total of $726,000. That's almost three quarters of a million dollars.
The tax returns bolster the primary case this web-site exists to make: That Alabama Power has secretly put together a small army of "non-profits" and other organizations, such as, "Coal Jobs Count," that work as one and serve as the company's surrogate attack dog and public message manipulation arm.
The main purpose of these groups is to protect Alabama Power's allowed profit, or as its called in the regulation business, rate of return on equity.
The Public Service Commission allows Alabama Power a maximum profit of about 14 percent. The company's actual profit ranges from year to year, from about 13.3 percent to 13.8 percent. The national average ROE for regulated power companies is about 9.5 percent. No electric utility monopoly in the country is allowed a profit level even close to what the Alabama PSC permits Alabama Power.
The AARP routinely serves as the leading consumer advocate in matters before the PSC. The organization's Alabama chapter has historically urged the PSC to to lower the company's profits. Were that to occur, rates, such as for Alabama seniors, would go down.
As a result of this stance, the AARP, like Dunn, was targeted by 60 Plus and the other groups. 
Here's one of 60 Plus's newspapers ads, from the Montgomery Advertiser.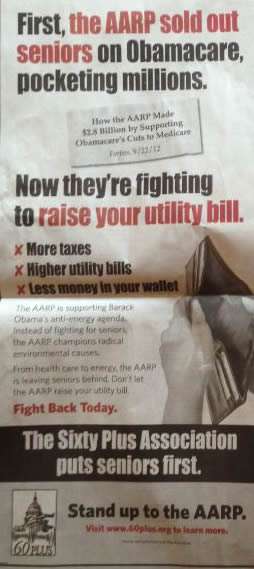 Money Trail: From Secret Donor to Checking Account Organizations to Front Groups
PAL, Vote Alabama, JobKeeper Alliance, PACE and 60-Plus are what is known as 501c4 non-profits. Donations to such non-profits — unlike those to charities — are not tax deductible. However, 501c4s can engage in issue advocacy,  including of a political nature.
Like charities, 501c4s must file tax returns, called Form 990s, and make them available to the public upon request.
Unfortunately, 501c4s are not required to identify their donors. But there is one catch. When one such group contributes to another — think of the now-banned "PAC to PAC" transfers — the donor non-profit must report the identities of the recipient and the amount given. The recipients don't have to disclose it, but the donor groups do.
The hard part is locating the non-profits that are doing the donating.
To best understand what's going on here, it helps to think of each participant according to category. We will call these categories: Secret Donors, Checking Account Organizations, and Front Groups.
The Checking Account Organizations — think Vote Alabama and PAL — don't have offices or actual phone numbers or employees. Their purpose, if you can call it that, is to draw as little attention to themselves as possible. They do this by, well, doing nothing.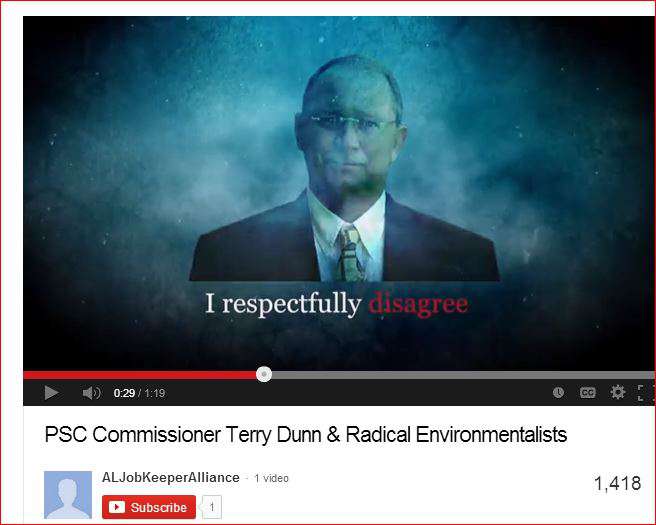 For example, you will never read an op-ed by or see an advertisement by anyone identifying themselves as representing Vote Alabama or the Peoples Alliance for Leadership. That would draw attention to the Checking Account Organizations, and attention is the last thing they want. 
The money trail begins with contributions from the Secret Donor or donors to the the Checking Account Organizations. The Checking Account Organizations then pass the money along to the Front Groups.
60 Plus, JobKeeper Alliance and PACE are Front Groups. There are others involved in the PSC/Dunn operation, such as Coal Jobs Count, but for this story, we're talking about those three.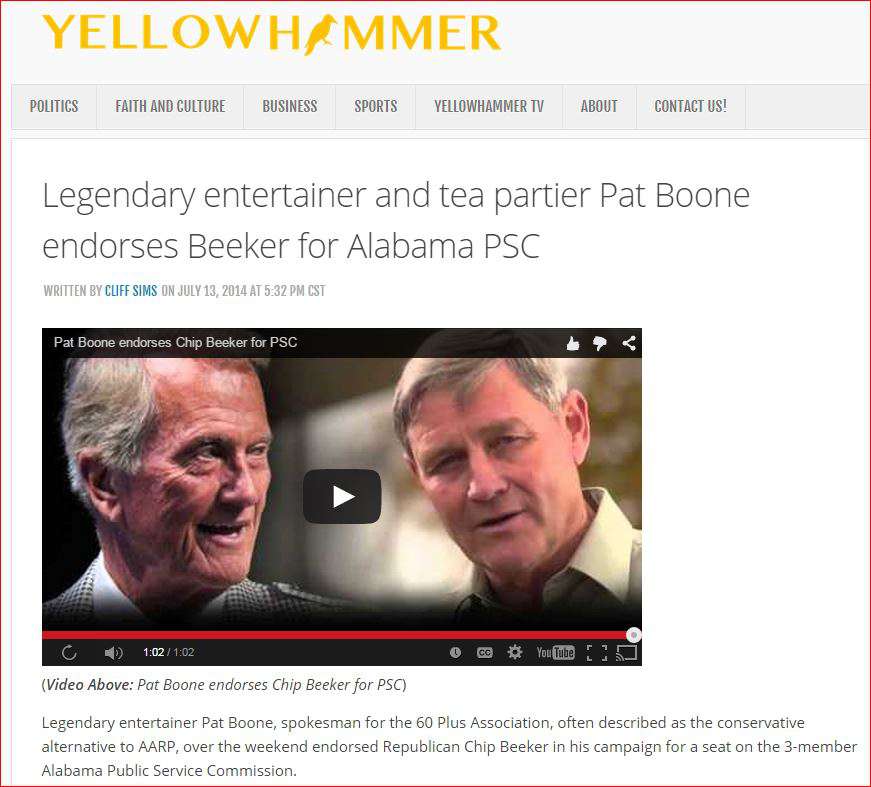 The role of the Front Groups is to generate or in any event put their names on op-eds in newspapers, advertisements, and all manner of other methods of influencing the public and elected officials.
I believe that most if not all of the ads and public relations efforts of the Front Groups are crafted by the Secret Donor and its political consultants, and those that are not must first be approved by the company and its consultants prior to release.
Below are portions of one of several op-eds published in the Al.Com newspapers in Birmingham, Mobile and Huntsville and attributed to 60 Plus chairman Jim Martin, though I'd be surprised if Martin actually wrote it. Jesse Salinas, who is referred to, is an AARP official in Alabama.



The only thing Dunn and AARP have in common is both wanted to lower the monthly power bills of Alabama residents and businesses. Do you think that's a bad thing? If so, what's your position on ice cream?
According to the Front Groups, Twinkle Cavanaugh and Chip Beeker, the AARP and Dunn were for higher rates. That's what George Orwell called an "untruth." Then they cloaked the untruth in "conservatism," the flip-side being that anyone who opposed the untruth was a screaming liberal — as opposed, say, to someone who merely wanted lower power bills.
It helped, of course, that the untruths were well-aired, such as in TV ads. For this we can thank the more than half-million dollars donated to Beeker from Alabama Power's friends. That sum, of course, does not include all the "dark money" that flowed to the likes of 60 Plus, nor the immense sums paid to the political consultants whose great genius it was to devise this pack of lies.
Here's an image from one of the TV ads the Beeker campaign ran before last year's election. Different source of funding from the 60 Plus ads, but selling the same untruth.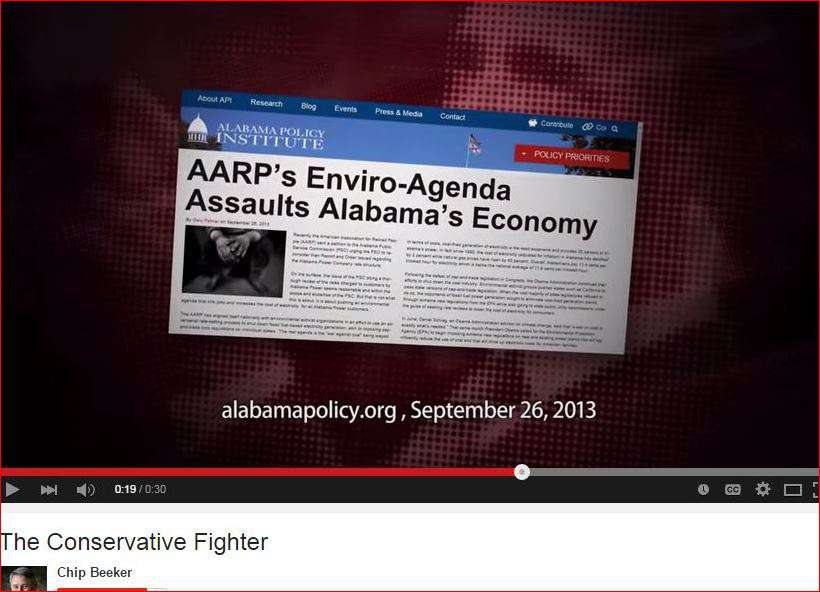 Why, do you suppose, did the Secret Donor not contribute directly to the Front Groups?
I believe this was done to allow the Secret Donor, such as through a spokesman, to declare that the company did not make any donations to the Front Groups. Let's say a reporter were to call and ask Alabama Power's spokesman if the company had contributed any money to 60 Plus, such as after Pat Boone's robocalls on behalf of Chip Beeker (more about below).
If that were to occur, the spokesman could respond that the company had not contributed to 60 Plus, or for that matter, JobKeeper Alliance or PACE. Literally speaking, if not otherwise, this would be true.
Likewise, it allowed the heads of those groups — who are after all out in the public and dealing with the media — to declare that they've never received funds from Alabama Power or other suspected donors, such as Southern Company or other affiliates.
It's my understanding that Alabama Power's spokesman will decline to say yea or nay when asked if the company has funded or facilitated the funding of the groups named in this story, including Vote Alabama and PAL.
Unfortunately, there is no evidence that the actual media, such as someone from the Al.Com papers, the Montgomery Advertiser or the Associated Press, has even dared ask these questions of the Power Company, whether of its media personnel or, perhaps more appropriately, its top executives.
Pat Boone "robocalls" Alabamians to urge them to vote for Dunn's opponent
In the week preceding the July 15 run-off, 60 Plus bombarded the state with pre-recorded "robocalls" from 1950s teen heartthrob Pat Boone. Now 80, Boone is reminiscent of the late Dick Clark. Both seemed to stop aging at about 60.
Boone is well-known for his long-time support of conservative causes and candidates. Last year he went on radio to predict that Obama's birth certificate would be revealed as a forgery.
Boone has for years served as 60 Plus's "national spokesman." In that role, he frequently tapes robocalls on behalf of candidates who, quite frankly, earn the singer's endorsement with payments to 60 Plus.
Unlike much of 60 Plus's Alabama activities,  the Boone robocall did not criticize Dunn, or even mention him. In a friendly, easy-going voice, Boone told listeners he was calling on behalf of 60 Plus, and urged them to vote for Beeker.
"Oh, I'm still singing at concerts, but today, on behalf of senior citizens, I'm singing the praises of small businessman Chip Beeker, a long-time catfish and cattle farmer," began Boone. He declared that Beeker would "protect seniors' pocketbooks and stop the war on coal from eliminating 1,600 Alabama jobs."
"Seniors will have no finer friend on the public service commission than Chip Beeker, I promise you that. Pat Boone saying, 'So long, and God bless you.'"
(Go Here to listen to Boone's endorsement.)
Yellowhammer News and Alabama Political Reporter — the two well-known Alabama political news sites, one known for extolling Mike Hubbard (Yellowhammer), the other for hating him (APR) — find common ground with Alabama Power.
Both published fawning pieces, as if Boone's endorsement was somehow important. Both sites,  I can assure you, are in some manner getting paid to support Alabama Power and its favored Public Service Commission candidates.
Al.Com reported the endorsement (see below), but with the tongue in cheek style it deserved.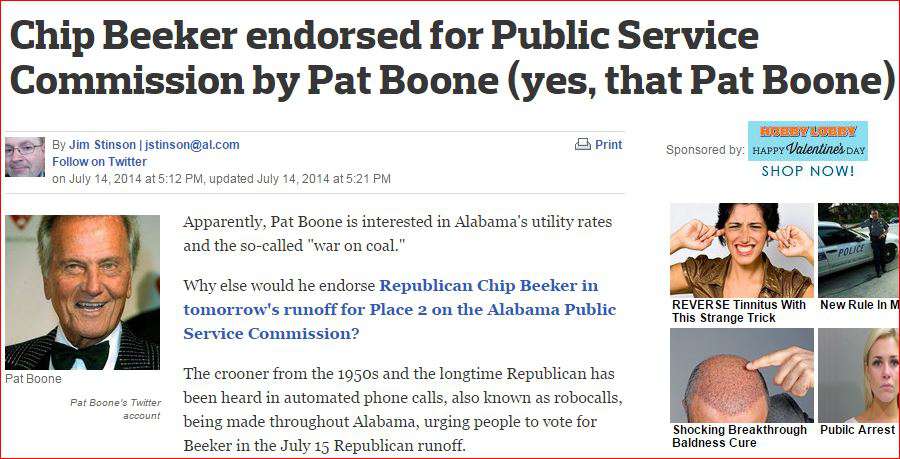 Beeker, who is all about thanking people who get paid to shill for him, proudly tweeted his gratitude for Boone's backing. There is no evidence that Beeker thought it odd that, of all people, Pat Boone — celebrity resident of Beverly Hills, California — had injected himself into a Public Service Commission election in Alabama.

State law prohibits  utilities regulated by the Public Service Commission and their employees from donating to PSC campaigns. I'm not claiming that this story has proved that Alabama Power provided the money that ultimately paid for Pat Boone's robocalls telling Alabamians to vote for Chip Beeker. But if that were proved to be the case, I believe the company should be prosecuted.
Front Groups intervened at PSC on Alabama Power's behalf
In 2013, the state media began covering Dunn's effort to get the PSC to lower Alabama Power's allowed profits and to hold formal rate hearings, with sworn testimony and the opening of Alabama Power's books.
Such hearings, which are routine in other states, allow the public to see how the company spends the money it collects form customers. This is called transparency, and it puts pressure on both the regulated companies and the regulating agencies to keep costs down. Neither wants to be embarrassed by revelations of excessive or outlandish expenditures at a public hearing covered by the media.
Naturally, Alabama Power opposed having formal rate hearings. Not surprisingly, PSC President Twinkle Cavanaugh and Commissioner Jeremy Oden sided with the company. To provide public relations cover for their refusal to hold real hearings, the commission hosted three days of informal hearings. Dunn called them, "Dog and Pony Shows."
Speaker after speaker, many clearly there to do Alabama Power's bidding, and with undisclosed financial ties to the company, spoke at length. Among those was Mike Fields, the head of Vote Alabama. In addressing the meeting held in Tuscaloosa, he neither disclosed his relationship with Vote Alabama, nor that he's a paid consultant for Alabama Power, and has been for years.
Al Henley, wearing a JobKeeper Alliance sticker, spoke at one of the meetings (see below). He made no mention of the Peoples Alliance for Leadership, but instead wore his AFL-CIO hat.
Among those participating in an official capacity — as an "intervenor" — was 60 Plus. Matthew Kandrach, as the association's supposed "vice president," spent a considerable amount of time in Alabama during that period. The following is a picture showing Kandrach at one of the hearings. It comes from Twinkle Cavanaugh's Facebook page.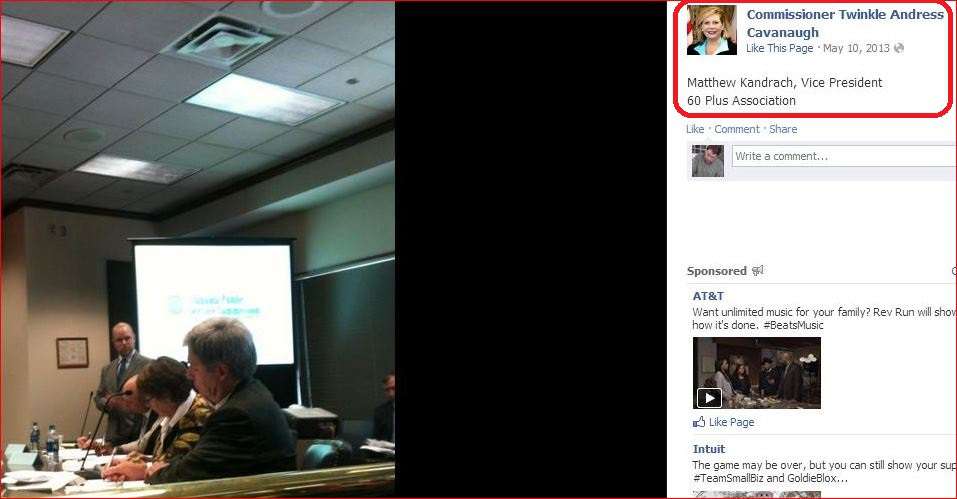 In August 2013, Cavanaugh and Oden out-voted Dunn in approving a new rate plan that Dunn dismissed — accurately — as purely cosmetic, or worse.
The AARP filed an objection, asking the PSC to reconsider. Alabama Power filed a brief urging the PSC to deny the AARP's request.
In a two-day period in September, a batch of intervenors with undisclosed ties to Alabama Power filed briefs or wrote letters in support of Alabama Power and opposing AARP's efforts to lower the power bills of Alabama residents and businesses.
They included PACE, JobKeeper Alliance, the AFL-CIO's Henley (also of Vote Alabama) and 60 Plus. Below, the top of the 60 Plus letter filed with the PSC and expressing support of Alabama Power's position to reject the AARP's request.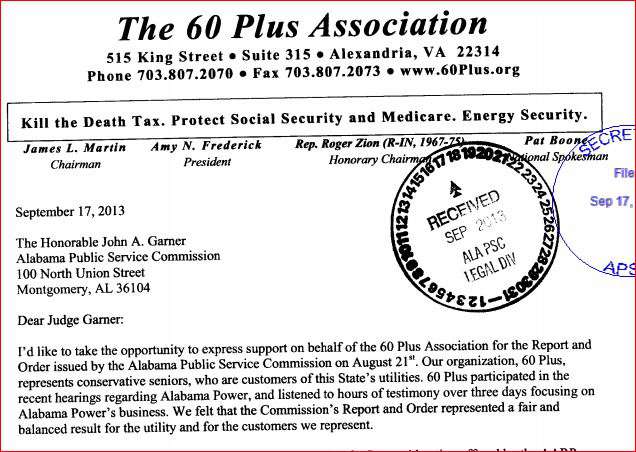 There was of course no way that the PSC was going to side with AARP. The Front Groups were simply producing their usual schtick to provide cover for the main actors — Alabama Power, Twinkle Cavanaugh, Jeremy Oden, and the new boy, Chip Beeker.
The Post-Election Campaign: Bashing Obama, EPA to Provide Cover for Rate Increase
Immediately after the elections, 60 Plus and the other Front Groups embarked on a new campaign. It was perhaps the most cynical campaign of all, and it continues.
Alabama Power and the PSC knew far ahead that Alabama Power would request a rate increase at year's end, to take effect in 2015. To give the company public relations cover and provide political cover for the three PSC commissioners, the Front Groups banged away with the generalized message that electricity rates everywhere were on the way up, and it was all Obama's fault.
Blaming Obama and the EPA for waging a "War on Coal" was hardly new. It had been used to falsely link Dunn to environmentalists. This time the message was re-directed to make the fraudulent case that Alabama Power had no choice but to raise raise because of the cost of complying with federal clean air mandates.
In fact, some two-thirds of the costs claimed by Alabama Power and seeking the rate increase had nothing to do with environmental upgrades. And the costs associated with environmental upgrades involved emissions of mercury and other toxins. These are separate than from the carbon-related anti-Obama "War on Coal" message put out by the Front Groups, the company in television ads than ran in the fall, and the commissioners themselves. 
You need a scorecard to keep up with all the lies and half-truths these people tell.
In late July, Cavanaugh, Oden, and Beeker — who wouldn't take office until November — held a press conference at the Birmingham headquarters of the Alabama Coal Association. Shill publication Yellowhammer News wrote a story, as seen below.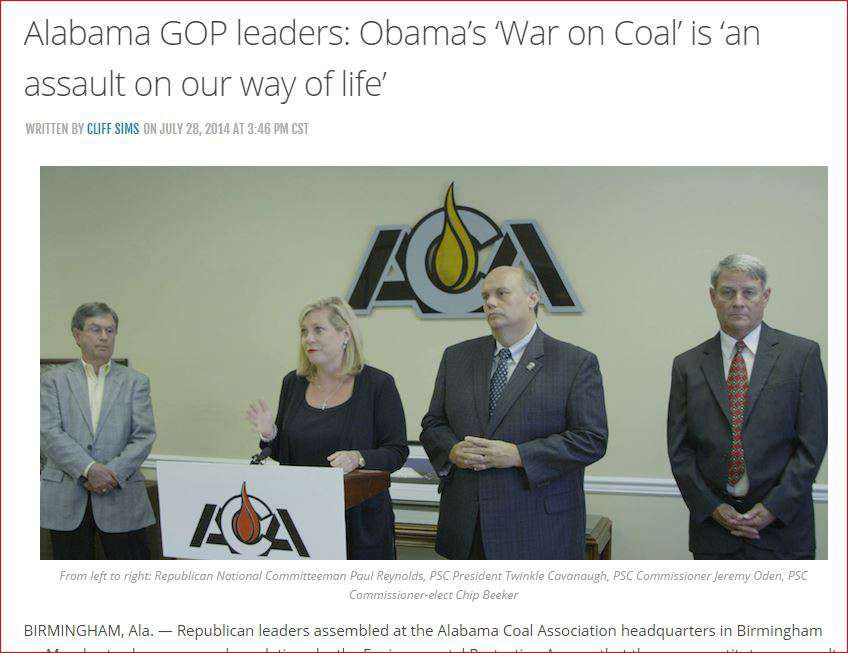 With Dunn out, the PSC's transition was complete, from regulatory agency to Alabama Power's very own taxpayer-funded public relations arm.
Role of 60 Plus in new campaign
60 Plus was assigned a role in the publicity campaign to pave the way for the coming rate increase. In early October, it released a report on the impact of EPA regulations on the energy bills of Alabama seniors. 
Here's the top of that report:

If the PSC reduced Alabama Power's allowed profit to the national average, which is below 10 percent, the  cash-strapped seniors 60 Plus purports to care about would pay less money to Alabama Power and have more money on which to live. Of course, that's not the message that the Secret Donor's $726,000 in 2013 was intended to make, nor the load of money that we can be sure found its way to 60 Plus in 2014.
One of the chief means that the Front Groups have used to promote their anti-Dunn and pro-Alabama Power propaganda is the press conference. On Oct. 8, 60 Plus held one of these at the Capitol. Featured speakers included Alabama Gov. Robert Bentley (see below). The affable Bentley always finds time for the Alabama Power shill groups.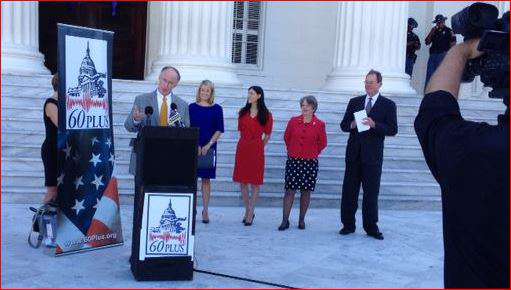 I'll leave you with some images from the ongoing campaign to draw attention away from Alabama Power's real reasons for increasing its rates.
Below, an image from a news report by Montgomery station WSFA about the 60 Plus press conference featuring Bentley. The report might as well have been produced by Alabama Power, so favorable was it for the case.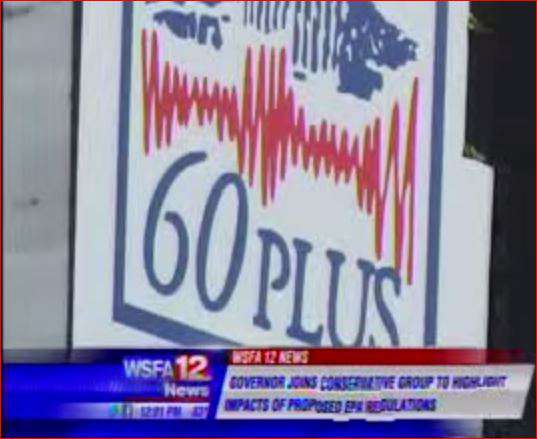 Next, a flier announcing a meeting in Troy sponsored by 60 Plus and featuring brand new PSC Commissioner Chip Beeker.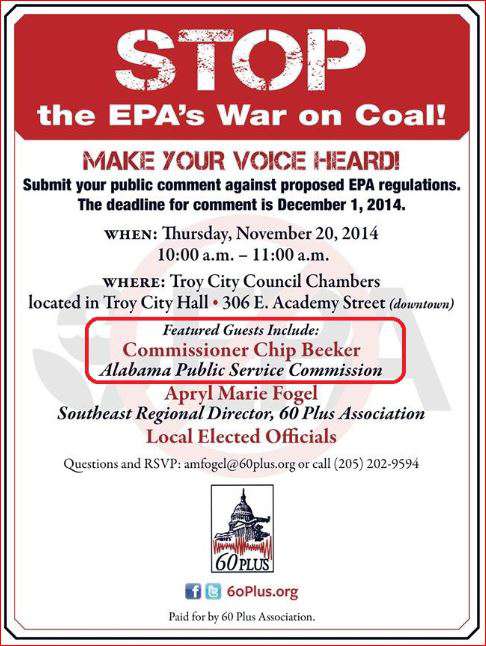 Here's Beeker at the Troy event.

After it was made official, that rates were going up, the Front Groups — such as 60 Plus and shill publication Yellowhammer News — stayed on message, totally ignoring that the bulk of the increase was unrelated to environmental upgrades. Still, the increase was all the EPA's fault.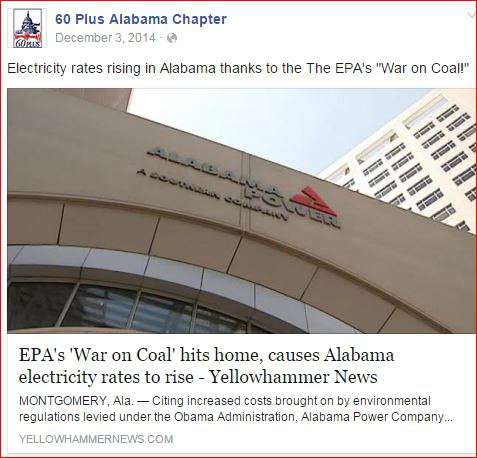 At the start of the PSC's January meeting — the first meeting since the rate increase — a staffer for PSC President Twinkle Cavanaugh brought out a large placard. It was an enlargement of a letter that the PSC commissioners were sending to the White House. In other words, a political stunt. Cavanaugh and her fellow commissioners walked over to the placard, ceremoniously signed it, and stood for pictures.
Below, a post on 60 Plus's Facebook page linking to a story about the letter to Obama in the ever-faithful Yellowhammer News. The Alabama Power Front Groups are forever using social media — Facebook and Twitter — to promote the efforts of the other Front Groups.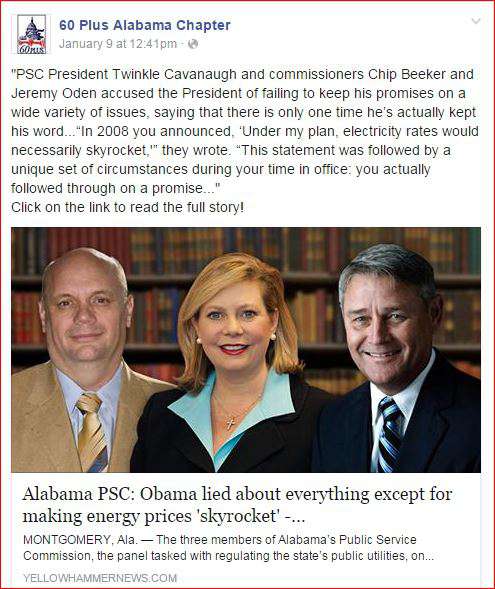 When reading stories on this site, keep in mind the following statement, and ask yourself: Is Alabama Power's spokesman, and by extension, Alabama Power, telling the truth?

If you liked this story, and want to see more like it, please consider making a donation.