(Note: This story was published in January 2014.)
By Eddie Curran
A Washington D.C.-based non-profit that has purchased radio and newspaper ads in Alabama, penned op-eds in state newspapers, and participated in the Public Service Commission's hearings on Alabama Power was recently outed by the Arizona Republic as a paid pawn for that state's power company.
The Republic stories revealed hundreds of thousands of dollars in payments routed from Arizona's power company to the "60 Plus Association," a tiny organization that touts itself as the conservative alternative to the AARP.
"60 Plus" — which has no operations in Arizona — used the money to fund a media and public relations campaign promoting the interests of Arizona's largest power company.
The Arizona stories probably explain why little-known 60 Plus showed up in Alabama to argue for Alabama Power before the Alabama Public Service Commission. It has also funded advertising on the PSC issue while bashing PSC commissioner Terry Dunn and praising the two other commissioners, Twinkle Cavanaugh and Jeremy Oden.
Dunn is the Republican PSC member who has sought formal rate hearings and reductions in Alabama Power's rates. He has been pilloried by Alabama Power's apparently limitless supply of toadies in state government as well as by the likes of 60 Plus, the JobKeeper Alliance, and Yellowhammer News.
I feel sure that 60 Plus inserted itself into the Alabama situation for one reason — it was contacted by Alabama Power or consultants working for Alabama Power and was paid by the company or, pass through style, by the consultants.
The claim by 60 Plus that it came here to Alabama to help seniors and battle liberals is a con, and its partner in the con is Alabama Power.
First, a look at 60 Plus's efforts on behalf of Arizona's main power company, and then the services it provided here, to help Alabama Power.
1. 60 Plus and Arizona

In July, Arizona Republic reporter Ryan Randazzo reported that the state's electric utility — called the Arizona Public Service Co. (APS) — "might be (funding) indirectly" a "politically charged marketing campaign" directed against the solar power industry.
Randazzo had to hedge because a spokesman for company failed to honestly answer his questions.
At issue in in Arizona is a request by APS before the state's utility regulatory body, called the Arizona Corporation Commission. The company wants to charge customers with solar rooftop panels an extra $50 to $100 per month on their power bills. APS argues that the sum is needed to cover its cost for maintaining the power grid.
The solar industry is fighting this, including with public relations campaign utilizing ads, web-sites and all that goes into the modern public relations operation.
As Randazzo found, far more money was being spent on ads supporting the power company's position. Only, the ads weren't shown as being paid for by APS, but by 60 Plus and another non-profit, called Prosper.
The power company's initial response to Randazzo should be instructive to any Alabama reporter who may decide to ask Alabama Power about 60 Plus.
"(Were the ads) made with resources that could have originated with APS? I don't know," APS spokesman Jim McDonald told the Republic. "We are not directly funding them. We didn't write the script, review the script."
The spokesman said APS appreciated any group that understands the solar issue, but APS didn't agree with politicizing energy issues, such as 60 Plus was doing. Above the fray, that kind of thing. Same public stance as Alabama Power here.
Only, it turned out that the APS spokesman was lying to Randazzo and Arizonans.
In October, the Arizona Public Service Co., finally came clean, to a degree. This, as the Republic reported it:
John Hatfield, a vice president for APS, admitted that the company paid for the ad campaign because it "needed to respond to these ridiculous assertions that we do not support solar."
Hatfield told the Republic that the company had funded the anti-solar campaigns by 60 Plus and Prosper, and possibly other groups as well. The money — the company declined to identify the amount — wasn't given directly. Rather, it was routed through a political consultant, Sean London, and his firm, DC London. That firm then paid 60 Plus, Prosper, and perhaps others.
That's what I suspect has happened in Alabama. That Alabama Power hasn't directly paid 60 Plus — and other groups that have bashed Dunn like JobKeeper Alliance, PACE, and Yellowhammer News — but has funneled through others, such as political consulting firms.
Go Here to read the Republic's first story on 60-Plus, and Here to read the second one.
2. 60 Plus and Alabama
Because it posits itself as a seniors organization, 60 Plus claimed in Arizona that the solar issue was important for seniors. The Alabama campaign — for Alabama Power, against Terry Dunn — has also been couched in terms of "what's best for seniors."
The ceiling on Alabama Power's allowed rate of return on equity — the profit it's permitted by the Alabama Public Service Commission to enjoy — is above 14 percent. Records show the company's actual profits always exceed 13 percent. The national average is in the 9 percent range. The AARP — as well as Terry Dunn and any customer with an iota of sense — wants the company's sky high rate of return lowered. Were that to occur, it would trigger a reduction in power bills for, among others … seniors.
Here's how I put it in one of my questions to 60 Plus (see all questions at right)
If Alabama Power's rate of return on equity were brought to the national average, or even to 10 or 11 percent, both above the national average, the power bills of Alabamians, including seniors, would go down. Why do you oppose lowering power bills for Alabama seniors?
60 Plus did not respond to my questions. It's my understanding that it declined to comment when asked by Arizona reporters about its activities in that state.
In late 2012,the media — especially the Mobile Register and Birmingham News — published a flurry of stories about the high rates of return on equity (profit) allowed Alabama's three regulated utility monopolies -Alabama Power, Mobile Gas, and AlaGasco. Only one PSC member — Dunn — advocated the sort of rate hearings that are routine in other states. Only Dunn expressed concern about the alarmingly high rates of return allowed Alabama's utilities when compared to power companies throughout the company.
This put Alabama Power on the defensive. What to do?
What if this awful movement to review our rates catches fire? Egads!
In response to the pressure, the company's mole within the PSC — PSC president Twinkle Cavanaugh — announced a series of public hearings. Only, these wouldn't be rate hearings, with sworn testimony and detailed information, as Dunn sought and, again, as other states do as a matter of routine. These public hearings came to be known, as Dunn called them, the "Dog and Pony Shows."
60 Plus was among the many ponies who showed up to cheerlead for Alabama Power at these so-called hearings.
In one of his op-eds to the Al.Com papers, 60 Plus chairman Jim Martin wrote that he"dispatched Vice President Matthew Kandrach to Alabama where he attended the almost year-long series of PSC hearings and the fact is every consumer of a regulated Alabama utility will see lower bills and direct savings."
Kandrach did indeed attend the hearings and spoke at one of them. Cavanaugh posted a picture of Kandrach's address on her Facebook page. However, Martin's statement that the hearings resulted in lower rates for Alabama Power is false. Alabama Power has acknowledged that the PSC's action won't lead to a reduction in rates.
I don't know how many radio ads 60 Plus has purchased in Alabama, but $50,000 worth would be a conservative estimate. In all likelihood, the total exceeds $100,000. One that was recently running throughout the state, called, "Values Matter," opens with criticism of Obamacare and AARP. The ad blasts AARP for "criticizing Alabama companies (that would be Alabama Power) that support coal companies."
60 Plus has also purchased newspaper ads, mailed out fliers, and possibly purchased TV ads.
The Al.Com papers have published at least four letters and/or op eds by Kandrach and Martin. The Alabama Power company line was spouted in each. The cynic in me suspects that the letters were written either by Alabama Power public relations staff or by the company's outside consultants and proofed by company officials.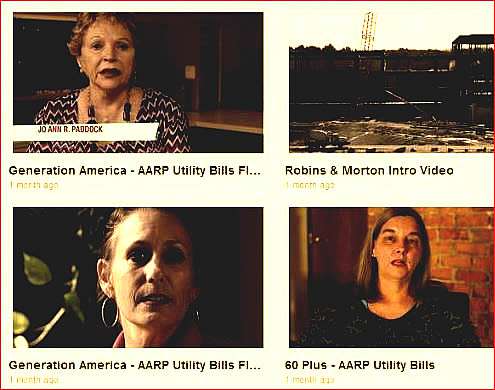 The three women above have appeared in almost all the 60-Plus videos by a small Birmingham film company called Gale Force Productions. In some cases, the same women have also appeared in videos by another "seniors group," called Generation America. It's hard to keep track of all the non-profits, companies and groups that have come out of the woodwork to participate in the PSC hearings about Alabama Power and which have used Gale Force. One, though, is easy to remember. That would be the client for a video called, "Always on For Life."
Florida Trauma Centers: Another example of 60 Plus serving as corporate PR mercenary 

Above, a portion of a 60-Plus funded web-site (http://keepseniorssafe.com/)devoted to pressing the cause of trauma centers in Florida. There is apparently a legal and/or legislative battle in that state pitting publicly funded hospitals against trauma centers.
I have not and will not be taking the time to research the particulars and merits this issue. Odd, though, that this little-known Florida matter got such a rise out of 60-Plus. According to a news release by Jim Martin, 60 Plus is spending a quarter-million dollars to promote the trauma center point of view.
As you might imagine, they're doing it for Florida's seniors. For 60 Plus, its all about seniors.
One would need to be a fairly serious doofus not to realize that 60 Plus is for sale to whatever company or industry wants to pay the "non-profit" to promote this or that point of view. Is hard to believe that its legal for non-profit to operate in such a manner, but perhaps so. Heck, the JobKeeper Alliance does it, so it must be legal.
Certainly Alabama Power is blessed to have as an ally an organization that cares so much for the elderly.

60 Plus even Tweets bad about Dunn.
If you enjoyed this story, and appreciate the research and the time spent on it and this project, please consider making a donation.