Never before reported records reveal level of involvement by Matrix LLC —- long-time political consultants to Alabama Power —- in state employees association/Nationwide Retirement Solutions state employee rip-off scheme
Note: As a reporter, I always loved citing public records.  For this story, even more than others on the site, I'm showing readers a multitude of records, some involving Matrix and that firm's role in this matter. Matrix, for reasons made clear elsewhere on this site, is a major player in the attacks on Terry Dunn that are central to this web-site.  In most cases, I've used the Microsoft "Snipping Tool" to capture relevant portions of records. You will see them throughout the story and more below the story, including new ones added late Thursday night.
As you read this, keep this in mind: Matrix has been Alabama Power's primary in-state political consultant for decades — was before the Nationwide scandal, during it, and after it, as in, still. There are many more sleazy Matrix tales where this came from, as anyone who knows the first thing about Alabama politics can tell you. If you think Alabama Power cares about ethics in its political operations, then you need to hop off the turnip truck.
By EDDIE CURRAN
The long, sordid "Nationwide Retirement Solutions" saga that saw Mac McArthur and his cohorts essentially pilfer millions of dollars from state employees came to a quiet end on March 28, with a rare court defeat for McArthur and friends.
In a unanimous decision, the Alabama Supreme Court overturned a Jefferson County judge's order that Nationwide had to pay $1.1 million in legal fees to PEBCO — the insurance arm of the Alabama State Employees Association. McArthur is head of the employees association and president of PEBCO.
It's unclear from the available records if the ASEA will now have to pay those fees. Doing so would assuredly be a huge burden for the association that provides lobbying and political services to state workers.
In addition to lobbying, ASEA, through PEBCO, was at the time responsible for selecting the provider of the state 457  plan, and negotiating the terms. The 457 is an optional, supplemental retirement plan for state employees created by the Legislature. More than 20,000 state employees participate in it.
Secret provisions in a 2001 contract between ASEA and Nationwide for the Ohio-based company to provide the plan served as the starter's gun for the 13 year drama that is now at or very near its end.
Chief among those provisions were so-called "endorsement fees" that generated almost $12 million in secret payments from Nationwide to the ASEA from 2001 to 2008.
There's one major impediment to reporting on the Nationwide scandal: McArthur, the association and other parties in the legal fee dispute and a class action lawsuit by state employees against Nationwide and the ASEA asked the court to seal the evidentiary material, including some briefings. The court — despite the clear public interest in the matter — agreed.
A light of day avoidance scheme on top of the other schemes, you might say.
For example, as best as I can gather, there is no accounting — or at least a publicly available one — showing how McArthur and his allies on the ASEA's governing board actually spent the $11.8 million funneled them by Nationwide.
Some details are known. McArthur —  as was widely reported in the state media — benefited from the secret fees in several ways. Chiefly, the fees supported an increase in his  salary from $142,000 in 1998 to $375,000 by 2007.
Nationwide funds also paid for lavish entertainment for McArthur and his allies on the ASEA's governing board. That included a tour of Napa Valley vineyards, tickets to a Broadway show, and a trip to Chicago, where they took in a Cubs game.
Bear with me here.  This case involves a multitude of lawsuits, an investigation by the Alabama Securities Commission, and quite a few players.
The Securities Commission investigation, and role of Matrix
In 2007, the State Personnel Board found out about the secret "endorsement fees" and took measures to expose them and ensure that state employees were made aware. 
Because the 457 plan involves investments, the Alabama Securities Commission conducted a detailed investigation of the Nationwide Retirement situation. By far the best source of information on this case is the Securities Commission report (Read it here) by agent Charles Harrison. However, as is clear from the report, the commission was to do more investigating. I've been able to acquire some of the fruits of that further investigation, as well as some of the exhibits cited in the report. To the best of my knowledge, this information has never before been reported. (I did not get it form the commission.)
In its October 2008 report, the commission concluded that Nationwide agreed to pay the endorsement fees and other charges sought from Nationwide by McArthur. However, Nationwide would only do so if it were allowed to recoup the millions of dollars in endorsement fees through lower payouts to the more than 20,000 state employees on the plan.
That was apparently fine with McArthur.
A metaphor for what happened: I'm your lawyer, negotiating a contract for you. While negotiating for you, I demand from the provider of services to you that he make secret payments to me. If he doesn't agree, I will arrange for someone else to get your business. He agrees to do the deal, on one condition: That I let him reduce the value of the services he's to provide to you.
I am more than willing to sacrifice your best interests in return for my personal enrichment. I agree to the deal, I make out like a bandit, and you are none the wiser.
That's what McArthur and his allies on the employees association board — with assistance from Matrix LLC — did to state employees.

The above statements come from the commission report. SEA-PAC is the political action committee of the employees association. The PAC's campaign filings show that it used Matrix' services in political campaigns. Below is Joe Perkins, the founder and driving force behind Matrix.

Good luck finding out what Perkins and Matrix do for Alabama Power, and how much the company pays the firm.  To say the least, the term, "closely guarded secrets" applies. I suggest that the company would face public shame if the details of Matrix's services for Alabama Power were ever revealed.  
The Securities Commission subpoenaed a host of records from Nationwide and interviewed company officials. The commission found that McArthur compelled Nationwide to hire Matrix and work with one of its executives, Jeff Pitts. Nationwide already had the state contract, but was seeking to retain it. The company did as told and in March 2001, hired Matrix.
The initial  contract (see bottom of page) showed that Nationwide was to pay Matrix $5,500 a month ($66,000 a year), plus bonuses if the contract was awarded to Nationwide. According to the Securities Commission report, Nationwide estimated that it paid Matrix about $100,000 a year. If that was from 2001 to 2008, it would indicate that Matrix received about $800,000 for, among other tasks, helping McArthur cheat state employees.
For the most part, we will tell the Matrix portion of the story with documents — portions of the Securities Commission report and exhibits and other materials generated by that investigation.
The following is form the report. The record speaks for itself.
Below, the bottom portion of a letter that McArthur sent Nationwide during negotiations over the 2001 contract. McArthur not only told Nationwide to hire Pitts, but praised him to Nationwide, just in case the company was having second thoughts.
The next record is from the Securities Commission report. The other names shown here, in addition to Pitts and Matrix, are Montgomery lawyer Tommy Kirkland and a legal research company of his, called Bartizan; and Keen Group, a company formed by Pitts that shares Matrix's address.
Kirkland is a former Matrix employee who works closely with the firm. The investigation showed that Nationwide put Kirkland on a $1,000 a month retainer. The Securities Commission expressed concerns about the nature and amount of work product produced as a result of this contract.
The report noted Kirkland's past work for McArthur. For example, Kirkland had incorporated numerous corporations for McArthur and the employees association, many if not most served no purpose but were formed in the event some purpose was to be found for them. Kirkland, as is reported elsewhere on this site, also incorporated the JobKeeper Alliance — the non-profit with ties to Matrix that specializes in praising Alabama Power and bashing Terry Dunn.
Here's what the commission report had to say about Nationwide's choice of these Montgomery characters to assist it with the massive Alabama employees retirement contract.
In 2004, the association had to again seek bids/proposals for the contract. Nationwide was negotiating with McArthur for an extension of its contract. The records below, produced by Nationwide, reflect McArthur's insistence that Nationwide take care of Matrix and Pitts.
These two snippets are from the same internal Nationwide memo. They describe the "concern" of McArthur and Pitts, echoed separetly by each to Nationwide, about bonus payments to Pitts and Matrix. 

In this snippet from a Nationwide memo, a company official spells it out: It could use Pitt's and McArthur's Matrix obsession as a bargaining tool in negotiations for the terms of contract and contract extensions.
As you can see, McArthur and Pitts/Matrix are, with their secret words and actions, revealing their greed. Their financial well-being is far more important than that of state employees. The record below cites a $45,000 bonus.

This is from the commission report. It shows that the contract extension sought by Nationwide was granted and Pitts/Matrix received a $45,000 bonus.
Several months after the report, the commission interviewed Pitts. Among the questions: Did McArthur know that Pitts contract called for Matrix to receive the signing bonuses. CH is Charles Harrison, the agent who conducted the commission investigation. JP is Pitts.

The following portion of the agents interview with Pitts relates to, among other things, a $60,000 bonus for Pitts and Matrix. The transcript suggests a stuttering response from Pitt to the question. Judging by his answer, the only aspect of Nationwide's contract that its special consultant could grasp was the bit about him and Matrix pocketing $60,000 once it got signed. He, he, he, he …..
He understand that part.

I don't really blame him. I'm pretty clueless about basis points too. Here's how the Securities Commission boiled it down — including the part about ASEA/McArthur wanting to "maximize profits" and the cost — in those pesky basis points — to be taken out of the hides of the state employees. The bit at the end is relevant as well, and easy to understand.

And here, dear readers, is where the rubber meets the road, in this nice little summary provided by agent Harrison in his report. Begin with, "As previously stated.."

Perhaps the most serious allegation raised in the report is that Pitts colluded with McArthur and Nationwide to rig the competition for the massive contract by providing Nationwide with information about the proposals of its competitors — information provided him by McArthur.
Below, a portion of the report discussing that issue:
And, below, a Nationwide document about its proposal for the contract. It's important to understand that the issues being negotiated — and which would impact the returns paid to state employees — revolved around fractional differences in interest rate called "basis points." Small as they are, those differences impact the ultimate payouts to plan participants.
Below, a Nationwide official cites information provided to Nationwide from Pitts about the proposals for the contract from competitors Aetna and ING.

In his interview with Pitts, agent Harrison twice asked Pitts if he provided Nationwide with information about the competitors' bids. Here's how Pitts responded:


Harrison raised another possibility: That Pitts and Matrix, in addition to being paid by Nationwide, were also receiving payments from ASEA/PEBCO. If so, such funds would presumably come from the money generated by the endorsement fees. The following is from the interview:

That appears to be a non-answer. If Matrix/Pitts were paid by PEBCO — as other records appear to confirm — it suggests that Matrix was not only benefiting from direct payments from Nationwide, but also from the secret "endorsement fees" Nationwide was paying to ASEA. I can't say I admire them, but you simply have to applaud their ingenuity. They find the angles, the nooks and crannies, and loads of cash vanishes,  like ants up an anteaters' snout.
Again, most of the financial and payment records have never been made public. 
 Time for a Commercial Break from our sponsor, "Mr. Dunn Goes to Montgomery."

Matrix is featured in many of the stories on this web-site by way of its long political consulting relationship with Alabama Power and its connections to JobKeeper Alliance and others who have participated in the smear campaign against PSC Commissioner Terry Dunn. .

 

In 2001, while with the Mobile Register, I did a story on Perkins and Matrix. At the time, power companies had to identify payments to political consultants, lobbyists and others on federal filings. The last year for which such records were available was 1999.

 

The filing showed that Alabama Power paid Perkins Communications — a related company — more than $900,000 that year. Unfortunately, the agency that regulates utilities no longer requires them to identify recipients of such expenditures. Matrix, though, remains on the power company's payroll.

 

For a 2011 column, John Archibald of the Birmingham News called Alabama Power and asked about its relationship with Perkins and Matrix. The following is from that column.

 

"Power company spokesman Michael Sznajderman said Friday his company seeks strategy and policy advice from Matrix, and has paid them for a long time. He would not say how much Matrix is paid."
Back to the Nationwide case…
The "Coker" Class Action and Legal Fee Battle
After the "endorsement fees" became known, a class action — known as the Coker case — was brought against Nationwide, the ASEA, PEBCO, and a consulting firm called AON hired by the ASEA to analyze the bids from Nationwide and others and assist the association in choosing the best one. 
In 2011, a settlement of the class action was approved. Nationwide agreed to pay some $15.5 million to class members, and an additional $2.9 million for attorneys who represented the class.  AON also chipped in $500,000. As best as I can tell, McArthur ignored AON. He knew who he was going to award the contract to why. From all I can tell, AON was a victim in this.
The following is from the Securities Commission report, and reflects AON's chagrin at dealing with the "endorsement fees" in Nationwide's proposal. Note use of the term, "kick-back."

 Class actions are often criticized, but the Coker case clearly provided substantial benefits to the 20,000 plus state employee class members.
For reasons not entirely clear, at least to me, ASEA/PEBCO was not required to contribute anything to the settlement. It's my understanding that this was because ASEA did not have sufficient funds and that if ASEA had to pay it would essentially punish class members — since their dues fund the association.
In any event, McArthur and others who benefited from the endorsement fees were not required to return any of  the money. They came out like bandits.
However, the ASEA had retained its own lawyers to defend against the Coker claims, and wanted Nationwide to pay those fees. After the settlement, the two sides faced off in a legal battle over the fees.
McArthur and the ASEA claimed that Nationwide had a contractual obligation to indemnify (fund the legal defense of) ASEA against any lawsuits that might arise as a result of the contract with Nationwide. And there was an indemnification clause. At issue was whether it applied to a situation such as this, and involving the sort of acts committed by McArthur and other association leaders.
Jefferson County Circuit Judge Howard Bryan, who presided over the case , agreed that Nationwide must pay for ASEA's legal costs. He did, though, whittle the fee demand down from more than $1.5 million to about $1.1 million. The Supreme Court — as reported at the top of this story — zapped it all the way to zero on March 28.
The Supreme Court agreed with Nationwide that the indemnity clause did not require the company to fund ASEA's defense against the type claim brought in the Coker case.
Of the original $1.6 million, more than $1 million was billed by Birmingham attorney Mark White and his firm, White Arnold Andrews & Dowd. Much of the rest was billed by the Montgomery's Melton, Espy & Williams.
It's unclear from the court records I've reviewed if the association paid the lawyers and was seeking reimbursement from Nationwide; or if the White and Espy firms were counting on Nationwide to pay. Also unclear: If the latter, will the law firms seek payment from the employees association?
If I was a state employee, and a dues-paying member of the association, I think I'd like to know the answer to that and a few other questions as well. I'm sure that your leader, Mac McArthur, will be more than happy to answer your questions. And when he does, if you provide me with his responses, I will be happy to update this story with the new info.
The following is from the Supreme Court's ruling. Note the court's disparaging view of ASEA's demand that Nationwide -after paying so much to settle a case caused by ASEA's own behavior — had the gall to then demand that the company pay its legal fees.

 The Peoples Alliance for Leadership, or, PAL
My current interest in the Nationwide case is related to research I've doing into a non-profit called the Peoples Alliance for Leadership. The non-profit was  incorporated in 2003 by Mac McArthur and two others. As is reported elsewhere on this site, tax returns of PAL show that from 2010 to 2012 it paid $279,000 to two other non profits — JobKeeper Alliance and the Partnership for Affordable Clean Energy (PACE).
JobKeeper and PACE have close ties to Matrix. Both have participated in the smear campaign against the first PSC commissioner in 30 years to dare suggest a reduction in Alabama Power's sky-high profits and, thus, the rates it charges Alabamians for electricity.
PAL's tax returns show that McCarthur's last year as a director was 2009. That year, PAL reported total contributions of $225,000. Of that, $198,851 was spent on "professional fees."
Non-profits of this type are not required to identify their donors and only have to identify recipients of certain types of expenditures. Who received those professional fees is a mystery, as is the source of funds that year and all others. I wondered if it was related to the Nationwide case. My guess — though it's only a guess — is that PAL was funded, at least while McGregor was its director, by Nationwide's "endorsement fees."
If someone in the media picks up this story and talks to McArthur, I'd love for them to ask about Peoples Alliance for Leadership. Where did its money come from when he was a director, and how was it spent? Any relationship to the Nationwide case?
What role do officials/employees with Matrix have to Peoples Alliance for Leadership? Any idea who's been giving it all the money that it's been paying to JobKeeper Alliance and PACE?
Somewhat far afield, I realize, but I'd sure like to know the answers. 
Postscript: Mac McArthur is still head of the ASEA. Even more amazing, prior to going to the association, he was director of the Alabama Ethics Commission. That's right: This guy was Alabama's top ethics cop. Is it any wonder that Montgomery has always been and will likely remain a bountiful hunting ground for investigative journalism?
If you enjoyed this story, please consider making a donation. Doing this story involved paying fees for court records; reviewing hundreds if not a couple thousand pages of records, taking the time to make files for the portions used here, and much else as well. It took a long time to write and put together and no one is paying me. Means of donating — anonymously or otherwise — are here.
For you records fanatics, late Thursday night I added new ones, both within the story and below.  First up, the original contract between Nationwide and Matrix. Again, the Securities Commission found that this contract and subsequent agreements generated payments to Matrix from Nationwide of about $100,000 per year, presumably from 2001 to 2008.
Good money if you can get it.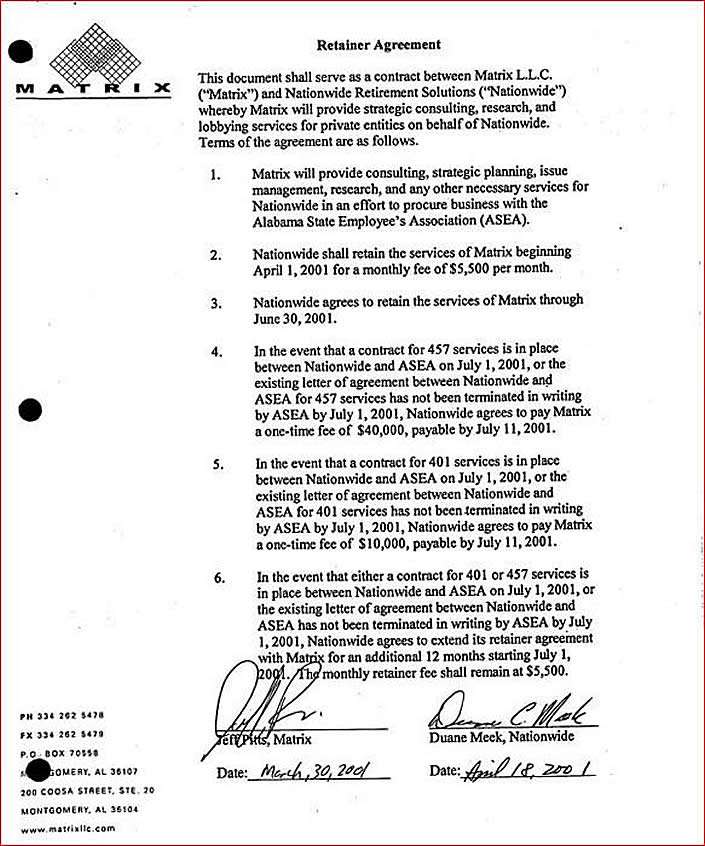 Some more records, presented more or less randomly.
This is one example of many payments from the association's PAC to Matrix, for political services. To state the obvious, Matrix provided political and consulting services for the association well before and after the start of its work for Nationwide. McArthur did good — he made Nationwide use his own people, and pay them well.

This is from the Securities Commission report, and relates to the question asked of Pitts, about whether he'd ever been paid by PEBCO. It certainly appears that the commission investigator believed that Pitts was being paid from the endorsement fees as well as by Nationwide. Making out, as they say, like a bandit!

Thomas Kirkland and his $1,000 a month retainer is cited above. A former Matrix employee who still does work for Matrix, Kirkland is often found on records related to Matrix offshoots and the groups going after Terry Dunn.  Though technically a lawyer, his primary business is researching people — as in, opposition research, which is done in almost all political campaigns of any size.

From the report:

JobKeeper Alliance — perhaps the most vicious of the Dunn-bashers — was incorporated in 2012.  Here's Kirkland's signature on the incorporation papers.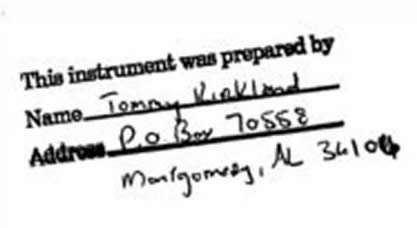 This is from the 2007 tax return of Peoples Alliance for Leadership (I love that name). It shows that the records of the non-profit were in Kirkland's possession. That year, PAL paid $40,000 in professional fees. To who, the tax return is not required to divulge. Who do you suppose the money went to?
These days, PAL is providing money to PACE and JobKeeper. Both, like McArthur and ASEA, are joined at the hip with Matrix.

 Too many connections to keep track of, really, but here's another, from that invaluable Securities Commission report.
Below, a snippet from the Coker class action. You know they had good evidence. Otherwise, the defendants wouldn't have paid so much to settle the case. They feared an even worse result should the case go to trial and a jury get all the facts. Also, were there to have been a trial, the gory details shielded by the sealing of much of the case would have become public for all to see.
Below, the incorporation records of HSPN, formed in 2003 and which then purchased an office building in Montgomery used by people and firms affiliated with Matrix.  The address given for each incorporator — 644 South Perry — is Matrix address.
Pitts, as you can see, is one of the incorporators. So too is Nick Sellers. At the time, Sellers worked for Matrix. He's now vice president for regulatory affairs (as in, the PSC) and corporate affairs for Alabama Power. Sellers is heavily involved in the company's governmental affairs operations.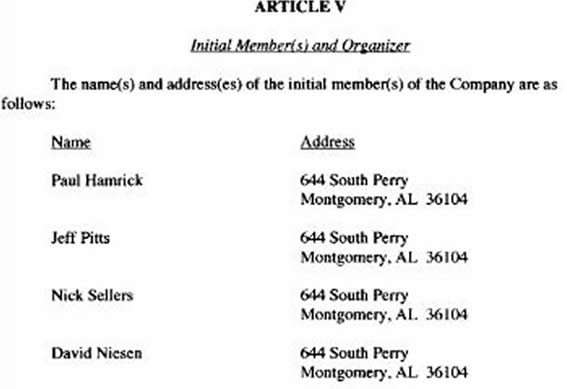 Next record: Sellers' responses to a questionnaire after he was named in 2008 as one of the most promising young executives in Birmingham. McCrary, of course, was the president of Alabama Power then and until March, and remains chairman of its board. But it's the third mentor that's most relevant for our purposes. Wonder if Sellers admired the arrangement Matrix, Perkins and Pitts pulled off with McArthur and the state employees association? 

Below, a picture of Sellers (at right) and fellow Alabama Power executive Zeke Smith at at a Public Service Commission hearing last year. And below that, Yellowhammer News' piece on Sellers in its annual survey of the most influential figures in state politics. Any true true inquiry into the campaign against Terry Dunn would have to include questions for Sellers.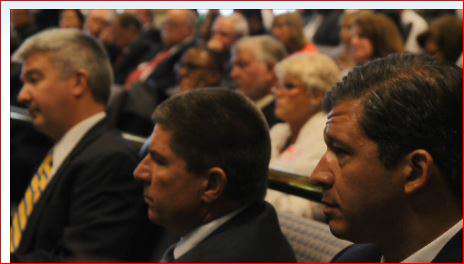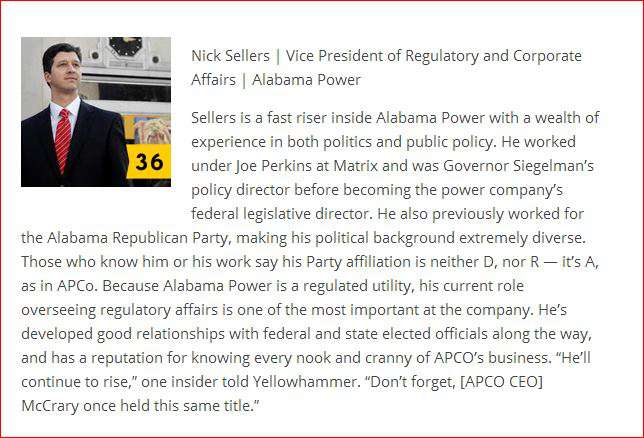 Below: The Hogwarts like edifice on the outskirts of Montgomery that is Matrix office.  Making mortgage payments on this monster must be tough. Thank goodness for the likes of Nationwide and Alabama Power, and the need for such folks for political consulting services, and all that entails.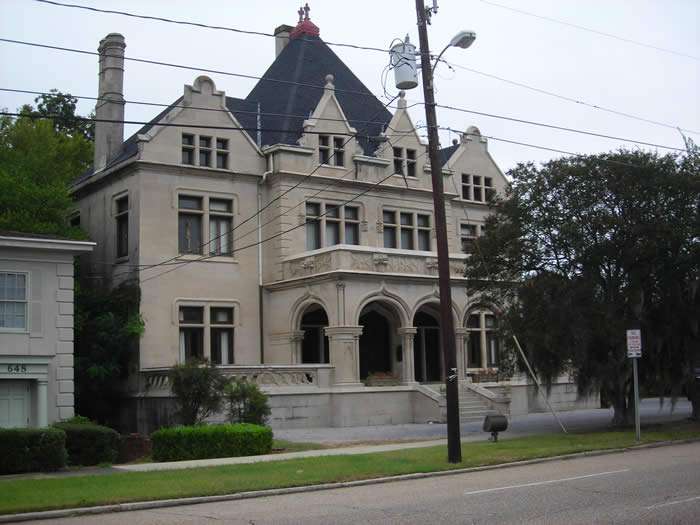 Lastly, some of the hand-work of JobKeeper Alliance, or done in its name, anyway. My money says this is a Matrix production, done with the full approval of the Power Company.