Wingo revelations, CO2 issues could be among avenues of inquiry
May 6, 2016: On Thursday, Southern Co. issued its 10-Q (quarterly report) covering the first quarter of 2016. The following paragraph was on page 25 of the report:

Note: I hope to have more original reporting on Southern Co., shortly. Also, on May 29, I added something to the last item, regarding Mississippi Power's political expenses, that was not in the initial report. (It is in red type.)
Lastly, this project is self-funded, so if you enjoy the stories, please consider making a donation.
By EDDIE CURRAN
Thursday's shock announcement by Southern Co., that the U.S. Securities and Exchange Commission is investigating the company's "accounting matters, disclosure controls" and related issues regarding the Kemper "clean coal" plant was short on details.
That shall be be my excuse for speculating as to three matters the SEC may be exploring and which were first reported on this website and in a story I wrote last year for the online publication, Mississippi Watchdog.
One of the issues (reminder: I'm speculating) is the impact of the price of oil on the financial viability of the Kemper plant.
But first, Thursday's disclosure, for those who missed it.
It was contained within Southern Co's routinely filed 10-Q, covering the first quarter of 2016. The disclosure of the SEC investigation, in its entirety, is at the top of this story.
Bloomberg News first reported the disclosure. A story later in the day, by the Biloxi Sun-Herald, quoted Mississippi Power spokesman Jeff Shepard. He said Southern Co. "started to pick up indications that public awareness of the investigation had matured to a point that, in our judgment, it should be disclosed."
Because it involved an ongoing investigation, Shepard could not provide details beyond what was disclosed on the 10-Q. He said, consistent with the company's disclosures, that while the company could not predict the outcome of the probe, neither Mississippi Power nor Southern Co. anticipated that the investigation would have a "material impact" on company finances.
Bloomberg quoted Paul Patterson, a New York-based analyst for Glenrock Associates LLC. He said: "Although an investigation is almost never a positive, it's hard to say what the ultimate significance of it is, given the limited information of the disclosure. Kemper has been a troubled project for some time."
In other words: While this assuredly could be a dangerous development for the company, it may not be. Too early to tell, too little known, and, of course, an investigation is not the same as a finding of bad acts.
Everyone who follows Southern Co. and Mississippi Power's hellish construction problems at Kemper knows it has exploded its budget (now $6.7 billion) and blasted through too many forecast completion dates to keep track of.
The language in the disclosure suggests that the SEC is looking into whether Southern Co. and Mississippi Power accurately and in a timely manner disclosed to the SEC and the investing public what the company knew regarding these substantial construction issues.
In other words, did the company intentionally conceal or downplay the skyrocketing costs and delays?
The complexity of the Kemper plant is, as they say, above my pay-grade, as is how the SEC operates, such as when conducting an investigation.
I will therefore limit my focus to three matters about which I know something. Perhaps reporters who are paid for their time (as I am not) and affiliated with news organizations will choose to pursue these lines of inquiry.
They are:
The lawsuit filed in February 2015 by Southern Co., seeking to compel Brett Wingo, a Kemper project manager, to agree to a settlement that, among other things, prohibited him from revealing certain unidentified allegations against the company. The proposed settlement, as the lawsuit noted, would not preclude Wingo "from communicating with or reporting to the U.S. Securities and Exchange Commission regarding any possible violations of securities laws and, on that account, nothing in this Order enjoins Mr. Wingo from doing the same."
Questions about the ability of Mississippi Power to sell or otherwise dispose of the tons of CO2 that is a major byproduct of the "coal gasification" process.
What I believe to be falsified reports on publicly filed documents, related to Mississippi Power's expenditures on its political activities in 2013.
Again, I'm speculating on all of these. Of the three items above, the last one seems, perhaps by far, the least likely to be an issue in the SEC's investigation.
First, the CO2 issue.
—————————————————

—————————————————
Where to, CO2?
In simple terms, the plant will burn coal at extremely high temperatures to turn it into a natural gas like substance. That gas will then fuel the power plant, and create electricity.
The purpose is to make use of abundant coal but in a way that does not generate the high level of pollutants created by coal-fired power plants. The plant is being designed to "capture" at least 65 percent of the CO2 generated during the coal gasification process.
For numerous reasons, both building and operating the plant was always going to be far more expensive than a normal coal-fired power plant. However, the sale of the captured CO2 was touted from the start as being one of the financial engines that would help the company overcome these expenses and make the plant viable.
Construction costs have included spending some $100 million on a pipeline to deliver the CO2 to buyers in the oil and gas industry. These companies pump the odorless, colorless gas into old, otherwise dormant oil fields to force hard to reach oil to the surface.
The success of such techniques, including fracking, led to an oil and gas boom that was in full swing in 2011, when Mississippi Power contracted with two such companies — Texas-based Denbury Onshore and Mississippi-based Treetop Services LLC. Those companies specialize in using CO2, and must have sources of it in order to operate.
Denbury agreed to purchase 70 percent of the CO2 generated at Kemper, and Treetop the other 30 percent.
Keep, in your brain pocket, the following: In 2011, when the companies entered those contracts, oil was trading in the $125 per barrel range.
Lonely, unfunded bloggers should be forgiven for occasional horn-tooting, and here goes.
Last year I was contacted by the online publication Mississippi Watchdog and asked if I was interested in writing a story on Kemper. (Here is that story.) I reviewed Mississippi Power's most recent SEC disclosure, saw something interesting, and wrote about it.
This is the start of story I wrote last June for Watchdog Mississippi:
Mississippi Power disclosed that the contracts with Denbury and Treetop contained clauses that allowed the companies to withdraw from the contracts if the Kemper plant was not operating and producing CO2 by May 11, 2015. Clearly, then, the companies were free at that point to void the contracts.
I located a federal lawsuit between Denbury and owners of land that received royalties for CO2. The plaintiffs, who accused Denbury of underpaying them, subpoenaed Mississippi Power, seeking to discover how much Denbury had agreed to pay the company for it's CO2.
The company successfully defeated the subpoena. An affidavit attached to the motion, by Mississippi Power vice president Allen Reaves, disclosed just how vital the CO2 contracts were to Kemper. The following is from that December 2014 affidavit:
    "The operation of the Project is subject to an air permit which effectively imposes limitations on the Project's permitted release of CO2 per year. Failure to be able to deliver CO2 off-site would impact the Project's operations so that compliance with environmental permits could be jeopardized, and as a result Project operations would be shut down."
Taken literally, and pardon me for doing that, Reaves was saying that an inability to deliver the CO2 offsite would lead the the plant being "shut down." Metaphorically speaking, think of a hotel that didn't have plumbing. If you couldn't remove the waste, the hotel couldn't operate. (That's my metaphor, and I'm sticking with it.)
To the best of my knowledge, no such draconian language has been included in any SEC filing by Mississippi Power or Southern Co. Such filings are numerous, long as hell, and the print is fine, so I could be wrong. I feel confident, though, that no end result such as described by Reaves has been disclosed.
Perhaps Reaves was overstating the severity of such the situation to help defeat the subpoena. In any event, it was strong language indeed.
So: Not merely for financial reasons (revenue from CO2 sales), but regarding the even more important air permit, disposing of the CO2 is a vital component without which, or so it appears, the plant couldn't operate.
In preparing for the story, I researched Denbury and Treetop. As a public company, Denbury must file disclosures with the SEC, so it was much easier to learn about that company. However, I don't think it unreasonable to assume that the problems that have befallen Denbury and other such companies have also punished Treetop.
As reported in that story, Denbury's stock was trading at about $7, compared to $25 when it entered its contract with Mississippi Power. In 2012, Denbury spent $238.6 million on CO2. As the price of oil tanked, so too did the company's expenditures on CO2 — down to $56.4 million in 2014.
Last June, I wrote that, considering it was no longer bound to the contract, that it's drilling was down, and its existence as an ongoing company in question, it "seems unfathomable that Denbury would choose to continue a contract compelling it to purchase substantial amounts of CO2."
If anything, matters are worse now. Denbury's shares fell to just over $1 earlier this year, but are back up to almost $4. Most relevant here, its expenditures on CO2 have plummeted.
In its most recent 10-Q, Denbury stated that its entire budget for CO2 purchases and work on its own CO2 pipelines in 2016 will come to about $10 million. Keep in mind that the company obviously has numerous sources of CO2 already.
It is thus most unlikely that Denbury needs or wants additional CO2, such as from Kemper, and will have no such need (if ever) until the price of oil returns to levels Denbury needs in order to return to prior levels of production. 
For the many reasons available for all to read on a daily basis in the business press, no such increase is anticipated in the near future or perhaps distant future.
There's another, related issue: CO2 contracts, such as between Denbury and Mississippi Power, contain provisions. The price of the CO2 is tied to the price of a barrel of oil. When the price of oil goes up, CO2 sellers get more for the product. When the price of oil goes down, they get less.
For sake of argument, assume Kemper begins operating as designed tomorrow and Denbury and Treetop agree to purchase CO2. Mississippi Power's revenues from such sales would be far lower than anticipated, given the low price of oil and thus the low price of CO2.
My story was published in June 2015. As best as I can tell, neither Southern Co. nor Mississippi Power ever cited the impact of the price of oil on Kemper's operations until a disclosure filed last month.
In that filing, the company again reported that Denbury and Treetop are no longer required to fulfill their contractual obligations regarding purchase of Kemper-generated CO2. The recent disclosure noted, as best as I can tell, for the first time, that:
Potential requirements imposed on CO2 off-takers (such as Denbury) under the Clean Power Plan could, if upheld by the courts, imperil those contracts;
The "potential adverse financial impact of low oil prices on the off-takers (Denbury, Treetop) (would) increase the risk that the CO2 contracts would be terminated or materially modified." 
Even if the the contracts remain in place, "sustained oil price reductions could result in significantly lower revenues than Mississippi Power forecasted to be available to offset customer rate impacts, which could have a material impact on Mississippi Power's financial statements."
That last item is presumably due to the lower prices for CO2 when oil prices are depressed. Again, speculation is required since the disclosure is not clear on that point.
Southern Co. and Mississippi Power had to know all of this long ago (and surely well before my story last June), and yet, only now is the company disclosing it.
Were I with a newspaper and getting paid for my time — and "important" enough for the company to reply to my questions — I would try to determine, among other things, what the company intends to do if Denbury or Treetop elect not to purchase CO2.
What is the fall-back plan?
Has the company provided state or federal regulators — whoever it is that awards the all-important air-permit cited by Reaves — information regarding its plans to get rid of the CO2, whether by selling it to someone, storing it, or otherwise disposing it?
I hope a reporter somewhere looks into this as I'm curious to know the answer.
The effort to silence Brett Wingo
Last February, attorneys for Southern Co., filed a Temporary Restraining Order, or TRO, asking a Birmingham judge to force Brett Wingo to comply with an employment termination severance agreement that Wingo never signed.
The story of that TRO, including how I came across it, were reported on this site on Feb. 27, 2015. (Go Here for Story.)
Wingo was a construction manager on the coal gasification aspect of the Kemper plant. According to Wingo, while at Kemper, he expressed deep concerns about various aspects of the plant to management, including in a telephone call to Southern Co. CEO Tom Fanning.
Wingo contends that he told Fanning and others that the project completion dates the company was providing to the public were false.
On Feb. 15 of this year, I published a follow-up that contained comments by Wingo explaining in part why the company sought to compel his silence. (That story is Here.)
The following is from the order that the company drafted for the judge to sign.
According to Wingo, attention from my report, which spread to the media, led Southern Co to drop its demand that he be compelled to abide by the terms of the unsigned settlement.
I have no idea if the efforts to prohibit Wingo for publicly airing his concerns are a subject of the SEC's inquiry, but it doesn't seem unreasonable to think they could be.
Below, a portion of a letter sent by Wingo's lawyer to Southern Co., during the severance negotiations and months before filing of the TRO. As can be seen, Wingo's concerns about the accuracy of Southern Co.'s SEC disclosures are expressed.
For brevity sake — and because, frankly, I've other things to do — I refer anyone wishing to know more about the Wingo matter to read the two prior stories.
Political, lobbying expense reports don't add up for Mississippi Power
As noted at the start of this story, it seems unlikely that an SEC investigation would include the following issue, which is: The apparent misreporting, by Mississippi Power, of funds it spent in 2013 on political activities.
The misreporting I'm alleging occurred in reports that utilities must file with the Federal Energy Regulatory Commission, or FERC. I've no way of knowing if the company misreported these expenditures in other reports, such as regarding taxes and disclosures to the SEC.
The following is pretty much as I wrote it, on this web-site, some two years ago. As with most of what I write, I hoped — always, it seems, in vain — that reporters in the "real media" would pick up on it and run with it. No one did, but perhaps with the increased attention being paid to Kemper as a result of the SEC probe, someone will.
Here it is as it was when I first reported it, with some minor changes, and a recent addition regarding Mississippi Power's reported lobbying costs in 2013:
Last year (2013), Alabama Power once again broke the bank with its political spending.
In a filing with the Federal Energy Regulatory Commission, the company disclosed that it spent just shy of $24 million in the category called, "Expenses for Certain Civic, Political & Related Activities." That was almost $4 million more than it spent the year before. (See relevant portion of report, below, with the amount from 2012 to the right of the 2013 costs.)
Year in and year out, Alabama Power's spending in this category dwarfs that of other regulated utilities throughout the country, including utilities far larger than Alabama Power.
Consider these numbers from the 2013 FERC reports for 2013: Georgia Power — which serves about 1 million more customers than Alabama Power — spent $6.7 million on this category. Florida Power & Light, which serves about four times as many customers as Alabama Power, reported spending $16.1 million. 
But the most unusual amount was reported in 2013 was by Mississippi Power. That company was very clearly engaged in political activities last year — possibly to a greater extent than ever.  And yet, as you can see below, it reported a negative number, and thus a positive sum of $317,472 — in that category. The year before, the company spent more than $2 million on the "civic/political" category.
That's more than $2.3 million less — or up, you might say — that what it spent on political activities in  2012.
How to explain this negative and thus positive number on a category that can only involve spending?
What makes this even more perplexing is the company's filings for that year with the Mississippi Secretary of State. Unlike Alabama, Mississippi requires companies, associations and others who lobby to file detailed reports showing how much they paid their lobbyists and also to list expenses for public officials, such as for meals.
In 2013, Mississippi Power reported spending $444,180 on lobbyists and related expenses. (See below).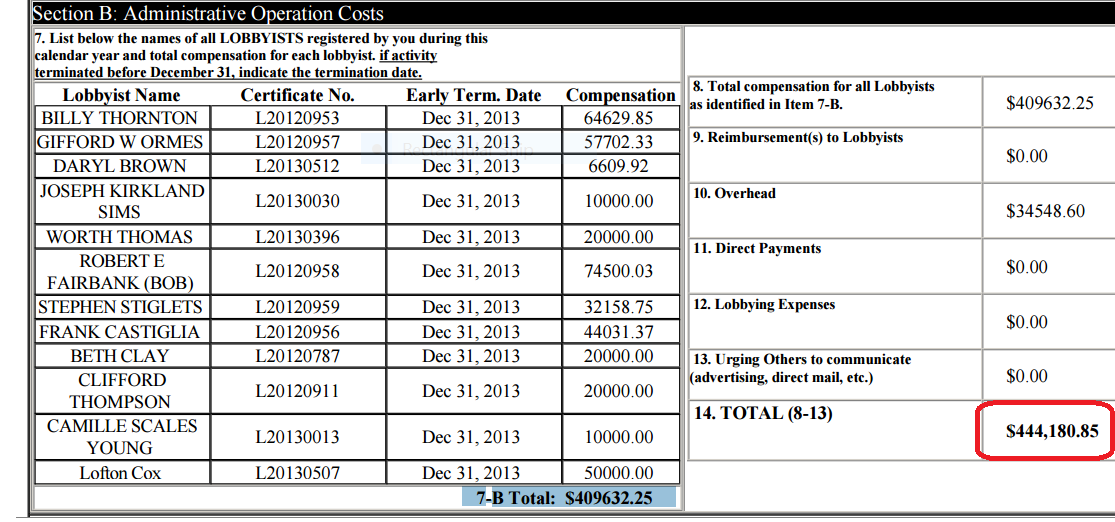 How, then, can the company plausibly report, to FERC, that it, well, generated more than $317,000 in income in 2013 when, according to its reports to a state agency, it spent more than $444,000 on lobbying, which would be included in the FERC political spending category. 
That's a discrepancy of more than $760,00 right there, and doesn't include all manner of other expenditures which go into that FERC category. 
2013 was the year when Mississippi Power and Southern Co. were forced to reveal major problems at Kemper. In May 2013, Mississippi Power fired its president.
I believe, to the point of knowing, that Southern Company's top brass assigned the A Team — that is, it's experienced Alabama political operation — to take charge of is political/propaganda activities in Mississippi.
It's not even in question that Joe Perkins of Matrix LLC (Alabama Power's long-time political consultants) and Alabama Power shill groups Jobkeeper Alliance and PACE were in Mississippi and actively participating in matters related to the Kemper problems during this time grame.
The picture below is from a December 2012 news conference in Jackson, Miss. The AFL-CIO had participated in political/public relations efforts against Kemper. However, the union changed its tune after Mississippi Power agreed to hire as many as 1,000 union workers. I've spoken to two people who saw and spoke to Joe Perkins at the news conference.
What was Alabama Power's mysterious Matrix Man doing in Jackson?
The Associated Press story reporting the agreement between the union and Mississippi Power included the following:
        Earlier, an Alabama group sent out a news release attacking Public Service Commissioner Brandon Presley, a Democrat who has opposed Kemper, for taking a $5,000 campaign contribution from the Sierra Club in 2011. The group said Presley's opposition had created needless delays and called on him to recuse himself from future votes.

       "Given an opportunity to support this exciting project, Commissioner Brandon Presley chose instead to advance the radical environmental agenda of a group with no vision for our energy future other than to make electricity beyond affordable," the Montgomery-based Partnership for Affordable Clean Energy wrote Nov. 19.
I could fill up 15 stories with examples of the efforts in Mississippi by JobKeeper Alliance and PACE, and far more than that about their roles supporting Alabama Power before the Alabama Public Service Commission, and attacking former PSC member Terry Dunn.
Alabama and Mississippi Power certainly won't respond to questions from me, though they'd have to respond, even if only to issue no comments, to reporters with established news outlets. If any such folk are reading this and up for it, I'd start an inquiry into this specific issue with a call to Mississippi Power. I'd ask:
1. Will you explain the circumstances that led to Mississippi Power reporting income, as opposed to expenses, in the political expenditure category in 2013?
2. Did the mother ship (Southern Company) or any of your sister companies, such as Alabama Power, provide funds and/or participate in Mississippi Power's public relations/political efforts last year?
3. If Mississippi Power acknowledges any such involvement, ask for details, including amounts spent, to whom, and for what.
If the company declines to comment, run a story reporting that response and make sure the reader knows every question the company declined to answer. It would be a worthwhile story even if it began with the company declining to comment about this anomaly on their political spending, and especially so if the company declined to confirm or deny involvement by the groups and consultants from Alabama as well as officials with Alabama Power.
Either way, make a call to Alabama Power and ask the same questions about the activities of the Alabama consultants (Matrix/Perkins) and shill groups in Mississippi. As in: Did Alabama Power or Southern Co., fund, directly or indirectly (such as through Alabama-based non-profits Vote Alabama and People's Alliance for Leadership) political operations in Mississippi designed to benefit Mississippi Power.
Including this question: Did Alabama Power include, in its FERC reports, and possibly other financial reporting, funds it spent on behalf of Mississippi Power and which should not have come out of Alabama Power funds?
"No comment" stories often raise the ire of readers as they suggest secrecy as well as a mystery that they want answered. Given all the issues at Kemper, I think readers, or certainly those on the coast who are served by Mississippi Power, would like to know what's going on behind the curtains.
Should any reporter wish for the complete documents — FERC reports and such — I will be glad to provide them or direct you to the agency links where you can find them. Heck, the companies should provide them to you, as should the relevant Public Service Commissions.
The media in Alabama has, with its inaction, shown it is not up to questioning the Benevolent Dictator that Alabama Power purports to be here. I'd like to think there are some reporters and editors in Mississippi who are made of sterner stuff, but as yet, there's no evidence of this.
If you want a primer on a similar type story, go to this link, and see how reporters and editors at the Arizona Republic acted like, well, how reporters and editors are supposed to act when covering a utility monopoly. 
Balls to the Wall vs. Wallflowers, so to speak.
————————————————————-
PLEASE CONSIDER MAKING A DONATION
For me to continue the type reporting found on this web-site, I must receive donations. My wife has taken to calling this my "Jesus Project" — because I'm doing it without pay, and thus, for charity.
To make donations, large, medium-sized, or small, Go Here. You can also send checks to the address below.
People with tips on this story or regarding other subjects addressed on this website are encouraged to contact me.
Do the same if you believe you or your company can benefit from the sort of research on display here.
Contact Information
Eddie Curran
133 Silverwood
Mobile, AL 36607
Phone: 251-454-1911
E-mail: eddcurran@aol.com