The 'American Senior Alliance' has same lobbyist, 'seniors,' as group that helped Alabama Power fight Dunn's effort to cut rates in 2013
Author's Note (Aug. 17, 2016): I don't have any strong position on Gov. Robert Bentley's lottery proposal, other than a general aversion to lotteries as a means of raising public funds. The reason for this post, to the extent it needs explaining, is that I recognized, in a recent news story about the, "American Senior Alliance," some of the same parties and duplicitous public relations techniques used by shill groups who three years ago helped Alabama Power defeat PSC commissioner Terry Dunn and his effort to lower the company's rates.
For reasons to be explained, I believe but cannot prove that the American Senior Alliance is a creation of the shady Montgomery public relations firm Matrix LLC; and that it may be funded partially or in whole by the Alabama Nursing Home Association.
As always with my posts, I support my reporting with numerous public records, photos, and other evidence and close by asking for donations, as this is an entirely self-funded project. Also, people with tips, or corrections, are asked to contact me, by phone, at 251-454-1911; or e-mail, at eddcurran@aol.com.
Today's menu:
Bentley's lottery plan backed by Dubious Dark Money Group
How to fund the Medicaid shortfall, with no new tax on the public
Shameful: PSC's Beeker seeks to enrich self by leasing land to a solar company
By EDDIE CURRAN
The American Senior Alliance. Sounds national, doesn't it? Like a real live national seniors group.
On Aug. 11, several Alabama TV stations and the Montgomery Advertiser came running when the American Seniors Alliance announced it was holding a press conference to declare its support of Gov. Robert Bentley's lottery plan.
After all, it was the, American Senior Alliance. Yes, indeed, a national heavy-hitter was throwing its weight behind the lottery plan!
It's fair to say that the news organizations who covered the press conferences got conned, which is their own fault. This group came out of nowhere, with nothing more than a logo, a web-site, a declaration that they're a "non-profit," and, of course, a position on matter of public policy that stands to benefit the secret funders of the group.
I e-mailed Hooper a series of questions, and cc'd the e-mail to top officials with the Alabama Nursing Home Association. (That e-mail, in full, is as at the bottom of this post.) Among other things, I asked who was funding the Alabama Senior Alliance and if the nursing home association and Matrix were involved.
Here is Hooper's response, in full:
American Senior Alliance is dedicated to addressing a broad range of issues facing seniors and providing insight and advocacy on those issues. Please go to our website and facebook pages to learn more about our efforts. The Alliance is supported by a diverse group of individuals and organizations that share our commitment to helping seniors deal with the complexities of modern life.
No denials, mind you.
Here is the web-site address: www.americansenioralliance.com.
The site has numerous senior-related posts, many unrelated to the lottery. I suspect they're generic senior stories cut and paste and put there to make the American Senior Alliance appear to be a legitimate seniors group.
You can also get to its website by going to: www.letalabama.vote. As in, let Alabamians vote on Bentley's lottery proposal.
Below, an image from the press conference on the web-page of Montgomery TV station WSFA. To its credit, the station's story also presented information on the lottery that could be seen as contradicting the pro-lottery message of the American Senior Alliance.
To appreciate just how bogus is the American Senior Alliance, it helps to know something about another "seniors group," called, Generation America.
Three years ago, a bunch of these Bullshit Groups — my name for them — worked together to oppose the effort by then Public Service Commissioner Terry Dunn to lower the profits allowed of Alabama Power by the Alabama PSC. The company's "rate of return on equity" — or allowed profit — is far and away the highest in the country, and dwarfs the national average.
This is the top of a letter from Conwell Hooper and Generation American filed with the PSC in September 2013. It supported Alabama Power's position before the PSC — and opposed the effort to lower rates by Dunn and others, including AARP.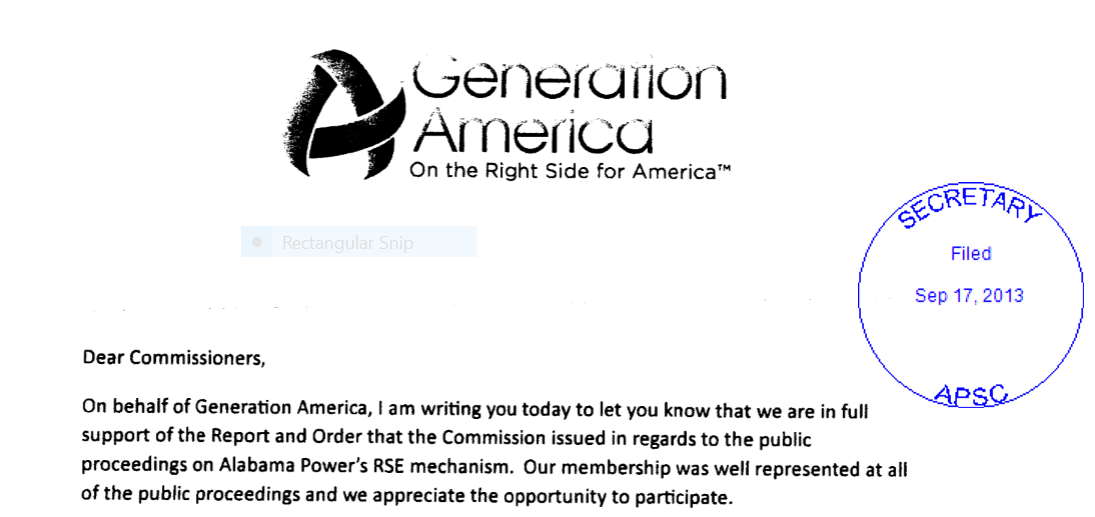 As this website has established beyond any doubt, the BS groups involved in the pro-Alabama Power campaign were created by and/or working with Matrix LLC, Alabama Power's longtime political consultants.
The origins of Generation America were hard to pin down, but this much is known for sure: It was openly represented at the PSC meetings on Alabama Power by Conwell Hooper, who also registered as a lobbyist for Generation America.
A BS group unquestionably created by Matrix called the Partnership for Affordable Clean Energy (PACE) "partnered" with Generation America in opposing Dunn and supporting Alabama Power and its toadies on the PSC -Twinkle Cavanaugh and Jeremy Oden.
Here's a portion of a press release featuring statements by Hooper and PACE's Lance Brown and supporting Cavanaugh and Oden.
Below, an image taken from a 2013 press conference video held by PACE and Generation America and in support of Alabama Power. At right (in marked square), is Conwell Hooper. At left (in marked square) are Bill and Louise Hill, of Thomasville. They are Hooper's in-laws.
Hooper's in-laws, as well as his wife, showed up on PACE's official filings with the PSC. Below, the top of one such filing, then the part listing names of "PACE partners."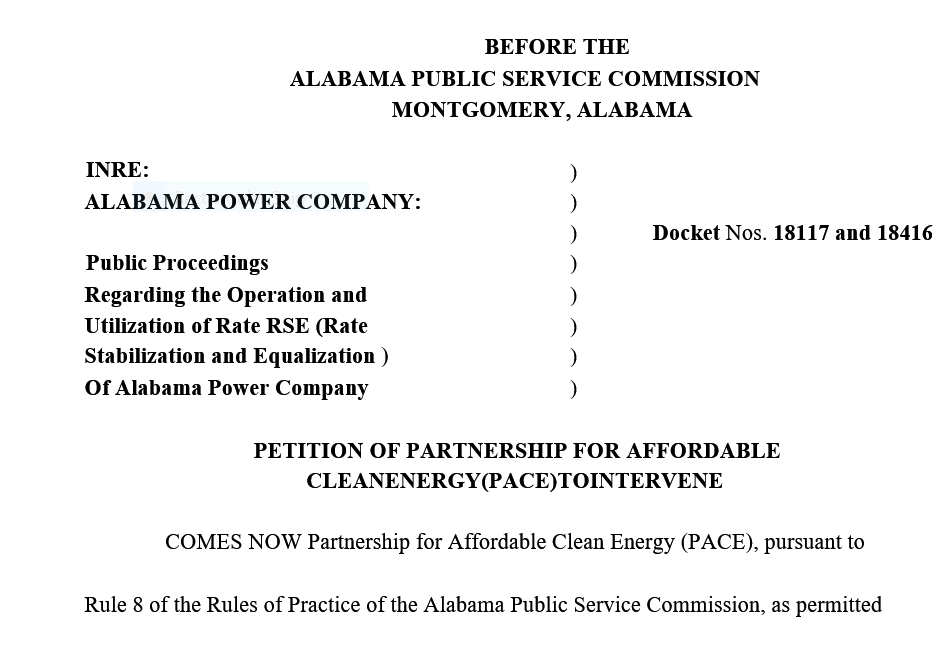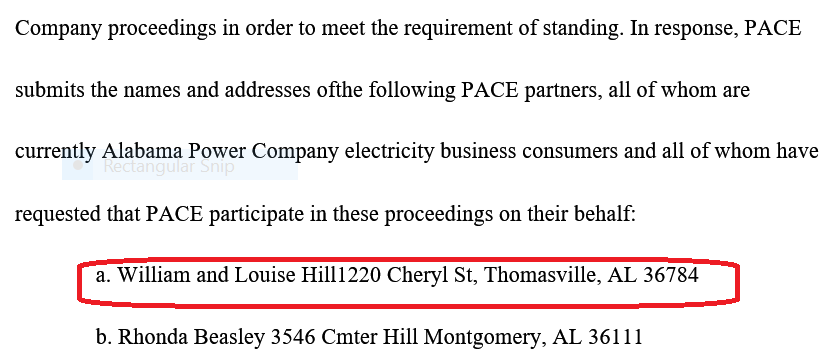 Hooper's mother-in law was a regular at the PSC meetings in 2013 regarding Alabama Power, and wore Generation America shirts.
PSC President Twinkle Cavanaugh — Alabama Power's very own Inside Woman at the PSC — routinely touts, on her Facebook page, shills for Alabama Power. In the Facebook post below, from April 2013, Cavanaugh posted a picture of her with Generation America "volunteers" Rhonda Beasley and Louise Hill (Hooper's mother-in-law.)
With Dunn defeated and Alabama Power's astonishing profits preserved, Generation America, or in any event, its presence in Alabama, vanished. It's final act, as best as I can tell, is the letter (top of which is above) filed with the PSC in September 2013.
Note the address and phone number.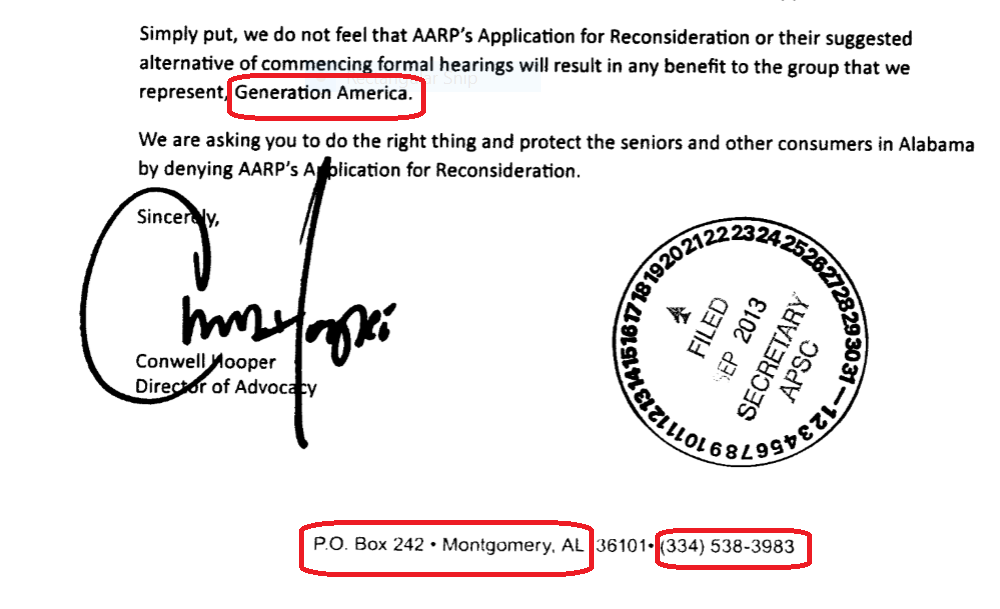 Fast forward to January 2016.
That month, in Georgia, Hooper incorporated the American Senior Alliance.
Why Georgia? I can only speculate, but suspect it was to make it a bit harder for someone, such as in the media, to locate, and to bolster the tall tale that the American Senior Alliance is in some way shape or form a national organization, as opposed as a BS group formed for one purpose only — support Bentley's lottery proposal.
This is from the public record of the American Senior Alliance's incorporation record in Georgia.

Same address and phone number as Generation America. Same lobbyist/executive director. Just a different if equally bogus "seniors group" and a different secret donor and different cause to support (Maintaining Alabama Power's high profits in 2013, and, three years later, supporting Bentley's lottery proposal.)
Birmingham station WIAT covered the press conference. Second from right, in blue shirt, is Conwell Hooper's father-in-law.
There are several reasons for my suspicion that American Senior Alliance is secretly shilling for the Alabama Nursing Home Association and that Matrix is involved. The reasons are:
Matrix has long provided lobbying and public relations services for the Alabama Nursing Home Association, and Matrix and Matrix employees are currently registered as lobbying for the nursing home association.
The word Alliance. Other Matrix-connected groups featured on this site include the JobKeeper Alliance and the Peoples Alliance for Leadership. I think Matrix is fond of using "alliance" when naming BS groups.
The involvement of Conwell Hooper. His role in the Matrix-led PSC operation, summarized above but described in greater detail elsewhere on the site, shows his previous connections to Matrix and Matrix-led public relations efforts.
Items on the American Seniors Alliance social media show links to the nursing home association.
For example, in early July, Hooper — in his role as executive director of the Alabama Senior Alliance — served as one of the judges in the Alabama Nursing Home Association's Ms. Alabama Nursing Home pageant.
Until recently, no one had ever heard of the American Senior Alliance. I don't think it unfair to say that the Alabama Nursing Home Association knew about the "alliance," for, well, political reasons, such as that it's funding it.
For what it's worth, I don't blame the nursing home association for supporting efforts to fund Medicaid. It would be foolish not to. But this site is largely about the use of "dark money" groups to basically con people, thus this post.
Below, an image from the American Senior Alliance web-site about the Ms. Alabama Nursing Home pageant.
I suspect, but do not know, that the American Senior Alliance will be trying to drum up more publicity in the coming days and weeks, as it seems now or never for the lottery, with the Legislature considering it in special session.
There could be more press conferences, or TV or newspaper ads.
There is a very professional video on YouTube by the group and pushing the lottery. I can see how a shortened version would be used in a TV ad.
Here are two images from the video, which was uploaded on Tuesday (Aug. 16).
And ….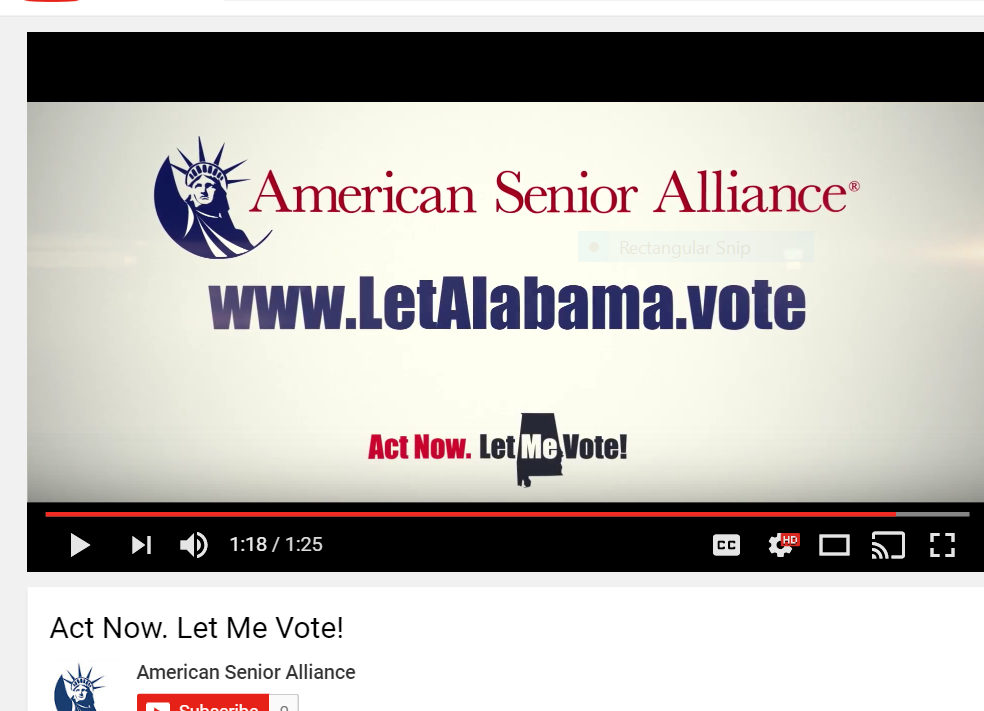 As a final note, I wouldn't be surprised if Bentley were unfamiliar with the American Senior Alliance. His participation or knowledge of it would not be necessary.
How to fund Medicaid, with no new tax on the public
I'm not saying this proposal is realistic. Even assuming it could be done, it would require the legislature and the Alabama Public Service Commission to take actions contrary to the wishes of the great and powerful Alabama Power.
It would involve disgorging, from Alabama Power, some of the $250 million or so it collects each year from Alabama residents and businesses, above and beyond what it would be collecting were its rates being regulated by a public service commission operating as PSCs are supposed to operate, and instead of these three clowns.
First, a chart.
The following graphs the average Rate of Return on Equity (ROE and/or Profit) of all investor-owned electric utilities in the U.S., since 1990. A you can see, the average in 1990 was about 12.75 percent, and is now around 10 percent.
I have colored in an area in between 13 and 14 percent, to, you might say, "separately graph" Alabama Power's profit, and included an arrow.
The arrow shows the difference between Alabama Power and the national average. As you can see, the arrow basically gets longer and longer each year, as the national average plummets — and Alabama Power's profit range remain unchanged.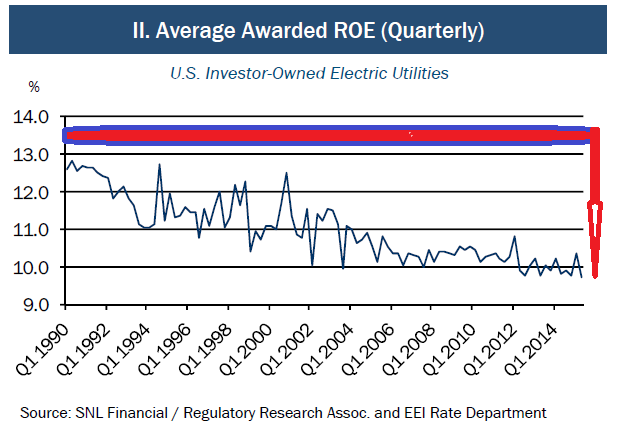 To put this in perspective, here's a portion of a piece called, "How Do Utilities Make Money," published in April 2015 by Advanced Energy Economy.
It cites data showing that the national average Rate of Return on Equity (profit) for regulated utilities is 10.13 percent; and that Alabama Power enjoys the highest allowed ROE in the country, up to about 13.75 percent. "PUC" refers to state regulatory agencies, such as, in Alabama, the Public Service Commission.

Interest rates — which play a big role in dictating a utility's allowed profits — can sink to nothing, but Alabama Power's ROE, thanks to the subservience of our state's PSC, never changes.
For the 2013 hearings, AARP engaged, as its expert, West-Virginia-based Stephen G. Hill, who has testified in some 300 regulatory hearings throughout the country.
Hill concluded that if the PSC reduced Alabama Power's Rate of Return on Equity — or profit — to the national average, of 10 percent, that it would save Alabama ratepayers some $287.5 million per year.
Below, the applicable portion from Hill's report, which begins with a criticism of an August 2013 PSC order that, as Hill found, was vague and unsupported by available evidence.

Over the years, Alabama Power has been allowed to over-collect billions of dollars from Alabama residents and businesses above what it would have collected if the PSC did its job.
Alabama's Medicaid funding faces drastic shortfalls that will have a real and dramatic impact on the lives of Alabamians and, as well, medical businesses, to include nursing homes, that treat them.
If someone in Montgomery had the guts to play political hardball with Alabama Power then maybe something could be worked out. Force the company to reduce the amount it over-collects from Alabamians and Alabama businesses and find some way to route that money to Medicaid.

It wouldn't be easy, and would require a creative approach.
Of course, only one Alabama politician in recent history — Terry Dunn — has had the guts to oppose Alabama Power. The company spent millions of dollars on a Dark Money campaign to smear him, and replace him with a fellow whose been in the news lately.
Shameful: PSC's Beeker seeks to enrich self by leasing land to a solar company
On Aug. 3, it was reported that the Alabama Ethics Commission deadlocked — 2 votes for, 2 against — on whether the PSC's Chip Beeker should be allowed to lease land to a solar company that plans to sell solar power to Alabama Power.
Of course, the PSC regulates Alabama Power.
As this story in Al.Com reported, Beeker received an offer of $500 per acre for 451 acres he owns in Green County. The offer came from Coronal Development Group, which reportedly has entered into leases throughout the state as part of its plan to sell solar generated electricity to Alabama Power.
Were Beeker to make the deal, he'd be paid about $225,000 a year, and $5.6 million over the life of the 25-year lease. (Top of Al.Com story, below.)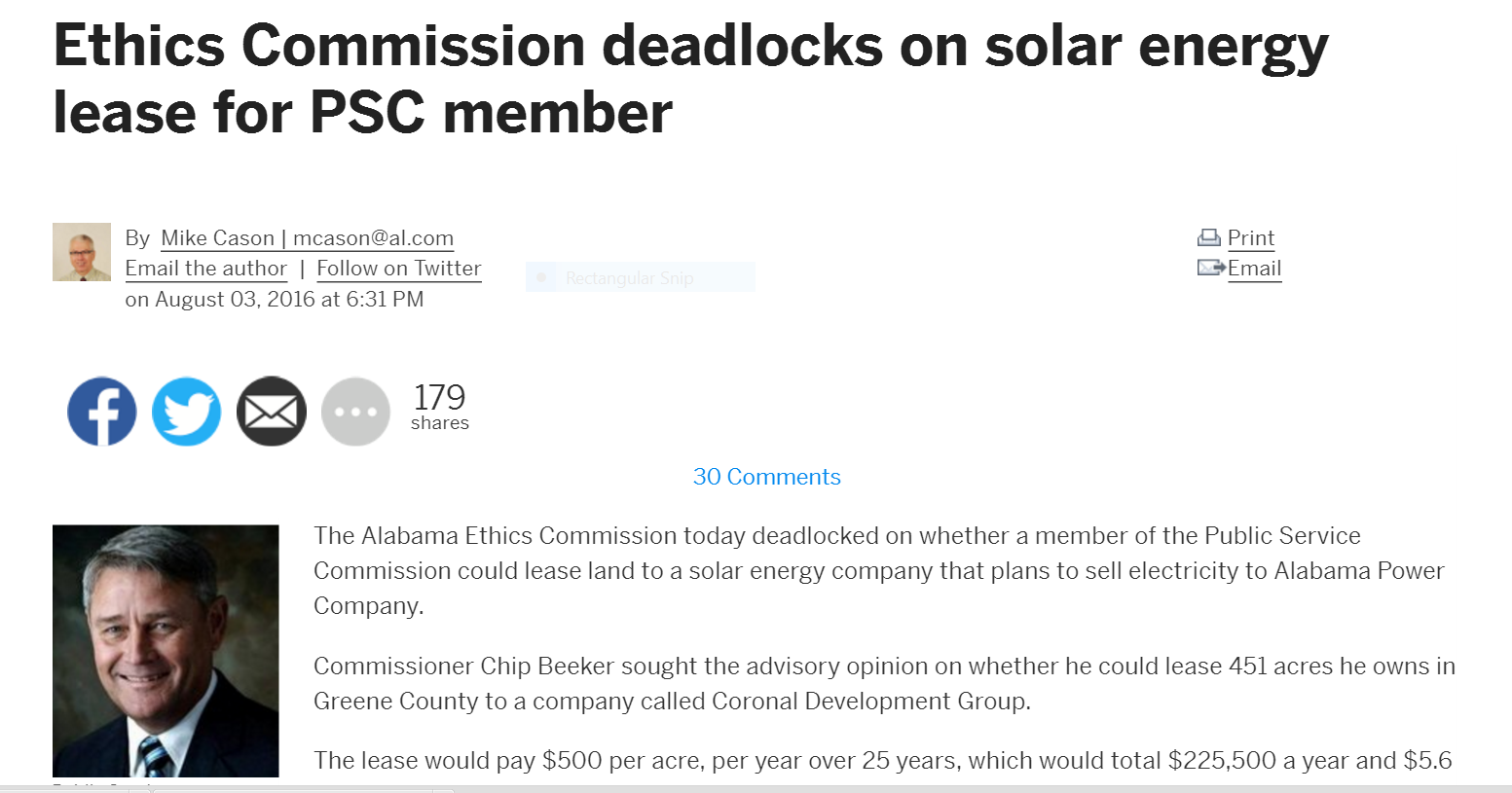 One all too obvious irony is the contrast of this offer to Beeker's vehement opposition to environmentalists — as in, solar companies and their supporters — and his strong backing of coal as the fuel of choice for Alabama Power.
Yellowhammer News, which has been shilling for Beeker and Alabama Power for years, has produced many examples of Beeker's "conservative" anti-environmentalist stance, such as below.
Ethics Director Tom Albritton and his staff — to their considerable credit — recommended that the commission deny Beeker's request. Because one of the commissioners — Montgomery doctor Stewart Hill Tankersley — was not in attendance, the matter will be voted on at the next meeting.
Presumably, Tankersley will break the tie.
Voting against Beeker — and with the commission staff's recommendation — were former Montgomery Circuit Judge Charles Price and Montgomery lawyer James Jerry Wood. Voting "for" Beeker were retired judge Jerry Fielding of Sylacauga and Birmingham-area lawyer Frank C. "Butch" Ellis.
In an e-mail to Al.Com, Albritton explained why the commission staff determined that it could not conclude that such a lease would not be a conflict of interest for Beeker. Nor — and this is important — could it conclude that Beeker being on the PSC was "irrelevant to Coronal."
The RFP refers to a Request For Proposals to be issued by Alabama Power to companies in the solar business. (Emphasis in e-mail is mine.)
"Coronal intends to offer a package of leases to a utility the PSC regulates which will include a proposal to buy the electricity generated on land which a member of the PSC owns," Albritton wrote. "This is the lease's value to Coronal. The lease itself contemplates that action. The RFP has not occurred at this point, but we could not conclude that Mr. Beeker's public position is irrelevant to Coronal, nor could we conclude that the lease would not present a conflict between Mr. Beeker's private interests and official responsibilities if executed."
Anyone familiar with this website knows that I have extremely low regard for Beeker and his ethics. He was — and this is no secret — Alabama Power's Chosen Boy to run against Terry Dunn. He received record levels of donations for a PSC candidate — more than $600,000 — most from the coal industry.
Dark Money shill groups connected to Matrix, as well as Yellowhammer News, spent millions of dollars trashing Dunn and backing Beeker.
One such example is below. It shows an August 2013 Facebook post by Beeker linking to a Yellowhammer News story about the obviously fake "environmental protest" designed to show that liberal environmentalists backed Dunn.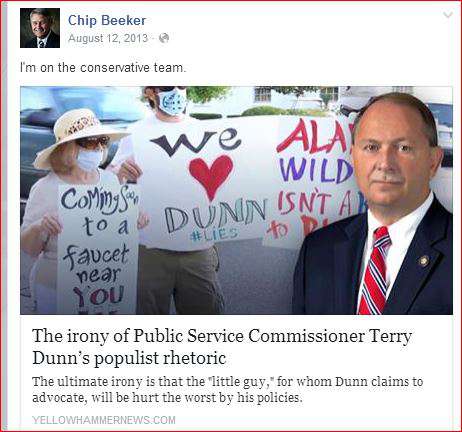 For those willing to learn more about Beeker, here's a story I did reporting that, after he was elected, his son took a job with a small Tuscaloosa-based staffing firm whose main client is Alabama Power and Southern Co.
And here's a link to another story (top of story below) reporting that Beeker's campaign was run by John Ross, a lobbyist/political consultant for Alabama Power whose firm has financial and other ties with Yellowhammer News.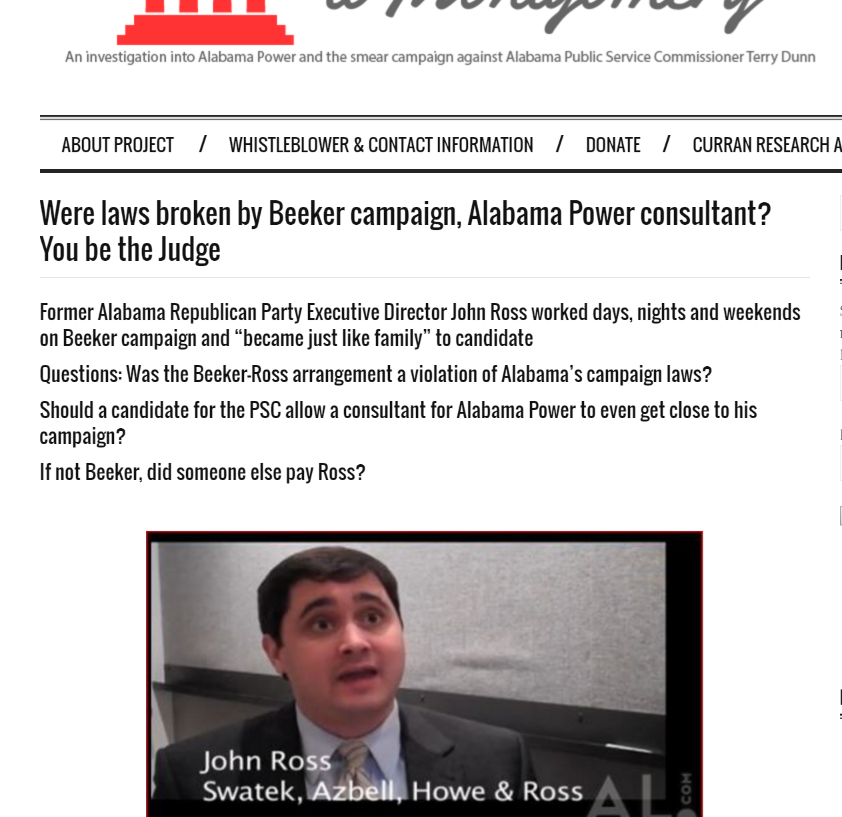 Beeker, when called by Al.Com, took the chicken's way out. He declined to comment but referred the reporter to his lawyer.
Beeker hired well-known Democrat James Anderson, a Montgomery lawyer whose specialties include ethics cases, to press his case before the Ethics Commission. According to Anderson, Beeker's land was deemed attractive for Coronal because it's near a power transmission line. He said that Coronal had no idea that Beeker was on the PSC when it approached him.
Coronal, which has contracts with Alabama Power's Florida-based sister company, Gulf Power, has entered into nine leases with other Alabama landowners, according to an e-mail the company sent the Ethics Commission.
Considering all the land in Alabama — bunches of it — it's one hell of a coincidence that Coronal so happened to choose, as one of its sites, property owned by a member of the Alabama Public Service Commission.
Anderson told the commission that Beeker's family has raised cattle on the land for generations.
I looked at Beeker's financial disclosures with the Ethics Commission and they suggest that Beeker will be making far more money leasing to Coronal than he has been from the land. His most recent report, covering 2015, shows (see below) that the "annual gross rent or lease income" on land he owns in Greene County is more than $10,000 but less than $50,000.
Even if at the the top of that range, it's far less than the $225,000 being offered by Coronal.

I caution that I don't know how much Beeker Cattle & Catfish Inc., makes from the land through its cattle and catfish operations, but, at least according to his ethics filings, not nearly as much as will be generated from the lease deal offered by Coronal.
There are all manner of other unknowns.
Is the $500 an acre typical for one of this company's leases? Is there a record of negotiations — offer, counter-offer, back and forth haggling, etc.? How exactly did Coronal Development come across this particular parcel? Will company officials sign sworn affidavits stating that they were not told by anyone outside the company to look at, and pursue, a lease for this particular parcel?
Are there, say, other, equally suitable parcels not owned by a member of the Alabama Public Service Commission, or, is this parcel, like, an absolute must have?
Will Beeker, such as for his cattle and catfish operations, still be able to use most of the land?
One possible motive, and shame on me for suggesting: Perhaps someone wanted to remove Beeker from voting on what appears to be a major solar deal. Beeker has repeatedly gone on record as being so virulently anti-environmental and anti-solar that a vote by him for a major solar project might prove publicly embarrassing.
Given Alabama Power's apparent need for PSC unanimity — thus, removal of Dunn — might a 2-1 vote be embarrassing, and, might the other two commissioners be publicly shamed should another one "out-conservative" them and vote against a solar deal?
Thinking out loud here. After all, this is quite the coincidence — all this open land in Alabama, and a company sure to get a major contract with Alabama Power just happens to pick Chip Beeker's cattle pasture!
Speculating again, but: I doubt that Beeker, or others, anticipated that the Ethics Commission staff would recommend against anything involving Alabama Power. Had they not done so — courageously, it seems to me — this deal would have likely sailed through and received no press coverage.
For the sake of argument — and I've no proof otherwise — let's assume that neither Beeker nor Coronal nor Alabama Power in any fashion engineered this deal. In other words, that it is the coincidence asserted by Coronal and Beeker's attorney.
Even so, Beeker should have rejected the offer without a second thought. There is a substantial appearance of a conflict — and Albritton and the commission staff spoke to that.
But there's another reason for Beeker to reject such an offer.
The Alabama Public Service Commission has three members — and the state pays them salaries in excess of $100,000. As Beeker well knows, if any member recuses him or herself from a vote, that creates the possibility of a one vote for, one vote against situation. In other words, a deadlock.
Beeker, by putting his financial interests above the obligation of his duties, and the faith shown in those who elected him, has shown himself, once again, to be one of the sorriest elected officials in Alabama. And that's saying a lot.
————————————————————-

————————————————————-
Here is the full e-mail I sent to Hooper and cc'd to officials with the Alabama Nursing Home Association. Hooper responded, but no response was received from the AHNA:
From: Eddie Curran
Phone: 251-454-1911
Attn: Conwell Hooper
American Senior Alliance
CC: Bill O'Connor, Jackie Ayers, John Matson
Alabama Nursing Home Association
Dear Conwell,
I have for several years operated, on my own, a website called, MrDunnGoesToMontgomery.Com. It is devoted to exposing efforts by various groups to defeat Terry Dunn and Dunn's efforts to lower Alabama Power's rates.
This project includes reporting on what are sometimes called, "Dark Money Groups," a term often applied to 501c4 organizations.
From this project, I became aware of, and to some degree reported on, a group called Generation America that you were involved with. I was aware, from my research, that your in-laws, Louise and Bill Hill, appeared as volunteers and/or members of Generation America, such as at PSC meetings and at Generation America press conferences.
I recently saw a story in the Montgomery Advertiser about the American Senior Alliance and its support of the lottery.
Some quick research showed that you incorporated it earlier this year. The news reports show that, again, your in-laws are participating in this effort, as they did with the PSC effort.
I am working right now on a story for my website. For what it's worth, not that many people go to the site. In any event, I have some questions, which are:
1. Who is funding the American Senior Alliance?
2. Is the Alabama Nursing Home Association working with or helping to fund the American Senior Alliance?
3. Has Matrix LLC — which lobbies/provides consulting for the association — had any role in assisting you or the American Senior Alliance regarding its efforts on behalf of the American Senior Alliance?
I don't anticipate a response but I will state in the story — which I hope to get on my site by early this evening — that I contacted you through the e-mail you provided on the Georgia Secretary of State papers for the American Senior Alliance.
I have also CC'd officials with the Nursing Home Association in the event they wish to respond.
Thanks for your consideration of these questions,
Sincerely,
Eddie Curran
————————————————————-
PLEASE CONSIDER MAKING A DONATION
For me to continue the type reporting found on this web-site, I must receive donations. This has involved more work and more time than I ever imagined it would. Money as well. I'm trying hard here. A little help would be nice if you feel you have learned something and want me to keep going.
To make donations, large, medium-sized, or small, Go Here. You can also send checks to the address below.
Again, people with tips on this story or regarding other subjects addressed on this website are encouraged to contact me.
CONTACT INFORMATION
Eddie Curran
133 Silverwood
Mobile, AL 36607
Phone: 251-454-1911
E-mail: eddcurran@aol.com
ADD DONATIONS and AD