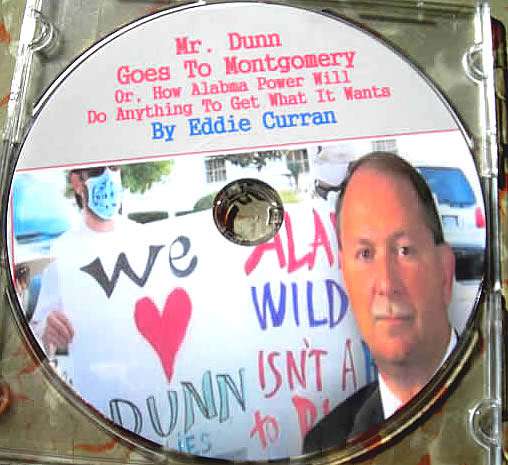 By Eddie Curran
In mid-September, I went to Montgomery to interview Alabama Public Service Commissioner Terry Dunn for a project I was working on involving certain Montgomery-based non-profits whose activities had this in common: They attacked people and organizations who had crossed Alabama Power and its sister company, Mississippi Power.
I'd never met Dunn or his chief of staff, David Rountree. I called Rountree, explained my purpose, and arranged the interview. At this point I did not anticipate doing a documentary. I thought it would be a good idea to videotape the interview so took an old Flip camera. I'm so glad I did, as the interview became the basis of, "Mr. Dunn Goes to Montgomery."
I'm taking the liberty of calling it a documentary because, pretentious as it may sound, that's what it is. It's not a movie or a film and it's definitely more than a video. Certainly, though, I make no claims for its technical brilliance. You will not be wowed by the visuals. But I do believe that you will respond to it as one responds to all good investigative reporting: That is to say, it will make you angry.
There are three ways to watch, "Mr. Dunn Goes to Montgomery."
1. Use the links provided here to watch it on-line, on Vimeo, a site similar to YouTube.
2. Send an e-mail to eddcurran@aol.com and I will send it to you by Drop-Box.
3. Make a donation of more than $25 and I will mail you a copy of the DVD. Note: I have made the DVDs myself. They play on computers but not on some DVD players.
Part One introduces you to Terry Dunn, in his own words. He tells what happened after he let it be known that he wanted to hold rate hearings for the state's utility monopolies. That included a review Alabama Power's remarkably high allowed rate of return of up to 14.5 percent.
       "After I got the message out, we had visitors come in and say, 'You just need to leave everything alone, don't make no waves, keep your head down, and you'll be here as long as you want to.'"  — Terry Dunn
Part Two tells what happened when Dunn declined to the advice to keep his head down. Soon, he started noticing something most unusual: In various media, and especially the widely-viewed web-site Yellowhammer News, he began to see himself portrayed as a hard-core environmentalists and liberal.
The portrayal of Dunn as being a liberal out to use his position to pursue an environmental agenda is a fraud. And yet it appears to have succeeded.
Part Two also examines a highly suspect environmental protest at a July PSC meeting regarding Alabama Power. One of the masked protesters carried a poster declaring his support of Dunn "and lies." That image been used repeatedly by Dunn's enemies.
In Part Two, Dunn speaks candidly about the effort against him. He all but says outright that Alabama Power is making it happen, even as company officials themselves refrain from criticizing him.
As much as anything, it's Alabama Power's use of others to do its dirty work that makes the company's behavior so offensive and cowardly.
Part Three is the longest of the three parts. In it, I show many of the records I found, such as those showing links between the political consulting firm Matrix LLC and People for Affordable Clean Energy (PACE), one of the non-profits that's gone to bat for Alabama Power and bashed Dunn.
Matrix and its founder, Joe Perkins, have provided services of an undetermined nature for Alabama Power for years.
Part Three also described efforts to portray Dunn's chief of staff, David Rountree, as a liberal environmentalist; and the failed efforts to get Dunn to replace him with someone who might steer Dunn in a more utility friendly direction.
 Part Three also contains audio and video from two of the "Dog and Pony Show" PSC meetings regarding Alabama Power. Viewers get to see PSC President Twinkle Cavanaugh — Dunn's foe, Alabama Power's darling — in action.
In Part Four, Dunn tells of being summoned to Mike Hubbard's office. The speaker didn't mention Alabama Power, but told Dunn to back off of his current posture. Several Hubbard aides read statements Dunn had made in the media, questioned him, and took notes. The clear message: Leave Alabama Power alone.
Dunn, unlike Hubbard, isn't a power company puppet. He declined the speaker's advice, and continued to get pommeled in Yellowhammer and elsewhere.
Part Four also looks at the Power Company's influence throughout the top levels of state government. It concludes with details about a secretive "push poll" aimed at connecting Dunn to Obama and high utility rates.