In which yours truly is surreptitiously photographed having lunch with actual environmentalists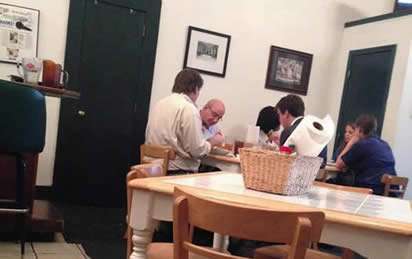 By Eddie Curran
I've no idea who took this photo (above) at Mother's restaurant in downtown Mobile. The mystery photographer was apparently following either me (my back to camera) or, more likely, Keith Johnston and David Pope of the Southern Environmental Law Center (SELC).
It was published Friday (Dec. 13) by an anonymous, brand newTwitter account called — I don't make this up — Agent Pooty Pants. It was shortly thereafter "re-tweeted" — coincidence or not — by Patrick Cagle of the JobKeeper Alliance.
Noticed Eddie Curran name calling on http://t.co/9NKtYEa2NM yesterday. Is he working for the SELC now? #alpolitics pic.twitter.com/s9QtqP10GP

— Agent Pooty Pants (@AgentPootyPants) December 13, 2013
The e-mail below, from Caroline Webb (possibly not a real person) was subsequently sent to Republicans throughout the state.
Among the recipients were state legislators, including Speaker Mike Hubbard. Someone forwarded it to me. I hastily drafted a response and sent it to all the recipients. My letter is below the one sent by "Caroline Wells." It's a little rough around the edges but I make my point.
Let me first state that, contrary to Ms. Wells' assertions, this was not a "strategy session." Nor have I received payment from the SELC or any other environmental groups, nor will I. I don't have anything against them, but my project is not about the environment.
As will be explained elsewhere on this page, I contacted Keith Johnston for information I believed the SELC had and which could help me learn more about the smear campaign against Alabama Public Service Commissioner Terry Dunn. Because that campaign — and exposing who is behind it — is what my project is about.
From: Caroline Wells <alabamawellsfamily@gmail.com>


Sent: Fri, Dec 13, 2013 12:45 am
Subject: Eddie Curran working with liberal environmental group

Private Investigator Eddie Curran says that he is an independent investigator working to support Public Service Commissioner Terry Dunn. But a photo taken yesterday clearly shows him working with the Southern Environmental Law Center. https://twitter.com/AgentPootyPants/status/411294272839639040 

This is the same SELC that has taken millions from green energy liberals in San Francisco. How much of that money went into Eddie Curran's pockets? This is the same SELC that Breitbart reported being on the Obama EPA's "favorites" list: http://www.breitbart.com/InstaBlog/2013/05/14/EPA-Gave-Partisan-Treatment-to-FOIA-Requiests 

This is the same SELC that fought to stop the U.S. Navy from training off the coast of Florida because it would bother whales: http://articles.sun-sentinel.com/2010-01-02/news/1001010063_1_whales-florida-coast-non-explosive 

Here is the photo of private investigator Curran in a strategy session with David Pope and Keith Johnston of the Southern Environmental Law Center. These men are hurting our state.https://twitter.com/AgentPootyPants/status/411294272839639040
Here is my letter. I've inserted some images that were not in the letter. I'v also proofed it slightly as it was written hastily. It's somewhat over the top but, hey, I'd just learned I'd been spied upon.
Dear Recipients,
I am writing you because I see that earlier today you received an e-mail about me from a Caroline Wells, who may or may not be a real person. The e-mail contained a link to a photo that was also put on Twitter today by someone calling themselves, "Agent Pooty Pants."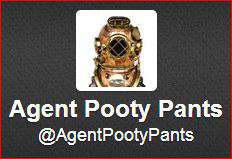 Perhaps Ms. Wells and Pooty Pants are one and the same.
I am, by way of a brief introduction, a longtime former reporter for the Mobile Press-Register. I'm probably best known for investigative stories on former Gov. Don Siegelman, though I did much reporting on other politicians as well, including Fob James.
The photo linked to in the e-mail shows me at a Mobile restaurant with two officials with the Southern Environmental Law Center. The photo is real. I suppose someone was following them or me and took it.
The letter suggests that I'm being paid by the "SELC." First, the answer to that is, no. It's a long story, how I became interested — very interested — in a situation regarding Alabama Public Service Commissioner Terry Dunn.  So interested, in fact, that I refused to accept payment from the people who hired me to look into a situation in Alabama. These folks are from Mississippi and at least one of them is affiliated with the Tea Party, as I believe many of you may be.
The group (called, Bigger Pie Forum) was being attacked — such as with paid ads in newspapers with pictures of a "stinky fish" — by an Alabama non-profit called JobKeeper Alliance and, to a lesser degree, one called, PACE.
"Bigger Pie" had been critical of massive overcosts at a new Mississippi Power plant. That is what prompted the attacks by the Alabama groups. Someone was clearly paying the Alabama groups to go to Mississippi and blast these folks who were being critical of Mississippi Power.
They asked me to find out about the Alabama groups and to determine who was paying the Alabama groups. Groups is actually the wrong word for  JobKeeper and PACE. They're one-person "non-profits" that do not have to reveal their funding sources.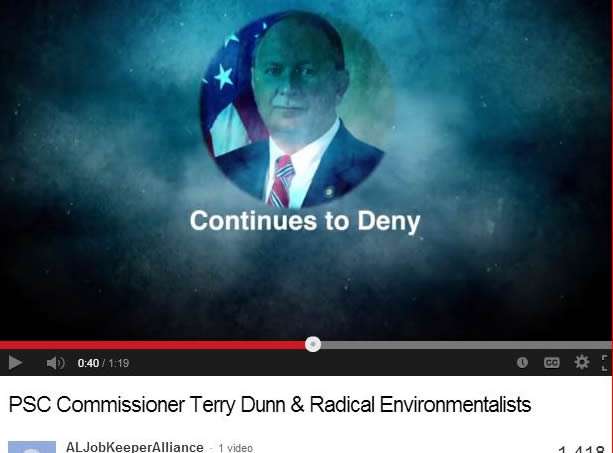 Some of JobKeeper's handiwork
When "Bigger Pie" contacted me in August, I had never heard of them. If I'd heard of the SELC, it was only vaguely, and perhaps not at all. Certainly I didn't know anyone associated with the environmental legal group or the nature of any of its causes. I can't say with certainty that if you'd said the name Terry Dunn, I could have told you that he was on the Alabama Public Service Commission. I came to the assignment completely blind.
My assignment, for which I was to be paid, soon became something much more than a job. JobKeeper, and to a lesser extent PACE, had become very involved in the Alabama Public Service Commission situation, very much for Alabama Power (Mississippi Power's sister company) and VERY MUCH against Terry Dunn.
I came to be interested in Dunn by reviewing the immense amount of criticism he has received by these groups and others, especially a "news" outfit called Yellowhammer News.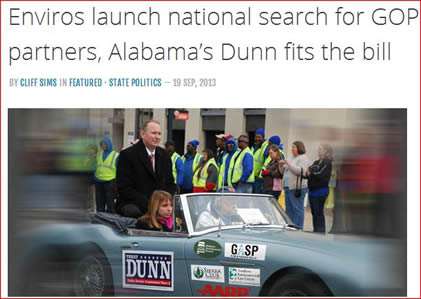 One of many examples of the abuse Terry Dunn has taken in the on-line publication Yellowhammer News, known in some circles as, "The Mike Hubbard Daily Howl."
Dunn was being blasted as a left-wing environmentalist. Bogus images, photo-shopped, were used to connect him to environmental groups that he had no connection too. Even Dunn's chief of staff was blasted with these false accusations.
Dunn, as I learned, is a successful small businessman and three-time delegate to the Republican National Convention. Apparently, when he ran for the Public Service Commission, no one told him that were he to dare question the rate of return allowed Alabama Power (by far the highest in the country), that there would be hell to pay.
The Democrats, through rampant corruption, deserved to get ousted from the statehouse, etc. I've not paid much attention to state politics lately and one of the real eye-openers for me, through this project, is the degree to which Alabama Power, always a force in state government, has become, well, Kingmaker.
With the exception of Terry Dunn, there's not a single elected official I'm aware of has not caved to Alabama Power's every wish. I was also stunned to learn much of what many of you know about Mike Hubbard, who I'd just assumed was a straight arrow.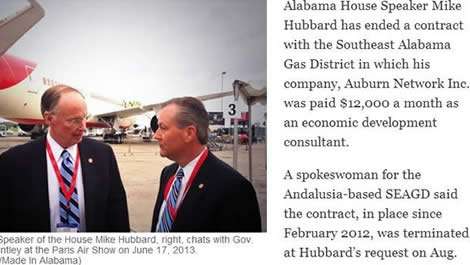 The $144,000 a year contract, routed through the Auburn Network? When I read that story, I knew the state Republican Party had major league issues. Hubbard, incidentally, is of interest to me because of pressure he has put on Dunn. Amazing, really, that the Republican Party didn't run him out of town when they found out about that contract. No, it seems they prefer to keep him as a leader, and blast away at Terry Dunn. Disgusting, eh?
Back to my project …
What troubled me most is not Alabama Power's high rate of return (the profit they are allowed by the PSC, which regulates their rates because they are a monopoly and needn't compete on the open market for your business.) Heck, I'd written about that 15 years ago, as a reporter. It bothered me then, but I wasn't going to give my time and money to fight that old battle by myself.
What troubled me — no, what PISSED ME OFF — was what was being done to an honest man for merely trying to do his job. I can't even remember the last time I met a politician who A) wanted to be re-elected but B) refused to back down from positions likely to lead to his defeat.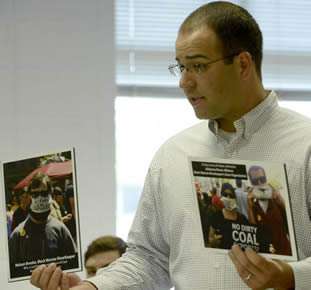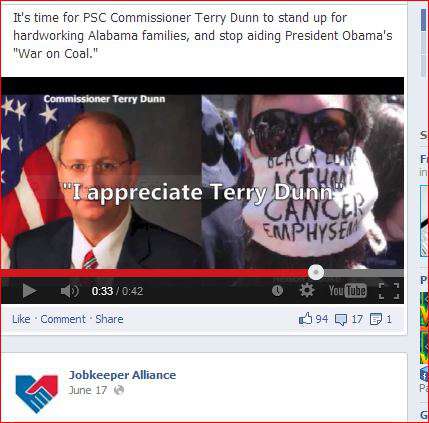 At left, Patrick Cagle, with two photos of people protesting coal use as being bad for the environment. The photo in Cagle's right hand is of Nelson Brooke, taken at a rally against coal in Oregon. Brooke is head of an environmental group called Black Warrior Riverkeeper. One of the strategies used against Dunn has been to connect him to Brooke, such as in this shot from a JobKeeper video, at right. That Dunn doesn't know or have any connection to Brooke matters not at all to JobKeeper Alliance, Patrick Cagle, his secret masters and others who've sought to connect Dunn to the environmentalist movement.  They're in what's known as the propaganda business.
To learn more about JobKeeper, PACE, et al.,  I went to Montgomery and interviewed Dunn. I took a flip camera and his chief of staff held it during the interview. Very high tech.
Soon after that interview, I decided to forego pay from the Mississippi group since I knew that, were it known I was being paid, my work would be dismissed as propaganda on behalf of a paying client. Despite my not billing them, they recently sent me a check. I tore it up.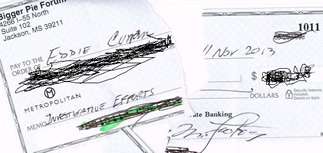 The torn up, scratched up check to me from Bigger Pie Forum.
I contacted the SELC people, not the other way around. I'd watched a coal association movie called, "Behind the Mask." It included an interview with someone described as a film-maker. I located him through Facebook to see if he would give me some of the footage he took. He said he wasn't authorized to because he was working on a grant from the SELC. I would have to ask them. So, I looked them up on the web and contacted their people. I had to look them up, as I'd never met nor heard of Keith Johnston, or David Pope, or Nelson Brooke.
Finally, after much begging from me, they agreed to give me about 15 minutes of footage from two of the PSC meetings devoted to Alabama Power.
The SELC apparently was contemplating joining others in opposing the much-publicized gas line project near Mobile's water supply. In any event, Johnston and Pope were at that point coming to Mobile regularly.
I met them for lunch three times. Each time, they were here on other business, as opposed to coming to meet with me The first time I made my case for why they should give me some of the PSC footage. The other two times, they called, said they were heading to lunch, would I join them? Was glad for good company and said just both times.
The "Pooty Pants" photo was taken at the second lunch, at "Mothers" restaurant downtown, in October, I think. We never met in secret. All three times, it was during the lunch hour at a busy restaurant.
My guess is they were being followed, not me, but I don't know and don't really care. In any event you can see some of the footage they finally agreed to give me in Part III of "Mr. Dunn Goes to Montgomery."
Sincerely,
Eddie Curran