How well do you know your Alabama politics?
Staying up to date, or have you slipped?
Note: Every now and then, at, MrDunnGoesToMontgomery.Com, we take a break from the wearying toil of research and reporting to have some fun. Such as now. Enjoy, and see how good you are at separating fact from fiction. As is often the case with Alabama politics, it's not always easy to tell the difference.
By Eddie Curran
Five of the following 10 items are actually true. The other six are not, or in any event, not entirely so. The five correct ones are listed at bottom.
Sharpen your pencils, set the timer to five minutes and … Go!
1. The state politics news site Alabama Political Reporter is just days away from publishing what sources say will be an explosive count by count refutation of the entire indictment against Alabama House Speaker Mike Hubbard.
The APR's Bill Britt acknowledged that the report will in many ways contradict some 350 pieces about Hubbard that the site has published in the past two years. "Many believe that the sole purpose of APR's existence is to go after Hubbard. That's nonsense, and this story will prove it," Britt said.
The "bombshell" aspect of Britt's piece is a secretly taped recording from 2011 in which Attorney General Luther Strange can clearly be heard ordering his investigators to build a case against "that power happy political whore of a man and clear my path to the Governor's Mansion."
2. In an office somewhere else, the state politics news site Yellowhammer News is putting the finishing touches on a scorching opinion piece in which YN President and CEO Cliff Sims will accuse Hubbard of exercising "excess gumption and blindingly egregious greed" by moonlighting as a $144,000 a year lobbyist for something called the Southeast Alabama Gas District — this, of course, at the very same time that he was serving as Speaker of the Alabama House of Representatives. The Speakership, by the way, is second only to the governor in Alabama's political hierarchy .
Additionally, Sims will accuse the well-heeled lobbyist/Speaker of "deplorable duplicity" in routing the Gas District contract and the payments through the Hubbard-owned Auburn Network — which until reports of its lobbying contract was better known for providing radio broadcasts of Auburn sports, especially War Eagle football games.
Sims — who has the highest byline count in Alabama "journalism" over the past three years and "personally authors" every story on the site — will also accuse Hubbard of bouncing checks totaling almost $70,000 to Yellowhammer in the past two months and call for Hubbard to resign as Speaker.
"If he wants to pay his criminal defense lawyers, fine, but if that keeps him from paying me — not fine," Sims was overheard telling an associate. "He thinks I'm his toady. Well, he's about to learn otherwise. I've got more power than he does now anyway."
3. Retired Alabama Ethics Commission Chairman Jim Sumner was recently let go by the Alabama Department of Public Safety. Sumner, who became a state trooper in November, a month after ending his long, uneventful tenure at Alabama's "Ethics Czar," was relieved of his duties due to what a supervisor called "an absolute refusal to issue tickets to what I suppose you would call, 'prominent people.'"
"Officer Sumner had no problem with ticketing regular folk, but corporate executive types, and, especially, top government officials? They could zoom by him at 125 mph and he'd smile and wave, whereas he'd pop regular folk for going five miles over the speed limit," said the long-time captain in the Alabama Highway Patrol division.
"We felt the public could be harmed as a result of the recklessly fast driving by these prominent people and, thus, had to relieve Officer Sumner prior to completion of his 90-day probationary period."
4. Alabama Public Service Commission President Twinkle Cavanaugh is becoming known by PSC watchers for her frequent use of the procedural tool known as the "point of personal privilege."
Cavanaugh, who presides over the meetings,  frequently uses the "point of personal privilege" to talk about matters with no apparent connection to regulating the rates of Alabama's shareholder owned utility monopolies.
For example, at the start of the December meeting, Cavanaugh told a story about her grandmother, who had recently passed away. The focus of the story was her late grandmother's "cedar chest."
"(As children) there was one thing we were never allowed to touch and that was this cedar chest and we all fantasized about what was in that cedar chest, that cedar chest we weren't allowed to touch."
The phrase, "that cedar chest" was used seven times, such as when Cavanaugh told attendees about finding old Christmas cards she'd sent as a child to her grandmother in "that cedar chest.".
This particular "point of personal privilege" lasted five minutes.
5. At the start of February's PSC meeting, the above-mentioned Cavanaugh opened by telling those gathered that the PSC should have "a few more meetings each month" because "everyone is having so much fun." She then called for a "point of personal privilege" — not for herself, this time, but because the newest commissioner, Chip Beeker, had something he wished to say.
Beeker spoke for six minutes, topping the five minute story told by Cavanaugh in December.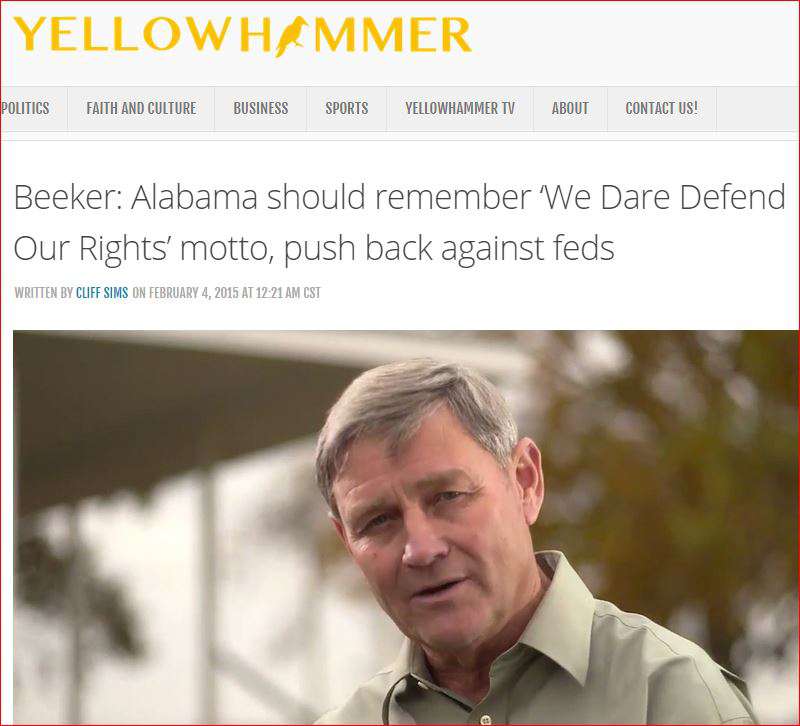 During his "point of personal privilege," Beeker covered topics including but not limited to: gay marriage; the overbearing federal government; how much better America was when he was a youngster; the removal of God from schools; federal judges; the welfare state; environmentalists; multiculturalists; teen pregnancy; the "crowd we have in D.C."; Obama's wealth distribution scheme; God's low regard for the current state of America; and His intention to hold us "accountable."
Later that day, with a post on his Facebook page, the West Alabama catfish farmer seemed to indicate that he may have more to say at next month's meeting.
Declared Beeker: "This morning during our monthly meeting, I took a moment to speak about the federal government's overreach of power. The federal government has overstepped its boundaries on so many issues and I will stand up for the rights of Alabamians every chance I get."
6. The purpose of the Alabama Public Service Commission is to supervise and regulate the state's electricity, natural gas, water, railroad, and telecommunications companies. Its best known and most important responsibilities involve overseeing the allowed costs, profits and rates of the state's three shareholder owned utility monopolies: Alabama Power, Alagasco, and Mobile Gas.
Commissioners are paid a salary of $103,490.
7.  In September 2013, long-time Alabama congressman Spencer Bachus announced he would not seek another term. Immediately, a host of well-known Republicans from the Birmingham/Jefferson County area either announced their intention to run for Bachus seat or said they were considering. Among those was Cliff Sims, President and CEO of Yellowhammer Multimedia.
Sims has written countless stories savaging Terry Dunn — who was defeated in last year's election by Beeker — as well as Dunn's chief of staff, David Rountree. Sims has also written,  or in any event put his byline on stories, praising Beeker.
About a month after Bachus's announcement, Sims wrote a story about his decision, after intense soul searching, not to throw his hat in the ring. (Top of story below.)
The above is true. But is it also true that:
Sims told readers that almost from the moment Bachus made his announcement, he was besieged by people asking him if he was going to run for Bachus' seat. The calls came "from every angle — from national media outlets and political insiders to church friends and family members."
Furthermore, he wrote that despite "being a 5'9″ point guard on a mediocre high school basketball team" he succeeded in his dream to play college basketball. He included the following picture in the story about his agonizing decision to, at least for the present, forego a place on the national political stage as a U.S. Congressman:
Sims also wrote about his time in a rock band and included this picture in the story about his agonizing decision to, at least for the present, forego a place on the national political stage as a U.S. Congressman::
And he wrote (emphasis mine):
"I don't pretend to understand the mysteries of how God moves and directs our lives, but we try our best to muster the courage to lay a blank check on the table and let God fill it out. Whether He wants us to move to a third world country, or go to Washington, D.C., or stay right here in Homewood, we pray He gives us the fortitude to do it. So in that frame of mind, we (Sims and his wife) began considering running for Congress."
8. Five new non-profits with ties to Alabama political consulting firm Matrix LLC were recently incorporated in Montgomery County Probate Court.
The new non-profits are: "Natural Gas Jobs Count;" "Nuclear Power Jobs Also Count," "We Are Hydroelectric Workers and We Matter Too;" "The Alliance to Remove Environmentalists From Alabama;" and, "PAWLLTCTSAHFPSCM," which is short for, "The Partnership of Alabamians Who Love to Listen To Twinkle Cavanaugh Tell Stories About Her Family at Public Service Commission Meetings."
9. Embattled long-time New York state Assembly Speaker Sheldon Silver is telling allies that his attorneys are working on a "selective prosecution" defense against the bevy of recently filed criminal charges accusing him of "defrauding the public and using his power" to obtain $6 million in bogus "legal fees" from two New York City law firms.
An emotional Silver can be clearly heard during a recently taped meeting with his lawyers saying the following:
"I got the idea from Don Siegelman, this guy who was governor of Alabama. He never got popped for this! While he was governor — a full-time job, not part-time like mine! — he raked in at least $1.4 million in legal fees in just four years and no one ever saw him practice law either! And he regularly fibbed about his fees on his ethics reports!"
"Hell, a law firm that Siegelman secretly arranged to receive a multi-million legal fee — a fee paid for by the state of Alabama, in the Heart of Dixie for Chrissakes — turned around and paid this Siegelman character at least $800,000! And it was from some long-dead tobacco lawsuit! The state wasn't even being sued but they paid to settle it because this Siegelman ordered it! I would never do anything that brazen!
"And then — get this — some personal injury law firm called Beasley Allen paid him a referral fee — same as me — of almost $320,000! To top it off, in his last year as governor down there, some fancy D.C. law firm — they call themselves Dickstein Shapiro Morin & Oshinsky LLP — paid the guv at least $250,000 and probably a ton more. Another referral fee, for God knows what? Find out the answer to that and you win a prize!"
"Sure, he got popped for something else, not for the legal fees. But why were all these crazy fees OK for him and not me? I didn't sell my home through a straw man for twice its value to yet another trial lawyer — some guy with big hair, a Mr. Lanny Vines. Siegelman did! I didn't! And that same Vines guy paid Siegelman a legal fee of  $50,000 for work on a class action lawsuit that failed and that Siegelman had zero involvement in!"
"And what's with all the ugly things they say about me, huh?" continued Silver. "You can't open a newspaper these days without reading a story about Saint Don Siegelman and some baloney about him being put in the Gulag by Karl Rove, as if Bush's Brain — and boy did he need one! — could care less for the washed up political carcass of a former Alabama governor! How much lower on the national political totem pole can you get than that!"
 "Why me and not him!" Silver screamed just before the tape ended. "Why does everyone love him, and why does everybody Hate Me!" 
10. Last year, in the heat of the PSC campaign between incumbent Terry Dunn and challenger Chip Beeker, Dunn accused Alabama Power of being behind a smear campaign designed to portray him as a liberal environmentalist.
Dunn said if Beeker wins, "then Alabama Power wins." He said a Beeker victory would give Alabama Power control of all three seats on the PSC, since, as Dunn implied, PSC President Twinkle Cavanaugh and Commissioner Jeremy Oden were Alabama Power toadies.
The above is definitely true. But is it also true that Michael Sznajderman, the chief spokesman for Alabama Power, said the following in response to Dunn's allegation.
"We are not involved, directly or indirectly, in any PSC campaign."
For sake of clarity — for we oppose trick questions — the question isn't whether Alabama Power is or is not involved in PSC campaigns; but whether the spokesman stated, with a clarity that brooked no doubt as to its meaning, that Alabama Power does not participates "directly or indirectly" in PSC campaigns.
QUIZ ANSWERS: While there is truth in most of these, the only ones true in all respects are four, five, six, seven and 10. If you picked those then you indeed know your Alabama politics. Now, go take a bath. You're covered with grime.
Eddie Curran is a former reporter for the Mobile Register. He is the author of, "The Governor of Goat Hill," a book about his reporting on former Gov. Don Siegelman, and the subsequent criminal investigation and trial of Siegelman and others. He currently works as a legal researcher and operates a web-site, MrDunnGoesToMontgomery.Com