Hattiesburg businessman and relentless Mississippi Power foe describes plan for PSC to cancel company's right to operate, then buy its assets out of bankruptcy or a distressed sale
Author's Note: On Sept. 3, I called Thomas Blanton to interview him for a couple of stories I was working on related to his candidacy for the Mississippi Public Service Commission and matters regarding Mississippi Power's troubled Kemper plant. 
I didn't state that our interview was off the record, and he didn't ask that it be off the record. For various reasons — including that I have a website devoted to Alabama Power/Southern Co.'s attacks on former Alabama PSC member Terry Dunn and have written pieces critical of Kemper — it soon became clear that Blanton considered me, for lack of a better phrase, as being "part of the team" that's against Kemper.
That team, certainly in Blanton's mind, and I'm sure others, includes him as the leader.
I believe his misunderstanding of my role — me wearing my reporter's hat, as opposed to being some sort of ally -led him to reveal things he obviously expected me to keep in confidence. When I asked follow up questions, including calling him back, Blanton said he had "dropped his guard" when he made the statements that are the focus of this story. He asked me several times not to report what he'd told me.
I provide this note because I anticipate that some readers will reasonably wonder why Blanton would have revealed such things to a reporter. Certainly I would not be much of a reporter if I were to to fail to report what he told me.
BY EDDIE CURRAN 
Thomas Blanton, the Hattiesburg oilman who brought a financially devastating lawsuit against Mississippi Power and is running for a seat on the Mississippi Public Service Commission, said Thursday afternoon that he has "lined up a $600 million payment-to-arbitrage loan" as part of a secret plan to "take over Mississippi Power." 
Blanton said he anticipates winning the Nov. 3 general election for the Southern District Commissioner on the three-commissioner PSC — as most observers believe he will.
Blanton said the commission has the authority to remove Mississippi Power's "certificate," or ability to operate in the state. He said plans are underway that, if successful, would lead to certain parties buying the company's assets, such as at auction or out of bankruptcy court, presumably with the assistance of the type loan he referred to.
"Alternatives include removing their certification to operate the utility (and to) take the company away from them," said Blanton, adding that another option would be to turn the company assets into an electric cooperative.
Because this interview occurred late in the afternoon, and for other reasons noted later in the story, I did not seek comment from Mississippi Power regarding Blanton's explosive statements.
Certainly, what Blanton described is nothing short of  extraordinary, and merits a summary of the company he and apparently others seek to bring down.
The company now called Mississippi Power was founded in 1923, and in 1947, it became part of the Atlanta-based Southern Company. It employs about 1,250 people, and serves a total of some 186,606 residential, commercial and industrial customer accounts in most of the cities, towns and communities within the 23 counties of southeast Mississippi. The company generated total revenues of $1.24 billion in 2014.
Needless to say, Mississippi Power is, and has been for decades, a fixture of life in Southern Mississippi.
The company's problems, it should be noted, are far greater than Blanton, and largely self-inflicted.
But it's also beyond question that Blanton has inflicted grievous harm on Mississippi Power as well as its parent, Southern Co. His lawsuit, filed in 2012, asked the state Supreme Court to overturn an 18 percent rate increase authorized by the PSC to cover most but not all of the projected Kemper costs, with additional increases to come later, after the project was complete and the total costs known.
In February, the court issued a startling 5-4 decision for Blanton and against the PSC and Mississippi Power. It wasn't merely a state story but a national business story, as the Kemper situation continues to be.
The ultimate result of the ruling was a subsequent order by the PSC — which after all was being told what to do by the court — compelling Mississippi Power to refund customers some $350 million collected since the rate increase went into effect, plus interest. The refunds are due to commence soon.
The notion that Mississippi Power and Southern Co. would allow the plan described by Blanton to proceed without a massive fight goes without saying. I hesitate to even comment on the legality of the plan as described, even summarily, by Blanton, certainly if that plan involves any action by him part as a member of the Public Service Commission.
When I called him back and told him I intended to report what he'd told me, and asked for more details about the plan, he stressed that he has no financial involvement with the plan, but was familiar with it.
Blanton asked that I "be patient," as it would be a much bigger story when it happens than it would be now.
"I don't need to be blowing a bugle before anything happens," he said, adding that the plan is for the takeover of Mississippi Power is to commence next summer.
He said he knows people who will take action if it begins to appear that mismanagement by Mississippi Power creates a situation where the company isn't meeting "the requirements of its certificate."
A decision to do so would have to be made by the Public Service Commission — a body that is likely, starting in January, to include Blanton.
"A lot of people (involved in the takeover plan) have hired lawyers, and have joined me in the petitions I've already filed with the Supreme Court. People are fed up with Mississippi Power," Blanton said.
In July, Mississippi Power asked the PSC to grant an emergency request seeking an 18 percent rate increase to pay for the portion of the Kemper plant that is burning natural gas and is operational.
Company CEO Ed Holland testified before the PSC in August and said that if the commission didn't grant the increase, Mississippi Power would run of of money by year's end.
"Immediate emergency relief is required to avoid serious financial harm to Mississippi Power and ultimately to our customers."

— testimony by Ed Holland before the PSC in August.
On Aug. 13, the PSC voted 2-1 to allow Mississippi Power to raise rates by the requested 18 percent, and authorized the increase to go into effect a week later.
As it happens, the 18 percent is the the same as the increase enacted several years ago and which the Supreme Court, in ruling for Blanton, forced the company to refund. The mandated refunds, it should be noted, were not effected by the PSC ruling. The company is in the process of returning the funds to its customers.
The two votes on the commission for Mississippi Power came from commissioners who are not seeking re-election. The vote against the company came from commissioner Brandon Presley, who is favored to win re-election in November.
Blanton and his backers were outraged that the PSC granted Mississippi Power's emergency request. As one report described it, it seemed to Blanton like the commission was making an "end run around" the Supreme Court's order.
On Aug. 21, Blanton filed a petition with the Mississippi Supreme Court asking that it order the PSC to rescind the increase. If the past is any indication, it will take some time for his request to be litigated and decided by the court, considering that Mississippi Power is sure to put up a ferocious legal fight to defend the increase.
Mississippi Power's Kemper Woes: A Primer
Those familiar with the Kemper situation may elect to skip this section. For those unfamiliar with Kemper, the following is how I described it in a story earlier this year on this this website, if with some updated numbers. 
The Kemper plant was initially projected to cost about $2.4 billion and be completed and fully operational some two years ago. That total, to say nothing of the starting date, have long been surpassed.
On Sept 1 — Tuesday — the company released its latest cost estimates. The new estimate was $25 million more than the prior's months estimate, bringing the total projected cost to about $6.25 billion.  If the past is any indication, that total is sure to climb.
Kemper was never going to be an ordinary coal-fired power plant, turning coal into power. Rather, it's being designed to use a multi-step process that starts with converting coal into gas.  Kemper County, in east Mississippi, was selected because it has abundant supplies of lignite, a low grade type of coal. The plant is being built adjacent to a lignite mining operation that will feed it.
This highly technical "gasification" process also involves "capturing" carbon and other byproducts for sale to industrial users. Sales of the byproducts are to serve as one of the economic engines of the plant. But the chief purpose of gasification is that it provides a means for power companies to use coal in a manner that produces fewer emissions than normal coal-fired plants and is thus far superior from an environmental standpoint.
(For some fascinating photos of the Kemper Plant, Go Here.)
The success of the Kemper project is important, not just for Southern Company, but for companies and countries that hope to utilize the process to build so-called "clean coal" plants. The massive cost over-runs could dissuade firms and countries from building such plants.
Last year, Kemper started producing power, but from natural gas purchased by the company, not from the gasified product that is the central element of the project.
From a financial standpoint, it now seems to have been a disastrous decision for Southern Co. to choose Mississippi to build this plant for the site and for state officials — led at the time by Gov. Haley Barbour — to push for it and provide incentives.
The reason: Mississippi Power is Southern's smallest power producing company, with just 185,000 customers in the southern part of the state. A utility's costs — including construction of new plants — are passed on to customers in the form of higher rates. The larger the rate base — in other words, the more the customers — the more these costs are spread out, and the lower the rate increases. 
At Kemper, the overruns have been so massive that Southern Company and its shareholders are having to eat a substantial amount of those costs — far more than anticipated. This has had an impact on the company's historically steady and impressive earnings. It's impacted the bonus-related provisions of company executives, thus lowering their pay, and led to the removal of Mississippi Power's president and another top executive.
Those who've paid any attention to the Kemper situation are all too familiar with the seemingly endless flow of stories in the Mississippi and national business press reporting new, higher project costs and delays. These reports invariably follow mandatory disclosures to the Mississippi Public Service Commission and the Securities and Exchange Commission.
Sometimes cartoons say it best. For example, this one from the Jackson Clarion-Ledger: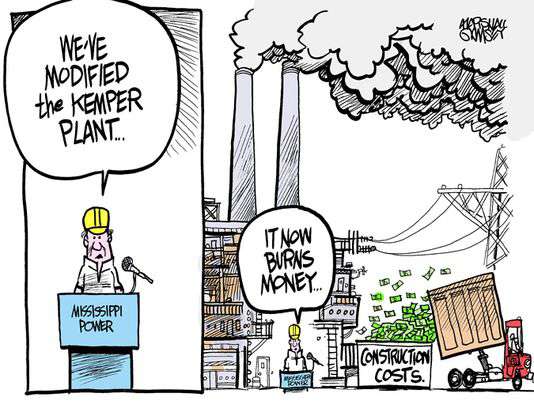 Blanton has researched recusal issue
When I called Blanton Thursday (yesterday), I told him I was working on several stories, and the one I intended to do first involved an issue I've not seen broached in any of the news stories about Blanton's candidacy, though I could be wrong.
That issue: Whether a PSC Commissioner Thomas Blanton would have to recuse (remove) himself from PSC votes regarding matters related to Kemper — by far the biggest issue before the PSC, not only in the past several years, but, it would seem, for years to come.
Such an outcome would be, to put it mildly, ironic, since the chief purpose of Blanton's candidacy is to deny Mississippi Power's efforts to recover some $2.4 billion of the construction costs. Prohibiting Blanton's participation on Kemper related matters would be like an NFL team making it to the Super Bowl, then not being allowed to play in it.
Before providing Blanton's responses to my questions on recusal, I'll present the issue as I did in an e-mail, sent twice, to a Mississippi Power spokesman. On neither occasion did I receive a response — one of the reasons I made no effort to contact the company late Thursday. Here are the chief elements of the e-mail, which I feel frame the issue fairly well.
 

As I don't need to tell you, Thomas Blanton is (A) a candidate for the Public Service Commission; and, (B) a plaintiff in a much publicized and clearly damaging lawsuit against Mississippi Power and involving the Kemper plant.

 

It seems arguable that, should he win, he could have a conflict voting on matters before the PSC and related to Kemper issues, such as Kemper-related rate rulings. I have not yet researched Mississippi state law regarding recusal of PSC members, but will. This seems like an unusual set of circumstances and I doubt the law directly addresses this situation, but hopefully I'm wrong. 

My questions are:

 

Would it be the position of Mississippi Power that a Commissioner Blanton (should he win) be required to recuse himself from all matters at issue in his lawsuit?

 

I have never spoken to or communicated with Blanton but will do so. I will ask him if (should he win) he would recuse himself from votes related to Kemper-related rate issues. It would be my expectation that he will say he does not intend to.

 

If Blanton were to win and refuse to step aside from voting on Kemper-related issues, would Mississippi Power (or for that matter, any regulated Mississippi utility in a similar situation) have legal recourse to try to compel his recusal? For example, an appeal of some sort to the Mississippi Supreme Court? 

 

I think these questions are most relevant to Mississippi citizens and Mississippi Power customers for two reasons.

 

First, he is a candidate for the PSC. If he were to potentially be unable to vote on matters related to Kemper, that could impact decisions by voters on his candidacy. 

 

Secondly, a scenario in which he wins, does not recuse himself, and the company takes legal action to compel his recusal could — or so it seems — lead to additional delays in determining the amount of the Kemper costs that will be borne by the rate-payers on one hand, and on the, other, the company. 

 

As a result, I hope you will respond to the above questions.
As noted above, the company spokesman did not reply either time I sent these questions, the first time being several weeks ago.
Blanton answered my questions, though after doing so, asked that I not report on the recusal issue. "I don't want to tell Mississippi Power and the PSC what my plans are," he said. "I will play those cards when the time comes."
Blanton had told me that he "asked our lawyers to research" the recusal issue about a year ago, in the event it came up.
If he wins the election, he said that in late December, prior to going on the commission, he would drop any remaining matters he has regarding Kemper and pending before the Mississippi Supreme Court.
"I can withdraw … and be clean," Blanton said.
Blanton noted that there is no requirement that candidates for the PSC support utilities they are elected to regulate, and Blanton, to put it mildly, hasn't kept his opposition to Kemper a secret. He's been all over the media in the past couple of years, in addition to being the plaintiff in the case that has shaken not just Mississippi Power, but Southern Co.
On top of that, he's been campaigning at full clip, telling any voter who will listen that Mississippi Power's Kemper plant is an unmitigated disaster that ratepayers should not be required to pay for. 
"If I get elected then the people will have spoken. That's the purpose of the political process," he said. "It's not supposed to guarantee everybody sitting on the PSC has to agree with they say … and be ordered around like political serfs."
He said that if he were compelled to recuse himself from some issues, that would leave two commissioners, and one of them, north Mississippi commissioner Brandon Presley, would oppose Mississippi Power on Kemper, even if the central district commissioner supported the company.
"That would be one against one and nothing would happen," Blanton said.
It should be noted that, while Presley has voted against Mississippi Power on some matters, there's no way to know how he would vote on future issues. There's also no guarantee that he will be on the PSC next year, though Presley, a Democrat, is considered the favorite against Republican Mike Maynard.
Blanton, a Democrat, is running against Republican Sam Britton and Reform Party candidate Lonny Keith Spence. Incumbent Steve Renfroe did not seek re-election. 
Republican Central District commissioner Lynn Posey – who in August joined Renfroe in voting for Mississippi Power's 18 percent rate increase — is also not seeking re-election. Vying for that seat in November are Republican Brent Bailey; Democrat Cecil Brown, and Reform Party candidate LaTrice Notree.
Mississippi Power has stated that Kemper will go on-line — as in, turning coal into synthetic gas, and producing electricity by burning that gas — within the first half of 2016. Blanton said Thursday it won't happen.
He said that carbon capture technology at the level necessary to make the plant work "remains science fiction," and as such, Kemper will never operate as the company pledged it would when the project was first blessed.
"They ought to cut their losses, bite the bullet, and quit threatening the people, because the alternatives include removing their certificate to operate the utility," he said, just prior to disclosing the $600 million loan deal he said is in the works for when the time comes, and Mississippi Power's assets are on the block.
The plan described by Blanton, if accurate, suggests that Mississippi Power and the engineers and workers at the Kemper Plant are facing even more pressure to deliver on the promise made years ago by Mississippi Power, Southern Co., and then-Mississippi Gov. Haley Barbour.
One has to believe that if it's doable, Southern Co. will get it done. But at this stage, and until the company can prove otherwise, it's hard to argue with Blanton's view that a plant applying the gasification process on this large a scale may not be doable.
The fascinating Kemper story — an engineering high-wire act with enormous implications for  customers and shareholders of Southern Co. — is, as they say, To be cont'd.
——————————————————-
PLEASE CONSIDER MAKING A DONATION
For me to continue following this story, and also to continue pursuing my reporting on the efforts against former PSC Commissioner Terry Dunn, I must receive donations. 
To make donations, large, medium-sized, or small, Go Here.
People with tips on this story or regarding other subjects addressed on this website are encouraged to contact me.
Contact Information
Eddie Curran
133 Silverwood
Mobile, AL 36607
Phone: 251-454-1911
E-mail: eddcurran@aol.com