Shills, shills and more shills. Alabama Power is a company that pays well to be praised, and to bash those who get in its way. Get the Skinny — the irrefutable details and the documentation — right here.
By Eddie Curran
This is a new feature for the site that I will use occasionally to report multiple news items and new findings. There is much to be learned today, so let's get moving.
Today's entries:
—  A second secret source of big bucks for Alabama Power/Mississippi Power shill groups Jobkeeper Alliance and Partnership for Affordable Energy (PACE) is located. A look at Vote Alabama and the at least $569,000 it has funneled to JobKeeper and PACE.
—  New Alabama Power President and CEO Mark Crosswhite unloads bulk of his shares in Southern Company
— Did Alabama Power fund and orchestrate Mississippi Power's political operations in 2013? Someone did, and it wasn't Mississippi Power.
— A video of the "protesters" at last year's PSC meeting. Real protesters, or part of a political dirty tricks operation designed to link Dunn to "environmental whackos"? You be the judge.
— Lastly, some choice images from Shill World, concluding with drawings by Guest Artist Ralph Steadman. After months of tedious, lonely fact-finding, fact-checking, and bugging people with mass e-mails, it's time to have a little fun.
Found: A second source of funds for Alabama Power shill groups  JobKeeper and PACE
In March, I reported that an obscure non-profit called "Peoples Alliance for Leadership (PAL)" had provided funding for JobKeeper Alliance and PACE,both of whose activities are in many ways central to his project. Also reported was that the director of PAL — one Mike Fields — is a state employee who for some time now has been  retainer with Alabama Power
Below, a portion of Fields' ethics disclosures with the state for outside income last year.
All three groups — PAL, JobKeeper Alliance and PACE — are 501c4 non-profits. Donations to such non-profits are not tax deductible, and they may engage in issue advocacy, including of a political nature. 401c4s, like charitable groups, must make their tax returns available to the public. Unfortunately, they are not required to identify their donors. But there is one catch. When one  "issue advocacy" organization contributes to another — think of the now-banned "PAC to PAC" transfers — they must disclose such payments. The recipients don't have to disclose it, but the donor groups do.
I've recently come across another PAL — which is to say, another group that is also serving as a pass through of funds received from some mystery entity or company, then passed on to JobKeeper and PACE. Here is a portion of the most recently available return — for 2012 for the non profit, Vote Alabama.
More about Vote Alabama in a minute, but first, the numbers.
Of the $1.24 million in contributions to PACE from its inception in 2009 through 2012,  $205,000 has come from PAL and $450,000 from Vote Alabama. That leaves $585,000 as yet unaccounted for. I'm betting there"s another 501c4 out there which, like PAL and Vote Alabama, that's serving as a pass through for funds to PACE and JobKeeper. Certainly I intend to keep looking.
Neither of the two "pass through" groups gave to PACE in 2009, its first year. As reported elsewhere on this site, court records and PACE's tax returns show that, at least in that first year, Matrix LLC (again, political consultants for Alabama Power) paid Brown's salary.
Also, that year and the next, PACE's returns show that it paid more than $100,000 to Charles Steele. He's the former state senator from Tuscaloosa who is now head of the famed Atlanta-based civil rights organization, Southern Christian Leadership Conference. Steele is a tireless and vocal advocate of Alabama Power, such as before the PSC last year. And no wonder.
JobKeeper was created in 2012. Of the $248,000 in donations it reported for 2012, $74,000 came from PAL, $119,000 from Vote Alabama, with $55,000 as yet unaccounted for.
(I think my numbers on these three "non-profits" are correct. However, anyone wishing to see the returns for themselves can go to this web-site: http://citizenaudit.org/ I like it better than Guidestar, the better-known site for non-profit tax returns. It's simpler to use and provides returns going back years, as opposed to the past two or three years, like Guidestar. Just punch in the name of the non-profit your looking for, and it delivers the returns.)
One important thing to keep in mind: 2013 was a very busy year for PACE and JobKeeper, with the Alabama Power hearings (shams that they were) at the PSC, the accompanying attacks on Dunn and David Rountree, and the intense activity by both non-profits on behalf of Mississippi Power regarding the Kemper problems.
The 2013 tax returns for JobKeeper, PACE, PAL and Vote Alabama are not likely to be made public until November. Perhaps, if asked kindly by the media, or a friendly, perhaps elderly Alabama citizen, the directors those esteemed "non-profits" will reveal how much they spent last year and where it came from.
Like PAL, Vote Alabama has been around for some time, and well before it started funneling money to PACE and JobKeeper. And like PAL it has Matrix connections.
It was formed in 2003. Its directors, then and now, are Al Henley and Chris Pitts. Henley (see picture below) is a long time official with the AFL-CIO, and is now the union's president.
Pitts, who lives in Montgomery, was a top-level appointee of former Gov. Don Siegelman at ADECA.
Incidentally, the Alabama AFL-CIO — like so many of the Dunn-bashers — supported Obama for President. Joe Perkins, the Matrix boss, has made contributions to Obama, Harry Reid, and Evan Bayh, among other Democrats. But when those folks put their Shill Hats on, they make much noise about Dunn being a secret liberal and Obama fan, and as such, the sort of candidate unsuited to represent conservative Alabamians.
Southern Company contributed a hefty $100,000 to Obama's inaugural fund in 2013. Screaming liberals.
The truth is that Dunn has been to the Republican National Convention three times, twice as a delegate, once as an alternate. It is they, not him, who support the "liberal environmentalist" Obama. The whole liberal Dunn thing is of course a fraud, but deal with it we must.
The tax returns of Vote Alabama, like PAL, show that, at various times, its records were in the possession of Montgomery lawyer Tommy Kirkland, who specializes in opposition research and has long been associated with Matrix. Here are some relevant images.
Crosswhite sells load of Southern Co. shares
Mark Crosswhite replaced Charles McCrary as president and CEO of Alabama Power on March 1. On May 1, he sold two-thirds of his shares in the Southern Company (some reports indicate a larger share of his holdings were sold.)  Does this reflect a lack of long-term confidence in Southern Company's financial performance? I haven't a clue. Maybe he needed a cash infusion to build a new home. But sell he did.
Publicly traded companies such as Southern Co. must disclose sales of company stock by company officials and so-called "insiders." The company reported that on May 1, Crosswhite sold 22,460 shares for just over $1 million.
Southern Company continues to suffer from a seemingly endless series of delays and budget-busting costs at its troubled and experimental "coal gasification" plant in Kemper, Miss. There is no definite end in site, such as when the $5.6 billion and counting plant will produce power in the manner designed, and what the final price tag will be when, and if, that happens.
Problems at Kemper were the primary reason that Southern Company executives had to take sharp pay cuts last year, including a drop of some $4 million in the pay of Southern CEO Tom Fanning.
UBS, the Swiss investment bank, recently downgraded Southern's stock to a "sell" rating," joining others who have recently downgraded the stock. However, a host of other analysts remain positive about the company.
It's my working theory that the immense financial pressures caused by the Kemper debacle contributed to the decision to wage the smear campaign against Terry Dunn and thus neutralize his efforts to bring Alabama Power's allowed profit level down from the stratosphere and closer to national and regional norms.
Lastly, a note on Crosswhite. I had hoped that the new president would put an end to the campaign against Dunn and his chief of staff, David Rountree. This has not happened. There was, for example, the recent and shameful ethics complaint brought against Rountree by a miner associated with the new shill group, Coal Jobs Count. It was a blatant publicity ploy to tarnish Rountree and, by association, Dunn.
To its credit, the Ethics Commission saw this. They snuffed it out in record time, which is to say, the complaint was so laughably weak there was no need to even consider investigating it. (For more on the complaint, Go Here.)
Then there was an interview Crosswhite gave the Montgomery Advertiser in February, in which he discussed, among other things, his view of last year's public hearings at the PSC on Alabama Power. Crosswhite, at the time a top Southern Company executive, said he "watched the proceedings from afar" and that it "did not appear to me that the proceeding was necessary."
"Obviously, the Public Service Commission is the company's regulator, and it's their prerogative to have investigations when they think they're appropriate," Crosswhite said.
Not only is it the PSC's "prerogative," it's their obligation. The problem was that the hearings were not the judicial type proceedings held in other states. They were were a sham with a predetermined outcome in Alabama Power's favor.  Considering the company's costs to produce power and its rates as related to other utility monopolies in the region, there is no excuse, save the company's supremacy over the PSC, why power rates in Alabama are not lower.
Crosswhite's comments revealed his, and Alabama Power's, imperious attitude toward the PSC and, by extension, Alabama residents and businesses.
Explain this, Mississippi Power
Last year, Alabama Power once again broke the bank with its political spending. In a recent filing with the Federal Energy Regulatory Commission, the company disclosed that it spent just shy of $24 million in the category called, "Expenses for Certain Civic, Political & Related Activities." That was almost $4 million more than it spent the year before. (See relevant portion of report, below, with the amount from 2012 to the right of the 2013 costs.)
Past stories by Birmingham News columnist John Archibald have shown that Alabama Power's spending in this category dwarfs that of other regulated utilities throughout the country, including utilities far larger than Alabama Power. 
Consider these numbers from the recently released reports for 2013: Georgia Power — which serves about 1 million more customers than Alabama Power — spent $6.7 million on this category. Florida Power & Light, which serves about four times as many customers as Alabama Power, reported spending $16.1 million. 
But the most unusual amount was reported by Mississippi Power. That company was very clearly engaged in political activities last year — possibly to a greater extent than ever.  And yet, as you can see below, it reported a negative number, and thus a positive sum of $317,472 — in that category. The year before, the company spent more than $2 million on the "civic/political" category.
How to explain this negative and thus positive number?
I suspect the following: So bad were the problems at Kemper that, last May, Mississippi Power fired its president. I think Southern Company's top brass assigned the A Team — that is, it' experienced Alabama political operation — to take charge of those activities in Mississippi.
It's not even in question that Joe Perkins of Matrix (Alabama Power's long-time political consultants) and Alabama Power shill groups Jobkeeper Alliance and PACE were in Mississippi and actively participating in matters related to the Kemper problems.
The picture below is from a December 2012 news conference in Jackson, Miss. The AFL-CIO had participated in political/public relations efforts against Kemper. However, the union changed its tune after Mississippi Power agreed to hire as many as 1,000 union workers. I've spoken to two people who saw and spoke to Joe Perkins at the news conference.
What was Alabama Power's mysterious Matrix Man doing in Jackson?
The Associated Press story reporting the agreement between the union and Mississippi Power included the following:
        Earlier, an Alabama group sent out a news release attacking Public Service Commissioner Brandon Presley, a Democrat who has opposed Kemper, for taking a $5,000 campaign contribution from the Sierra Club in 2011. The group said Presley's opposition had created needless delays and called on him to recuse himself from future votes.

       "Given an opportunity to support this exciting project, Commissioner Brandon Presley chose instead to advance the radical environmental agenda of a group with no vision for our energy future other than to make electricity beyond affordable," the Montgomery-based Partnership for Affordable Clean Energy wrote Nov. 19.
I could fill up 15 stories with examples of the efforts in Mississippi by JobKeeper Alliance and PACE (including some by JobKeeper against yours truly.)
Alabama and Mississippi Power certainly won't respond to questions from me, though they'd have to respond, even if only to issue no comments, to reporters with established news outlets. If any such folk are reading this and up for it, I'd start an inquiry into this specific issue with a call to Mississippi Power. I'd ask:
1. Will you explain the circumstances that led to Mississippi Power reporting income, as opposed to expenses, in the civic/political category last year?
2. Did the mother ship (Southern Company) or any of your sister companies, such as Alabama Power, provide funds and/or participate in Mississippi Power's public relations/political efforts last year, including issuing demands that a PSC commissioner recuse himself for, if the truth be known, not seeing things the company's way?
3. If Mississippi Power acknowledges any such involvement, ask for details, including amounts spent, to whom, and for what.
4. If they say no comment to all or any, run a story reporting their responses and make sure the reader knows every question they refused to answer. It would be a worthwhile story even if it began with the company declining to comment about this anomaly on their political spending, and especially so if the company declined to confirm or deny involvement by the groups and consultants from Alabama as well as officials with Alabama Power.
Either way, make a call to Alabama Power and ask the same questions about the activities of the Alabama consultants (Matrix/Perkins) and shill groups.
"No comment" stories often raise the ire of readers as they suggest secrecy as well as a mystery that they want answered. Given all the issues at Kemper, I think readers, or certainly those on the coast who are served by Mississippi Power, would like to know what's going on behind the curtains.
Should any reporter wish for the complete documents — FERC reports and such — I will be glad to provide or direct you to where you can find them. Heck, the companies should provide them to you, as should the relevant Public Service Commissions.
The media in Alabama has, with its inaction, shown it's not up to questioning the Benevolent Dictator that Alabama Power purports to be here. Hopefully there are some reporters and editors in Mississippi who are made of sterner stuff. We shall see.
If you want a primer on a similar type story, go to this link, and see how reporters and editors at the Arizona Republic acted like, well, how reporters and editors are supposed to act when covering a utility monopoly.
Watch video of the "environmental protest"
Above, three of the 10 so-called environmental protesters outside the July 2013 meeting of the Alabama PSC. In that and two other similar meetings, the PSC — effectively controlled by Alabama Power through its two lackeys, Twinkle Cavanaugh and Jeremy Oden — pretended to review Alabama Power's rates with a non-judicial "dog and pony show."
Company shill after company shill addressed the commission to praise the Benevolent Dictator.
For my story on this charade of a protest, go to, "The Protesters, Masked and Anonymous: For Terry Dunn or Against Him? Pawns … Or Players?"
I have recently uploaded to YouTube some video taken of the protesters.  To watch it, GO HERE.
There's a bit near the start where the camera shows a group from the the United Mine Workers of America who'd left the meeting to come out and "confront" the protesters. Funny, because no one I've spoken to who was in the meeting was aware that the group was out there, as they arrived after the meeting started and concluded before any breaks in the meeting.
The union official doing the arguing is non other than Daryl Dewberry. He is one of several directors of JobKeeper Alliance, one of the Alabama Power shill groups that made use of photos and footage of the protest to tarnish Terry Dunn. It is indeed a very small world.
Dewberrry could fairly be called the "Angry Man" of the anti-Dunn campaign. He's in much of the media produced by the shill groups. Here's a shot of him taken from a video by the recently created anti-Dunn, pro-Alabama Power shill group, "Coal Jobs Count." (The video is Here.)
I'll  leave you with some images, as I am taken with images. They do help tell the story. And lastly, the Art.
This first one comes from Patrick Cagle and the JobKeeper Alliance. Certainly Alabama Power would not countenance the creation of this sort of sludge against one of its elected regulators by one of its shill groups. No way. That would violate, among other things, SouthernStyle., the Southern Company's hokey, vapid and utterly toothless "Code of Ethics."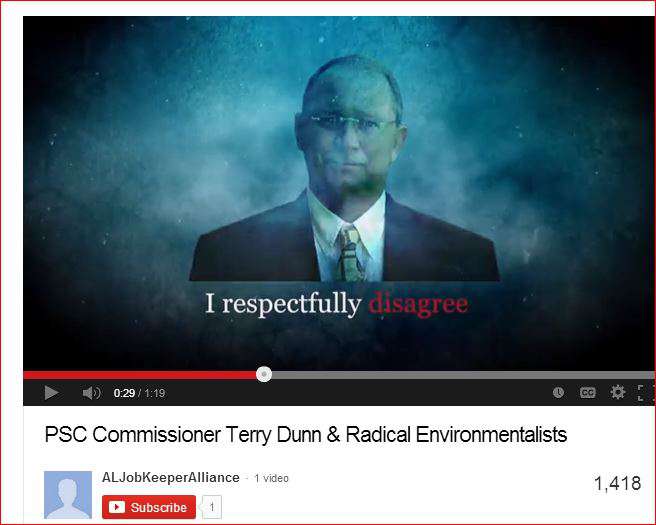 This next one comes from a 2010 issue of the magazine American Coal. It's an article written about PACE by Josh Veazey. He happens to work for Matrix. My favorite part is where Veazey quotes Charles Steele blowing all manner of smoke about how great PACE is. Needless to say, neither the author nor Steele disclosed that in 2010, like 2009, PACE paid Steele more than $100,000. No wonder Steele thinks the world of PACE.  They're lining his pockets.
The above article was accompanied by this picture and inspirational quote from Lance Brown, PACE "executive director." In reality he was, at least at the time, a full-time employee for Alabama Power's long-time political consultants, Matrix LLC. PACE didn't pay Brown a dime for its first two years.
Go to the dictionary, look up shill, and you will see the above picture. I kid you not. This wind-up toy gets paid more than $150,000 a year, but he earns every dime. His Tweet count  is north of 6,300. Can you imagine tweeting 6,300 times? I would demand that sort of pay too if I had to tweet that damn much.
Check out the tweet from just a couple of days ago. Cutting edge!
Below, Charles Steele: Self-appointed spokesman for the poor; secret, highly compensated PACE/Alabama Power shill; and ardent opponent of lower power rates for the poor, the elderly, and everyone else as well.
Last August, in a 2-1 vote, Dunn against, the PSC passed a minor change to the method used to regulate Alabama Power that, despite declarations to the contrary by PSC President Twinkle Cavanaugh, did not lead to any reduction in rates. The PSC voted to continue to permit Alabama Power to have a Rate of Return on Equity (profit) that towers over all such utilities in the country.
The AARP filed a brief with the PSC asking it to reconsider. The following, from the PSC web-site, lists some of the groups who filed briefs against the AARP and in support of the PSC's blatantly pro-Alabama Power decision. Say what you want about the AARP, but they're pretty much it when it comes to trying to lower your power bills in Alabama.
This list is a Who's Who of the Shills, including, sadly, the NAACP. (Click it to make it larger and easier to read.)
And, lastly, commentary on Shill World via Art, specifically, drawings by Mr. Ralph Steadman. He was in an "Alabama Power Shill World Frame of Mind" when he created these classics. 
Did you learn something from this? Enjoy it? If so, please Go Here.